What We Found
Congress should consider comprehensive reform of the National Flood Insurance Program to improve the program's solvency and the nation's flood resilience. The Federal Emergency Management Agency should finalize improvements to its rate-setting methods.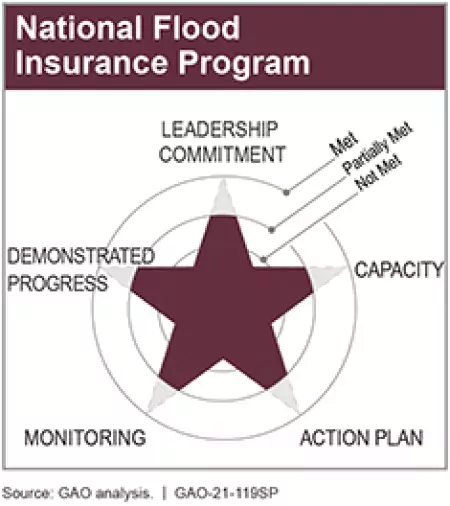 Since our 2019 High-Risk Report, there have been no changes to the five criteria ratings because Congress has not yet enacted comprehensive reforms to address the spectrum of challenges confronting the National Flood Insurance Program (NFIP) and the Federal Emergency Management Agency (FEMA) has not yet completed action on key open recommendations.
Leadership commitment: partially met. FEMA leadership continues to show a commitment to implementing our recommendations by, for example, beginning to implement an updated rate-setting methodology. FEMA also continued actions to protect the program's financial stability, such as by annually purchasing reinsurance. However, Congress has yet to enact comprehensive program reforms related to areas such as premium rates, affordability, and consumer participation.
Capacity: partially met. While FEMA has shown a commitment to acting on key recommendations, delays in fully implementing them reflect limitations in FEMA's capacity. For example, after multiple delays, FEMA's effort to modernize NFIP's insurance policy and claims management system ultimately took 17 years to complete. Similarly, FEMA's implementation of an updated rate-setting methodology, which relates to our October 2008 recommendation, has been postponed to October 2021. Responding to multiple natural disasters and Coronavirus Disease 2019 (COVID-19) can strain FEMA's capacity as many FEMA staff are deployed during disasters, which diverts resources from other activities.
Action plan: partially met. FEMA identified actions to address our recommendations and tracks outstanding recommendations through an internal control program to guide its efforts. Multiple times a year, FEMA provides us with updates on actions taken and expected timelines for completion. For example, FEMA tracks and provides us with periodic updates on its efforts to update its methodology for calculating premium rates.
Beyond tracking individual recommendations, however, FEMA still lacks a  comprehensive plan to address the issues that placed NFIP on our High-Risk List. Such a plan could help FEMA define causes, identify solutions, and establish metrics for evaluating their effectiveness.
Monitoring: partially met. FEMA has a process to monitor progress in implementing our recommendations, as we noted earlier. However, FEMA lacks a broader process to evaluate the effectiveness and sustainability of its corrective actions. Such a process would help ensure that corrective actions, once taken, have the intended effect.
For example, FEMA could monitor its progress toward outcomes as part of its updated rate-setting method. These intended outcomes include encouraging homeowners to purchase adequate coverage and promoting investment in flood mitigation.  
Demonstrated progress: partially met. FEMA has taken steps to implement many of our recommendations, for example, by addressing a potential challenge that we identified in July 2016 for consumers seeking premium refunds when they switch from an NFIP policy to private flood insurance. However, FEMA's efforts to address our recommendations in other areas are still not complete.
For example, in October 2008 we recommended that FEMA ensure that its premium rate-setting methods accurately reflect the risk of flood losses. FEMA had targeted 2020 to begin implementing an updated premium rate-setting methodology, but postponed these changes until October 2021 to more closely analyze the potential effect on policyholders.
Congress has passed several short-term reauthorizations, most recently when the program was set to expire on September 30, 2020. However, Congress has yet to enact comprehensive reforms related to the six areas we identified in April 2017 (program debt, full-risk-rates, affordability, consumer participation, private-sector involvement, and flood mitigation).
NFIP has experienced significant challenges because FEMA is tasked with two competing goals—keeping flood insurance affordable and keeping the program fiscally solvent.  Emphasizing affordability has led to premium rates that in many cases do not reflect the full risk of loss and produce insufficient premiums to pay for claims.
In turn, this has transferred some of the financial burden of flood risk from individual property owners to the public at large. Accordingly, we added this area to our High-Risk List in 2006.
NFIP has had to borrow from the Department of the Treasury to pay claims from major natural disasters. As of August 2020, FEMA's debt was $20.5 billion despite Congress having canceled $16 billion in debt in October 2017. Without reforms, the financial condition of NFIP could continue to worsen.
Over the years since we added this area to our High-Risk List, we have made numerous recommendations related to this high-risk issue. As of December 2020, 14 recommendations were open. NFIP has improved in a number of areas, but to demonstrate progress, FEMA should
develop a comprehensive plan for actions the agency can take to address the issues that placed NFIP on the High-Risk List;
initiate broader monitoring of the effectiveness and sustainability of actions to implement our recommendations; and
continue ongoing efforts to implement updated NFIP rate-setting methods.
Congressional Actions Needed
We have an open matter for Congress to consider from our April 2017 report that examined actions Congress and FEMA could take to reduce federal fiscal exposure and improve resilience to floods. We stated that Congress should consider comprehensive reform, which could include actions in six areas: (1) addressing the current debt; (2) removing existing legislative barriers to FEMA's ability to revise premium rates to reflect the full risk of loss; (3) addressing affordability; (4) increasing consumer participation; (5) removing barriers to private-sector involvement; and (6) protecting NFIP flood resilience efforts. Congress has not taken action on this matter.