Federal Oil and Gas Royalties:
Additional Actions Could Improve ONRR's Ability to Assess Its Royalty Collection Efforts
Fast Facts
About a decade ago, we found that the Department of the Interior may not have been collecting all of the royalties that oil and gas companies owed the federal government. In 2011, we added Interior's oil and gas management to our High Risk List.
We reviewed what Interior's Office of Natural Resources Revenue (ONRR) has done to ensure the accuracy of royalty payments from companies with federal leases. ONRR has set goals for its royalty compliance efforts and reports that it largely met them. However, its goals could better address payment accuracy.
Our recommendations are to strengthen ONRR's review process and ensure more accurate payments.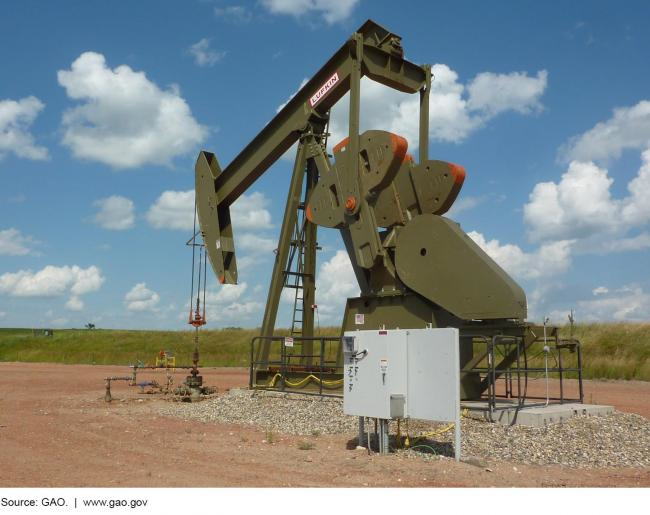 Oil pumping machinery
Skip to Highlights
Highlights
What GAO Found
The Department of the Interior's (Interior) Office of Natural Resources Revenue (ONRR) reported that it met its annual performance goals for its royalty compliance program in 6 of the 8 years from fiscal years 2010 through 2017. Under this program, ONRR conducts three levels of compliance activities—audits, compliance reviews, and data mining—to help ensure that oil and gas royalty payments submitted by companies that produce oil and gas from federal leases are accurate and comply with federal laws and regulations (see figure). Specifically, GAO's analysis of Interior's annual budget justifications for fiscal years 2010 through 2017 found that ONRR reported meeting its compliance goals for 6 of the 8 fiscal years. According to ONRR officials, ONRR did not report meeting its compliance goals for 2 years because of a shift in the agency's goals that created a short-term misalignment of planned work and available resources. ONRR's fiscal year 2017 goals for its compliance program were (1) to obtain a return of $2 of additional royalties for every dollar spent on compliance activities and (2) to collect a defined amount of additional royalties. ONRR's compliance goals generally aligned with the agency's requirement that resources should not be expended without an expected return. However, these goals may not align with the agency's mission to collect, account for, and verify royalty payments and other statutory requirements because the goals do not address accuracy—or the extent to which its compliance work is covering, for example, royalty payments. By establishing a goal that addresses accuracy, for example, by covering a portion of royalty payments with its compliance activities, ONRR could increase the extent to which it had reasonable assurance that its compliance program is fully accounting for federal oil and gas royalty payments.
The Process for Producing, Selling, and Paying Royalties for Oil and Gas on Leased Federal Lands
Why GAO Did This Study
Royalties paid on the sale of oil and gas extracted from leased federal lands and waters are a significant source of revenue for the federal government. However, Interior has faced challenges verifying the accuracy of royalty payments. In the 2000s, GAO issued reports highlighting weaknesses in Interior's royalty compliance program. In 2011, GAO added Interior's management of federal oil and gas resources to its High-Risk List, in part because its work showed Interior did not have assurance that it was collecting its share of revenue from oil and gas produced on federal leases. Interior has taken steps to operate more effectively.
GAO was asked to examine ONRR's federal oil and gas royalty compliance efforts. This report examines, among other objectives, the extent to which ONRR reported meeting its compliance goals for fiscal years 2010 through 2017, the most recent data available. GAO reviewed relevant laws, regulations, agency guidance, and Interior's annual performance plan and report and annual budget justifications for the period; analyzed ONRR compliance data for the period; and interviewed ONRR officials and state auditors who conducted work in coordination with ONRR.
Skip to Recommendations
Recommendations
GAO is making seven recommendations, including that ONRR establish an accuracy goal that addresses coverage that aligns with its mission. Interior concurred with GAO's recommendations.
Recommendations for Executive Action
| Agency Affected | Recommendation | Status |
| --- | --- | --- |
| Office of Natural Resources Revenue | The Director of ONRR should establish an accuracy goal (e.g., identifying the number of companies or percentage of royalties subject to compliance activities over a set period of time) that aligns with the agency's mission of collecting, accounting for, and verifying royalty payments. In doing so, ONRR should track the extent to which each compliance activity (audits, compliance reviews, and data mining) contributes toward achieving this goal. (Recommendation 1) | Closed – Implemented |
| Office of Natural Resources Revenue | The Director of ONRR should develop a documented case selection process that includes procedures for how to select all compliance cases. (Recommendation 2) | Closed – Implemented |
| Office of Natural Resources Revenue | The Director of ONRR should develop performance measures (e.g., having a specified percentage of compliance cases identify findings of royalty noncompliance or total additional royalties) that assess whether the cases the agency is selecting are helping it achieve its compliance goals. (Recommendation 3) | Closed – Implemented |
| Office of Natural Resources Revenue | The Director of ONRR should periodically analyze whether the risk model is effectively identifying potential royalty noncompliance and whether the model's results are being effectively used to assist in case selection, and should use this analysis to make changes to the model (e.g., updating it) or develop a new model. (Recommendation 4) | Closed – Implemented |
| Office of Natural Resources Revenue | The Director of ONRR should include requirements in ONRR's agreements with State and Tribal Royalty Audit Committee (STRAC) members to develop a documented case selection process, including procedures for how to select compliance cases and how to document which factors were considered in selection decisions. (Recommendation 5) | Closed – Implemented |
| Office of Natural Resources Revenue | The Director of ONRR should require STRAC members to describe in their annual work plans how their compliance activities would align with ONRR's current compliance goals. (Recommendation 6) | Closed – Implemented |
| Office of Natural Resources Revenue | The Director of ONRR should track the performance of the compliance work of each state STRAC member and the contribution that each state makes to ONRR's compliance goals. (Recommendation 7) | Closed – Implemented |
GAO Contacts
Office of Public Affairs
Topics
Audits
Budget justification
Data mining
Federal lands
Internal controls
Natural resources
Oil and gas royalties
Performance goals
Royalty payments
Compliance oversight