Taxpayer Compliance:
More Income Reporting Needed for Taxpayers Working through Online Platforms
GAO-20-366
Published: May 28, 2020. Publicly Released: Jun 29, 2020.
Smartphones and apps have made it easier for people to find work through new online marketplaces, such as ride sharing or meal delivery. But these "platform" or "gig" workers may not understand all of the tax obligations of their new job. For example, companies may classify them as independent contractors instead of employees, and they may not know to make estimated quarterly tax payments.
As the platform workforce grows, this issue could pose problems for workers and the Internal Revenue Service. Our 7 recommendations to IRS could help increase workers' awareness of their tax responsibilities and improve their ability to comply with them.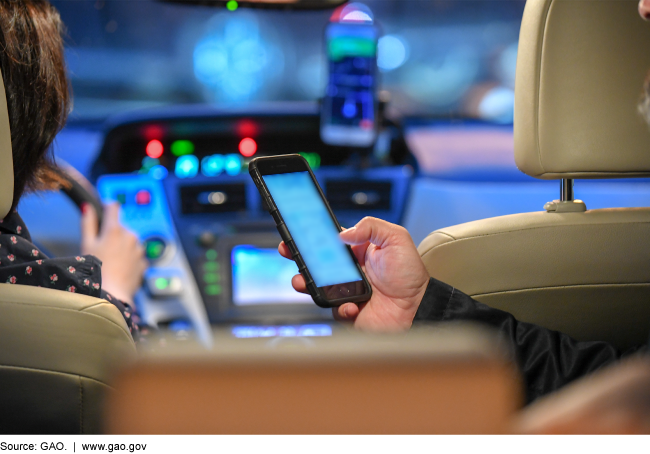 A driver in a car transporting a passenger in a backseat using a cell phone
Skip to Highlights
What GAO Found
The platform economy is an arrangement where workers offering goods or services connect with customers through an app or other online platform. Estimates of the population of platform workers lack certainty, but generally range from around 1.5 million to 2 million workers for recent years and suggest that the platform workforce may be growing. According to stakeholders, such as researchers and tax preparers, platform workers may not realize that a company is treating them as independent contractors rather than employees and that they must comply with different tax requirements. To help address this challenge, the Internal Revenue Service (IRS) developed a communications plan aimed at workers in the platform economy (which IRS calls the gig economy).
Examples of IRS's Social Media Communications Tailored for Platform Workers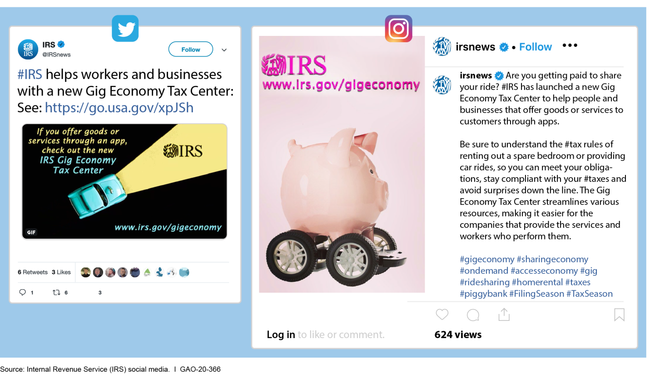 The communications plan incorporates leading practices for redesigning web pages and improving the online user experience, but lacks a monitoring plan to help assure IRS's efforts address platform workers' tax challenges.
GAO found that platform workers may not receive information on their earnings, creating compliance challenges for them and enforcement challenges for IRS. GAO identified actions that could promote compliance. For example, some platform companies only report total annual payments for workers if they exceed $20,000 and 200 transactions—an amount that exceeds the average gross pay from a single company for many platform workers. Amending this rule to lower the reporting thresholds would provide workers with more information to help them comply with their tax obligations. The change could also enhance IRS's ability to ensure that these workers are correctly reporting their income. Additionally, IRS could implement voluntary withholding on payments to independent contractors (including platform workers). IRS data indicate that tax withholding substantially increases the compliance rate.
Why GAO Did This Study
Platform companies typically classify workers offering services as independent contractors and do not withhold taxes from their payments for remittance to IRS.
GAO was asked to review issues related to platform workers and tax compliance. This report, among other things, examines (1) what is known about the platform workforce, and (2) options to promote compliance among its workers.
GAO reviewed research on the U.S. platform economy and interviewed stakeholders on the tax-related challenges platform workers face; reviewed IRS documents; interviewed IRS officials; and assessed potential impacts of some options that could address platform worker tax-related challenges.
Skip to Recommendations
Recommendations
GAO is making seven recommendations to IRS, including actions to enhance its communications plan, increase information reporting for platform workers, and allow voluntary withholding. IRS agreed with the recommendation to enhance its communications plan. For four recommendations related to information reporting and voluntary withholding, IRS either disagreed or said it was unable to agree because it could not commit to an implementation date due to higher priorities. GAO continues to believe that all the recommendations are valid, as discussed in the report.
Recommendations for Executive Action
| Agency Affected | Recommendation | Status |
| --- | --- | --- |
| Internal Revenue Service | The Commissioner of IRS should change Schedule C or Form 1099-NEC so that taxpayers can identify if they received payment for platform work. (Recommendation 1) | |
| Internal Revenue Service | The Commissioner of IRS should develop a process for monitoring feedback on its communications efforts and products tailored for platform workers, which should include documenting and evaluating feedback. (Recommendation 2) | |
| Internal Revenue Service | The Commissioner of IRS should clarify the instructions and publications for Forms 1040 and 1099-K by adding plain language to clearly indicate to platform workers that the forms apply to them. (Recommendation 3) | |
| Internal Revenue Service | The Commissioner of IRS should work with the Secretary of the Treasury to amend the 6050W "tie-breaker rule" that applies to duplicative reporting requirements so that payments made through a TPSO's third party payment network are reportable under Section 6041, rather than under Section 6050W. (Recommendation 4) | |
| Internal Revenue Service | The Commissioner of IRS should work with Treasury to determine what thresholds would be the most appropriate for payment information reporting and, if warranted, recommend that Congress adjust the thresholds. (Recommendation 5) | |
| Internal Revenue Service | The Commissioner of IRS should work with the Secretary of the Treasury to implement withholding that is voluntary for companies making payments for services to platform workers and other independent contractors who choose to participate. (Recommendation 6) | |
| Internal Revenue Service | The Commissioner of IRS should assess the impact of withholding that is voluntary for companies, once implemented, and if warranted, work with the Secretary of the Treasury on a proposal to Congress that would require TPSOs to offer tax withholding to platform workers and other independent contractors who choose to participate. (Recommendation 7) | |