Fossil and Alternative Fuels
Issue Summary
The United States is the largest producer of fossil and alternative fuels in the world. The federal government manages and oversees a number of activities related to these industries, including oil and gas development on federal lands and waters, petroleum refining, oil and natural gas transportation, and federal biofuels requirements.
But federal agencies could improve how they manage and oversee these activities.
For instance:
The Department of the Interior's (Interior) management of federal oil and gas resources is on the High Risk list due to challenges with revenue determination and collection, and human capital. Three priority recommendations in 2023 to Interior also involved improving oversight of offshore oil and gas activities. For example, royalties that companies pay on the sale of oil and natural gas extracted from leased federal lands and waters constitute a significant source of revenue for the federal government. However, Interior may not be collecting all of the royalties that oil and gas companies owe the federal government. Interior's Office of Natural Resources Revenue could better ensure the accuracy of royalty payments from companies with federal leases.  
Interior's Bureau of Safety and Environmental Enforcement (BSEE) helps manage oil and gas production offshore in federal waters. BSEE has allowed the offshore oil and gas industry to leave 97% of pipelines (18,000 miles) on the seafloor when no longer in use. Pipelines can contain oil or gas if not properly cleaned in decommissioning, but the bureau doesn't ensure that standards, like cleaning and burial, are met.    
Offshore oil and gas infrastructure faces significant and increasing cybersecurity risks in the form of threat actors, vulnerabilities, and potential impacts—including physical, environmental, and economic harm. For example, the 2021 cybersecurity attack on the Colonial Pipeline Company caused a temporary disruption in the delivery of gasoline and other petroleum products across much of the southeast United States—and highlights the urgent need to address long-standing cybersecurity challenges. BSEE has long recognized the need to address cybersecurity risks but has taken few actions to do so.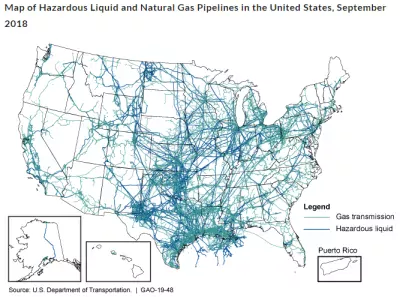 Technologies Used to Detect Methane Emissions from Oil and Gas Development
GAO Contacts