Tribal and Native American Issues
Issue Summary
There are 574 ethnically, culturally, and linguistically diverse federally recognized Indian Tribes in the United States. These Tribal Nations are distinct political entities whose inherent sovereignty predates the United States and is reflected in their government-to-government relationship with the U.S. government. The United States has undertaken a unique trust responsibility to protect and support Tribal Nations and their citizens through treaties, statutes, and historical relations with Tribal Nations. The 2022-2027 Strategic Plan addresses the federal government's responsibilities to Tribal Nations and their citizens. 
In 2018, the U.S. Commission on Civil Rights reported that—due to a variety of reasons such as historical discriminatory policies, insufficient resources, and inefficient federal program delivery—American Indians and Alaska Natives continue to rank near the bottom of all Americans in terms of health, education, and employment.
Several federal agencies provide direct services or funding to federally recognized Tribal Nations and their citizens—including the Bureau of Indian Affairs (BIA), the Bureau of Indian Education (BIE), and the Indian Health Service (IHS). However, they face a number of challenges to improving the effectiveness and efficiency of their tribal programs. Improving federal management of programs that serve Tribal Nations and their citizens is on the High Risk List.
For instance:
Erosion and thawing permafrost undermine the land beneath homes in Newtok, Alaska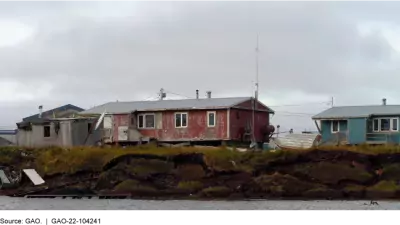 GAO Contacts