GAO 2022-2027 Strategic Plan:
Goals and Objectives for Serving Congress and the Nation
Fast Facts
We publish a strategic plan every 4 years to guide our work as we help lawmakers oversee federal operations and address the most important issues facing government and society.
Our strategic goals are intended to help:
Ensure the well-being and financial security of Americans
Identify and address national security threats and challenges
Transform the federal government
Maximize GAO's value as a leading practices federal agency
The strategic plan includes 12 trend papers (factors affecting the future domestic and global context), and key efforts (our near-term priorities for informing Congress on important issues).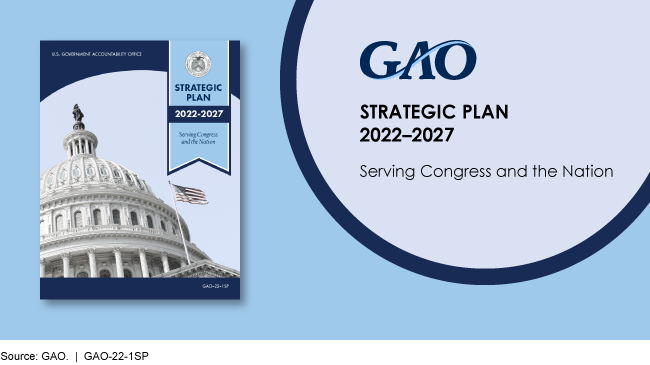 Skip to Highlights
Highlights
GAO's Strategic Plan Goals and Objectives form the foundation of the agency's strategic plan and lay out our long-term strategies to accomplish our goals.
For more information, contact Stephen Sanford at (202) 512-4707 or spel@gao.gov.
Office of Public Affairs
Topics
Compliance oversight
Federal agencies
GAO strategic plan
Internal controls
pandemics
Performance goals
Strategic plan
Strategic planning
Federal assistance programs
Access to health care