Trends Affecting Government and Society
Fast Facts
We publish a strategic plan every 4 years to guide our work as we help lawmakers oversee federal operations.
The latest plan includes 12 papers on trends that will likely affect government and society in the next 5 to 15 years—including science and technology in an innovation economy, global supply chains, racial and ethnic disparities, and national security threats.
To identify these trends, we consulted with internal and external experts, including fellows from our Center for Strategic Foresight.
The strategic plan also includes our key efforts (near-term priorities for informing Congress on important issues).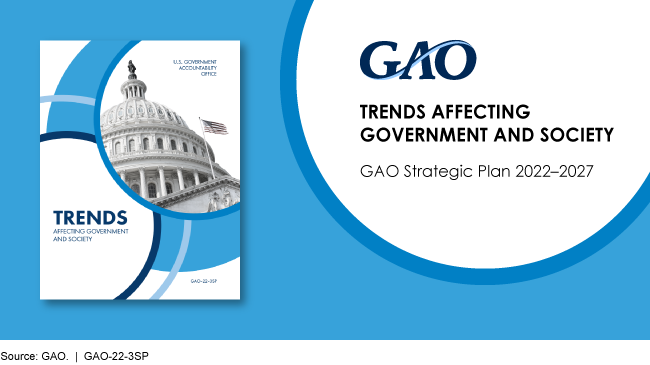 Skip to Highlights
Highlights
Trends Affecting Government and Society provide the strategic context for GAO's Strategic Plan highlighting 12 trends with likely effects on government and society.
For more information, contact Stephen Sanford at (202) 512-4707 or spel@gao.gov.
Office of Public Affairs
Topics
Climate change
Economy
Health care
Law enforcement
National security
pandemics
Public health
Sustainable development
Students
Workers