Issue Summary
Small businesses contribute to the nation's economic growth, and federal agencies could better administer programs to support them.
Small businesses are an important driver of the nation's economic growth. The Small Business Administration (SBA) oversees programs that provide small businesses and entrepreneurs with counseling and training, access to capital and federal contracts, and disaster assistance. In addition, to support small businesses affected by COVID-19, Congress appropriated about $100 billion in grants, $50 billion in loan subsidies, and provided about $800 billion in commitment authority.
SBA has provided hundreds of billions of dollars' worth of loans and grants to help small businesses recover from adverse economic impacts created by COVID-19. These funds greatly aided many small businesses, but SBA could improve oversight and implementation of these programs.
Approval Rate for Economic Injury Disaster Loans by County, March 2020-Feburary 2021
There are a number of additional opportunities (as well as priority recommendations) to improve how the SBA implements and oversees other SBA programs. For example:
After a 2016 change in the qualifications for the Historically Underutilized Business Zone program, nearly every Census tract in Puerto Rico now qualifies.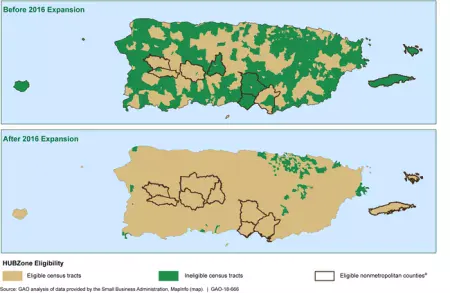 Additionally, the Small Business Act seeks to improve small businesses' access to federal procurement contracts. The act provides for small-business set-asides (including for businesses owned by service-disabled veterans or women) and requires large contractors to set goals for using small business subcontractors. However, small business contracting programs at many federal agencies can be improved in a number of ways.
For instance: