Issue Summary
USDA could improve the efficiency and effectiveness of its farm programs.
The U.S. Department of Agriculture (USDA) administers a number of programs to support farm income, assist farmers after disasters, and conserve natural resources. USDA has also provided ad-hoc assistance to farmers who faced trade disruptions or who have lost sales due to the COVID-19 pandemic. In 2020, USDA spent about $46 billion in payments to farmers ($30 billion of which came from COVID-19 relief programs).
However, USDA could improve how it administers some of these programs.
For instance:
USDA created the Farmers to Families Food Box Program to help with the COVID-19 pandemic. Between May 2020 and May 2021, USDA purchased fresh fruits and vegetables and meat and dairy products for distribution to food banks, community and faith-based organizations, and other nonprofits. It did this to achieve 3 goals: provide food to the needy, maintain food distribution jobs, and create alternative outlets for food producers who lost customers (like restaurants). The program achieved its first goal—USDA's data shows that more than 176 million boxes were delivered to the needy. However, one lesson USDA learned during the program was that it should have been collecting data to assess the other 2 program goals. USDA could apply this lesson learned to better assess similar food programs.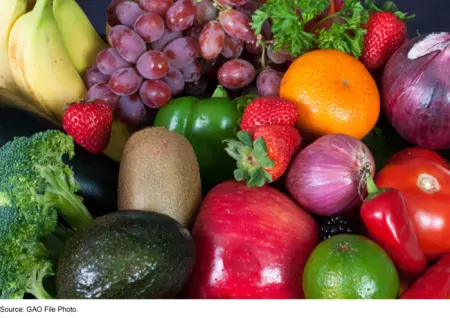 Wetland "Potholes" and Farm Land in North Dakota