Issue Summary
Nuclear energy is a key component of the nation's energy mix. It accounts for about 20% of the electricity generated in the United States and about half of its carbon-free electricity. As our nation's demand for energy is expected to grow in the coming decades, policymakers have supported the continued operations of existing nuclear power plants and the development of new plants.
A Nuclear Power Plant with Cooling Towers and Related Facilities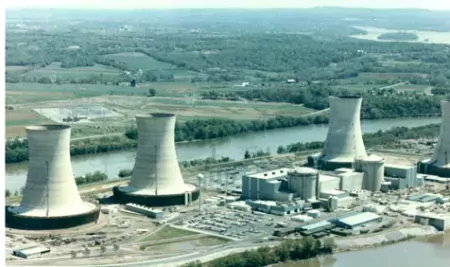 Source: Nuclear Regulatory Commission
The Department of Energy (DOE) and the Nuclear Regulatory Commission (NRC) have key responsibilities related to nuclear energy. Specifically, DOE seeks to advance nuclear energy through research and development activities; it is also responsible for siting, building, and operating a geologic repository to dispose of high-level nuclear waste. The NRC licenses nuclear power plants, certifies designs, and oversees their safe operation and security.
However, both DOE and NRC could better address key issues related to nuclear energy research and development, safety and security, and waste management.
For instance:
Spent Nuclear Fuel Pool (Left) and Spent Nuclear Fuel Dry Casks (Right)
Source: Nuclear Regulatory Commission