The State of Recovery Two Years after Hurricanes Irma and Maria
Posted on September 23, 2019
It's been 2 years since hurricanes Irma and Maria caused extensive damage to several areas, including Puerto Rico, Florida, and the U.S. Virgin Islands. Hurricane Maria was the strongest hurricane to make landfall in Puerto Rico since 1928, destroying highways and buildings, and causing total failure of energy and communication systems, among other things.
In today's WatchBlog, we share findings from some of our recent reports on federal disaster relief efforts.
A Spanish translation of this blog post follows below the English version. Para leer este blog en español, desplácese hacia abajo.
Coordinating mass care
When disaster strikes, FEMA and the Red Cross are primarily responsible for coordinating mass care for survivors, such as providing food and shelter.
We looked at how these agencies coordinated with each other in response to the 2017 hurricanes and found that they benefited from co-locating with key partners during disaster response. In addition to setting up a joint operation center in Washington, D.C., they worked side-by-side in state and local emergency operations centers with partners such as the Salvation Army and other voluntary organizations active in disaster relief.
Co-locating key partners was especially beneficial to helping maintain communication in Puerto Rico and the Virgin Islands in the face of lengthy power outages and major damage to public structures.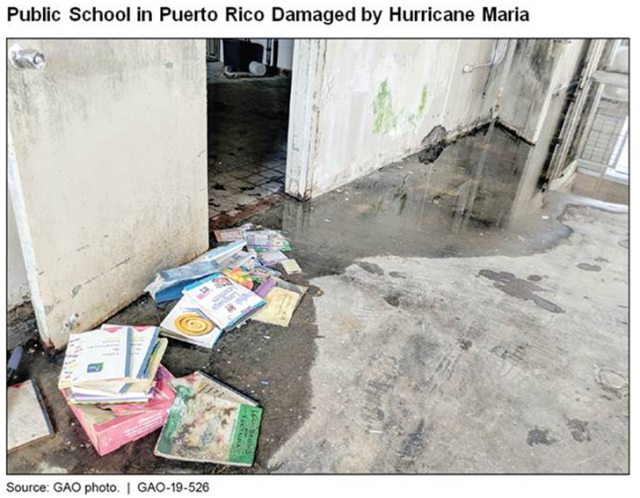 However, some needs like shelter, food, and supply distribution, were unmet. Providing mass care services was challenging in part because the written agreements between state and local governments with voluntary organizations didn't always detail which services each could provide.
To address these issues, we recommended that FEMA emphasize the importance of clearly defining roles and responsibilities when developing written agreements.
Disaster assistance for those who are older or have disabilities
We also reported on the challenges that people who are older or have disabilities faced after the 2017 hurricanes. For example, we found that these individuals faced challenges accessing food, water, medicine, and oxygen.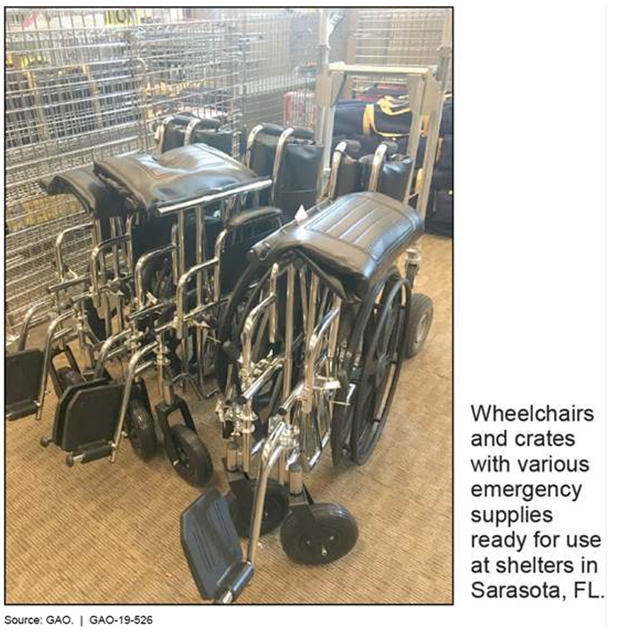 In addition, these individuals faced challenges applying for assistance from FEMA. For example, survivors and local government officials told us that they faced long wait times and could not access the online applications due to power outages.
We recommended that FEMA implement new registration-intake questions to better identify and address survivors' disability-related needs, among other things.
Continuing the recovery effort
With FEMA's assistance, Puerto Rico and the Virgin Islands are continuing their recovery efforts. As of April 2019, FEMA has obligated $7.4 billion for emergency work–such as debris removal and generators–and permanent work repairing or replacing roads and public infrastructure.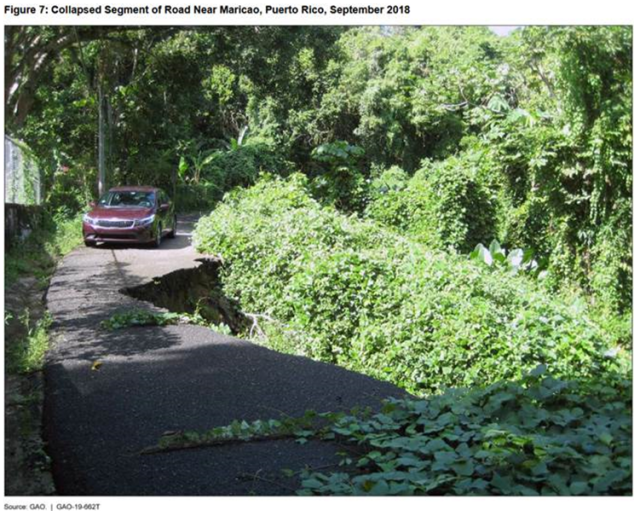 To learn more, check out our webpage on federal disaster recovery efforts, including a Facebook Live chat and various facts and photos.
---
---
El Estado de la Recuperación Dos Años después de los Huracanes Irma y Maria
Han pasado dos años desde que los huracanes Irma y María causaron daños extensos en varias regiones, incluso Puerto Rico, Florida, y las Islas Vírgenes de los Estados Unidos (vea nuestro informe en inglés aquí). El huracán María fue el huracán más intenso a tocar tierra en Puerto Rico desde 1928, destruyendo carreteras y edificios y causando la falla total de unos sistemas de electricidad y comunicación, entre otras cosas (vea nuestro informe en inglés sobre los sistemas de electricidad).
En el Watchblog de hoy, compartimos los resultados de algunos de nuestros informes recientes sobre los esfuerzos implementados por el gobierno estadounidense para proveer asistencia en casos de desastres.
Coordinando el cuidado en masa
Cuando ocurre un desastre, la Agencia Federal para el Manejo de Emergencias (FEMA, por sus siglas en inglés) y la Cruz Roja Americana son las entidades responsables para coordinar el cuidado en masa de los sobrevivientes, tal como proveer la alimentacion y el refugio.
Analizamos cómo estas agencias se coordinaron entre sí para responder a los huracanes de 2017 y determinamos que se beneficiaron de la ubicación conjunta con socios interesados cruciales. Además de establecer un centro de operaciones en Washington, D.C., las agencias trabajaron codo a codo en centros de operaciones de emergencia estatales y locales con socios claves como el Ejército de Salvación y otras organizaciones voluntarias activas en la asistencia en casos de desastre.
Ejemplo de la ubicación conjunta de proveedores del cuidado en masa en un centro de operaciones de emergencia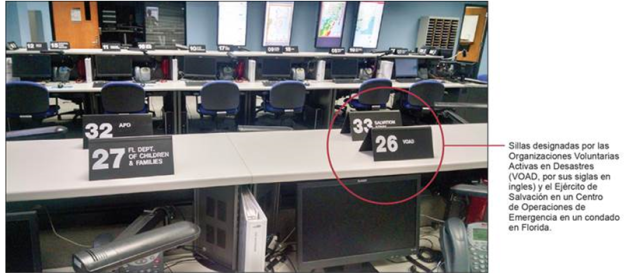 Fuente: Foto de la GAO | GAO-19-256 (informe en inglés)
La ubicación conjunta de socios cruciales fue especialmente beneficiosa para ayudar a mantener comunicación en Puerto Rico y las Islas Vírgenes, ante largos cortes de electricidad y daños extensos a las estructuras públicas.
Sin embargo, algunas necesidades como el refugio, alimentos y la distribución de suministros no fueron satisfechas. Proveer los servicios del cuidado en masa fue un desafío en parte porque los acuerdos escritos entre los gobiernos estatales y locales y las organizaciones voluntarias no siempre especificaron cuáles servicios cada uno podía proporcionar.
Para abordar estos asuntos, recomendamos que FEMA enfatice la importancia de definir claramente los papeles y las responsabilidades al desarrollar  acuerdos escritos.
La asistencia para sobrevivientes de edad avanzada o los con discapacidades
También informamos sobre los desafíos que enfrentaron las personas de edad avanzada y personas con discapacidades después de los huracanes del 2017 (vea a nuestro informe en inglés aquí). Por ejemplo, descubrimos que estos individuos enfrentaron desafíos para acceder a alimentos, agua, medicamentos y oxígeno.
Sillas de ruedas en un almacén de suministros para los refugios
Fuente: Foto de la GAO | GAO-19-256 (informe en inglés)
Además, estos individuos se enfrentaron con dificultades para solicitar asistencia de FEMA. Por ejemplo, los sobrevivientes y los funcionarios locales nos dijeron que ellos enfrentaron largos tiempos de espera o no pudieron acceder a las aplicaciones en línea debido a cortes de electricidad.
Recomendamos que FEMA implemente nuevas preguntas de inscripción para identificar y abordar mejor las necesidades de los sobrevivientes, entre otras cosas.
Continuando el esfuerzo de la recuperación
Con la asistencia de FEMA, Puerto Rico y las Islas Vírgenes continúan sus esfuerzos de recuperación (vea a nuestro informe más reciente en inglés sobre la recuperación). A partir de abril de 2019, FEMA ha comprometido $7.4 mil millones para obras de emergencia —como la remoción de escombros y generadores-- y obras permanentes para reparar y reemplazar las carreteras y la infraestructura pública.
Tramo de carretera dañada cerca de Maricao, Puerto Rico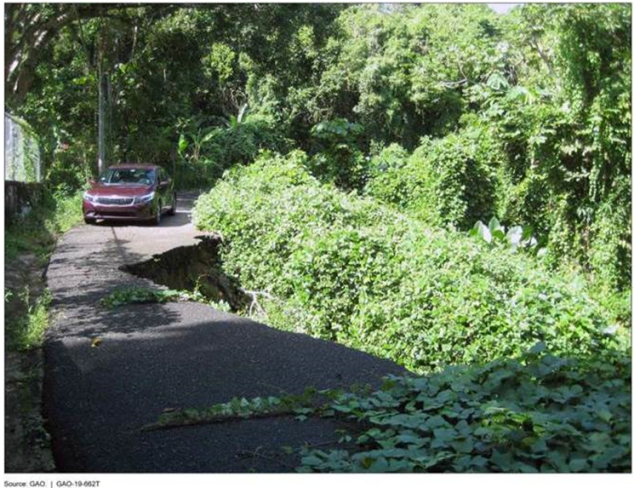 Fuente: Foto de la GAO | GAO-19-662T (informe en inglés)
Para obtener más información, visite nuestra página de web (en inglés) sobre los esfuerzos federales de  recuperación de desastres, incluso un video de una plática por Facebook Live y varios datos y fotos.
---