Issue Summary
Increasing the availability of federal data can foster accountability and trust by providing the public with information on government activities and their results. In addition, federal decision makers need good data to assess whether federal programs achieve their intended results.
Various federal laws require agencies to make different types of data open and transparent through public websites. But to be useful, federal data must be accessible, accurate, and timely (among other things). And federal agencies have faced a number of challenges that limit the usefulness of federal data.
For instance: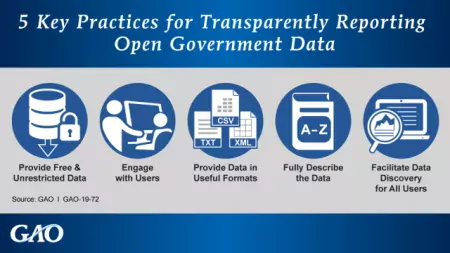 Performance information can help decision makers understand and improve results at federal agencies. A 2020 survey of federal managers showed that the reported use of performance information in decision-making generally increased across the federal government compared to prior years. However, opportunities remain for improving the accessibility and completeness of federal performance data made available on Performance.gov—including ensuring that this information consistently complies with public reporting requirements.
The Freedom of Information Act (FOIA) allows the public to request access to government information. During the COVID-19 pandemic, agencies received and processed fewer FOIA requests, but agency FOIA backlogs continued growing. Several agencies encountered initial challenges once employees moved to full-time telework due to difficulties accessing mailed requests or paper records. Agencies also said that lawsuits—which requesters may file if agencies don't meet FOIA response deadlines—were a growing challenge even before the pandemic.
 FOIA Lawsuits Received in Federal District Courts, 2012 through 2020