The Rising Threat of Domestic Terrorism in the U.S. and Federal Efforts to Combat It
Domestic terrorism is on the rise. Several attacks have been widely reported in the last few years. For example, in May 2022, a racially-motivated individual shot and killed 10 people in Buffalo, New York. A 2018 attack on a Pittsburgh synagogue left 11 people dead. All but eight states across the U.S. experienced at least one incident of domestic terrorism between 2010 and 2021. And over the last 10 years, domestic terrorism-related investigations have grown by 357%.
Today's WatchBlog post looks at our new report on the rising threat of domestic terrorism and federal efforts to combat it.
What do we know about domestic terrorism incidents?
Domestic terrorism is generally defined by law as involving criminal acts dangerous to human life on U.S. soil that appear intended to coerce a civilian population or influence or affect the conduct of government.
There were 231 incidents (meaning attacks or plots) that met the definition of domestic terrorism between 2010 and 2021, according to DHS. They occurred across the United States, but the greatest number of incidents occurred in states with major metropolitan areas—such as California (Los Angeles, San Diego, and San Francisco), New York (New York City), and Washington, D.C.
Domestic Terrorism Incidents by State, 2010 through 2021
Why are these attacks happening?
According to DHS, there were 231 domestic terrorism incidents between 2010 and 2021. Of these, about 35% (the largest category) were classified as racially- or ethnically-motivated. These attacks were also the most lethal. For example, in July 2016, a racially-motivated individual killed five police officers in Dallas. More recently, in May 2022, a racially-motivated individual shot and killed 10 people in Buffalo, New York.
Anti-government or anti-authority motivated violent extremism was the second largest category of incidents, and resulted in 15 deaths over the same time period.
There were also domestic terrorism incidents linked to animal rights extremists and abortion-related violent extremists, among other motivations. Animal rights-related incidents did not result in any deaths during this time period; incidents related to abortion-related violent extremists led to 3 deaths.
Domestic Terrorism-Related Incidents by Category, from 2010 through 2021
What is being done to combat domestic terrorism threats? 
The FBI is responsible for leading domestic terrorism-related investigations and intelligence efforts involving terrorist activities or plots. The Department of Homeland Security (DHS) tracks terrorism-related incidents, and is responsible for gathering and sharing intelligence on emerging terrorist threats with federal, state, and local governments and private entities. 
The federal government has been actively investigating and prosecuting acts of domestic terrorism. The number of FBI domestic terrorism investigations has more than doubled since 2020, and the number of open FBI investigations specifically has more than quadrupled from 1,981 in FY 2013 to 9,049 in FY 2021.
The annual number of federal district court prosecutions and charges has also increased, including a sharp increase in FY 2021 (see chart below). We found that prosecutors charged 1,584 defendants in 1,255 cases in federal district court with crimes that were related to domestic terrorism from October 2010 through July 2021. 
Number of Federal Defendants Charged in Domestic Terrorism-Related Cases, October 2010 through July 2021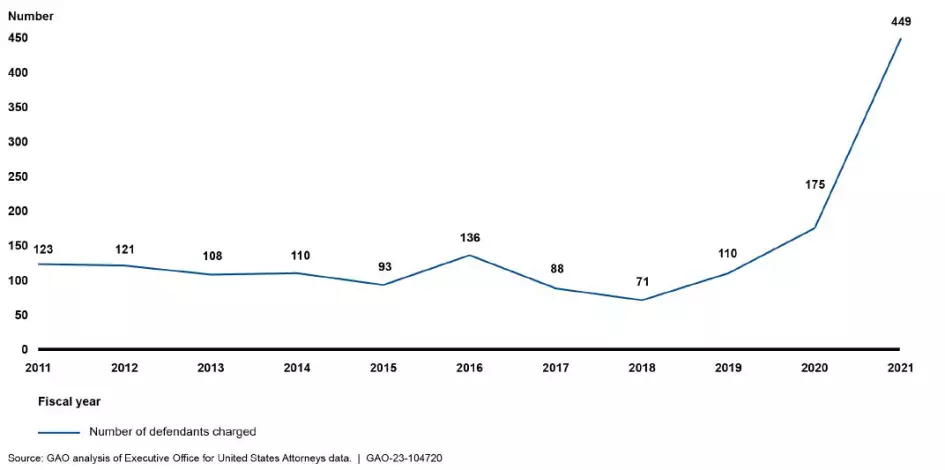 Domestic terrorism and other threats are rapidly evolving, and combatting these threats requires close collaboration between FBI, DHS, and other federal, state, and local agencies.
In our new report, we found that the FBI and DHS generally followed leading collaboration practices—sharing information with each other and their federal, state and local partners. However, they haven't assessed whether their collaboration agreements fully reflect their needs or how they should work together. Additionally, they did not submit comprehensive data to Congress in required reports. For example, FBI officials told us they did not use the data DHS collects on domestic terrorism incidents because they weren't aware DHS was collecting it. DHS officials in turn told us they didn't share their incident data with their FBI counterparts because they weren't asked for it.
We recommended in our report that FBI and DHS assess their existing collaboration agreements to see if they have a fully integrated way to share information and stop threats. We also recommended that they periodically evaluate the effectiveness of their collaborative practices. Having up-to-date, relevant formal agreements would address some of the concerns officials shared with us, and would make the FBI and DHS better partners to combat domestic terrorism.
Learn more about federal efforts to combat domestic terrorism in our new report.
---