Vehicle Crash Tests: Do We Need a Better Group of Dummies?
 "You Can Learn a Lot from a Dummy" was the slogan of a famous 1980s public service announcement campaign featuring two crash test dummies. These ads highlighted the importance of safety belts for millions of people, and were so popular they even inspired a line of children's toys.
While decades have passed since the ads aired, we haven't stopped learning from dummies—crash test dummies today are routinely used by the government and automakers to test how vehicles might perform in accidents. But the dummies used in crash tests may not represent diverse groups of people—like females, older people, or heavier individuals—making it hard to test whether vehicle safety features are effective for everyone.
In this WatchBlog post, we take a look at our new report about how crash test dummies are used, and some ways they may be improved to help make vehicles safer for more Americans.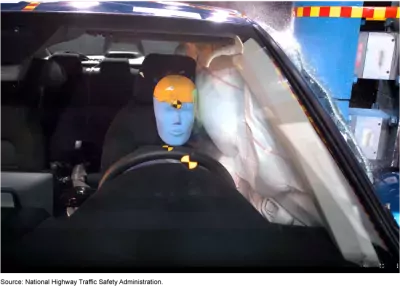 Same Dummy, Different Decade
The U.S. government and manufacturers have used crash test dummies for decades to help improve vehicle safety. The very first crash test dummy was developed in 1949 to help test the safety of airplanes for pilots. But this long history means that some aspects of the design and use of crash test dummies may be outdated.
For example, the height and weight of the adult crash test dummies currently approved by the National Highway Traffic Safety Administration (NHTSA) are based on percentile data of American adults that are decades old. This means that the dummy that was first used in 1986 and designed to represent a "mid-sized" American male is now closer in size to a mid-sized American female, and there is no approved dummy designed to represent heavier individuals.
Height and Weight of Dummies Used in Vehicle Crash Tests as of January 2023 Compared to American Adults by Percentile
The sensors placed in the dummies to collect data from crash tests also may not capture enough information to explain why some injuries happen in accidents. For example, females are more likely than males to suffer injuries on their lower legs in crashes, but the dummies don't have sensors on their legs—making it difficult to learn exactly why these injuries occur or how vehicle safety can be improved to help prevent them.
Behavior matters too
It's not just the physical features of the dummies that may be out of date, but also how the dummies are used in the crash tests themselves. NHTSA has multiple safety tests for vehicles, including front and side impact crash tests. But we found that the tests may not reflect real-world behavior. Currently, the female dummy isn't placed in the driver's seat for some of the crash tests, even though females are more likely to drive cars now than they were back when dummies were first mandated for crash tests in the 1970s.
Dummies aren't placed in the rear seats for most of the crash tests either, although many families drive with passengers in both the front and rear seats. This might especially impact vehicle safety measures for older individuals and children, who are more likely to be riding in the rear seats of cars. So the crash tests may not provide enough information to learn how to improve vehicle safety for all the types of passengers in cars.
Cars are safer than they were, but we can do more
In many ways, crash test dummies are a success story. The data collected from dummies in crash tests have led to safety features such as improved seat belts and air bags in vehicles—improvements that have saved hundreds of thousands of lives.
But our new report shows the crash test dummies, and how they are used, might need to be updated to represent more diverse groups of people.
NHTSA has taken some steps— such as supporting research, and taking action on using different dummies in tests, including more advanced male and female dummies—but it has missed some of its own milestones for putting these dummies to work in crash tests. And it has proposed new safety ratings. For example, it has suggested creating a special "silver" rating for vehicle features that are safer for older people, or a "family" rating for cars that are safer for children. But NHTSA has not followed up on many of these ideas. Without a comprehensive plan to address these issues, NHTSA may miss the chance to make vehicles safer for more Americans.
---