ICE Needs to Better Oversee Its Multi-Billion Dollar Program for Monitoring Noncitizens in Immigration Court Proceedings
Posted on December 13, 2022
Immigration and Customs Enforcement—commonly known as ICE—may detain some people awaiting decisions in their immigration court cases. ICE releases others and may monitor them under the Alternatives to Detention program. ICE is enrolling an increasing number of people in this program. Enrollment doubled from 2015 to 2020.
However, in our June report we found problems with ICE's oversight of the program. Today's WatchBlog post explores.
Who does ICE enroll in the Alternatives to Detention program?
People may be enrolled in ICE's Alternatives to Detention program if they are 18 years or older, currently in immigration court proceedings, and are not required to be detained for reasons such as having criminal convictions. In our report, we found that most enrollees were from Central America, 54% were women, and their average age was 32.
Enrollment in the Alternatives to Detention program more than doubled between 2015 and 2020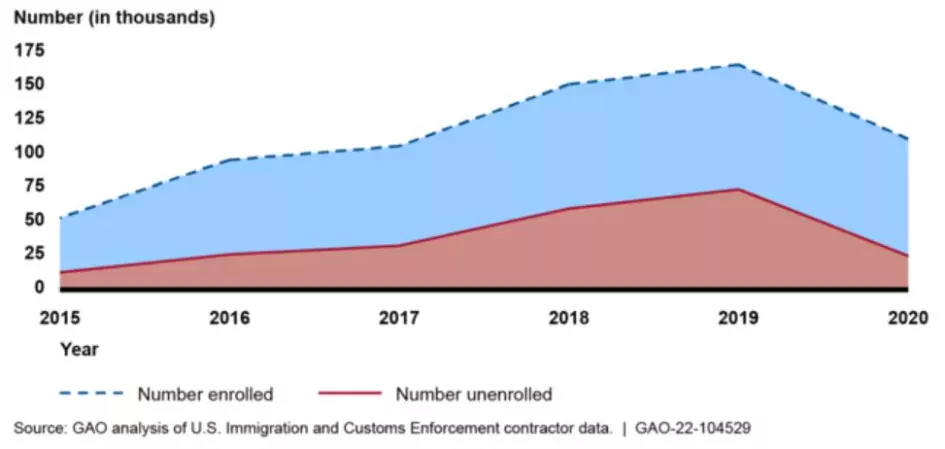 How does ICE monitor participant compliance?
ICE administers the program through a $2.2 billion contract. To help ensure program participants comply with their release requirements, such as appearing in court, the contractor supervises enrollees from over 200 sites across the country. For example, the contractor monitors participants through office visits and electronically through a facial matching smartphone app and GPS bracelets.  
While the program is meant to monitor those in immigration court proceedings (as previously stated), we found that most participants (79%) were unenrolled before their proceedings concluded. About half of the 79% who were unenrolled were monitored by ICE outside of the program. For example, they might be monitored through supervision by local offices without electronic monitoring. ICE officials told us that, because immigration court proceedings can take years, it is often not cost-effective to keep participants who comply with their release requirements in the program the entire time.
About a quarter of the 79% who were unenrolled had absconded (fled their address and could not be located) or did not comply with program requirements.
Why does ICE's oversight need improvement?
We looked at how ICE assesses its program and found that ICE does not track whether the majority of unenrolled participants continue to comply with the requirements of their release, or, for example, become fugitives. As a result, ICE has an incomplete picture of the performance of its program and doesn't know if it needs improvements.
We also looked at how ICE oversees the contract for its program. We found ICE does not assess the contractor against contract requirements, nor does ICE follow-up to see if the contractor addresses problems ICE identifies, among other issues. The contract includes 17 performance standards that establish requirements related to enrollments, home visits, and other program activities. However, ICE does not collect the information needed to assess the contractor against these standards. As a result, ICE does not know if the contractor is meeting contract requirements.
We recommended ICE take actions to improve oversight of its program contractor, which will improve its ability to hold the contractor accountable for providing the services that the government has paid for. We also recommended ICE better assess the performance of the program so that it knows if it is achieving intended results. ICE agreed with our recommendations and described steps it plans to take address them, such as following up to make sure the contractor addresses issues ICE identifies and documenting their resolution. GAO will be monitoring the steps the agency takes.
To learn more about our work on the Alternatives to Detention Program, read our recent report. You can also learn more about our work on border security and immigration, by visiting our key issues page.
---