COVID-19 Created New Challenges for Border Security and Immigration Enforcement Agencies
Immigration enforcement is the primary responsibility of 2 agencies within the Department of Homeland Security: U.S. Customs and Border Protection (CBP), which secures U.S. borders, and U.S. Immigration and Customs Enforcement (ICE), which manages the nation's immigration detention system. During the pandemic, these agencies faced new challenges including preventing the spread of COVID-19 among their workforce and noncitizen individuals held in immigration detention facilities.
Today's WatchBlog post looks at our 2 new reports on how ICE and CBP adapted their operations in order to help protect staff and detainees from contracting COVID-19.
CBP's and ICE's roles
CBP is responsible for detecting and preventing people and goods from entering the U.S. illegally at and between ports of entry. ICE is responsible for providing safe, secure, and humane confinement for detained individuals in immigration court proceedings or with an order of removal from the United States.
How ICE protected detainees and staff from COVID-19
At the onset of the pandemic, ICE developed a series of requirements to help protect detainees and staff from the virus. The agency implemented new protocols for intake processing, screening and testing, and social distancing. For example, all detainees are required to receive COVID-19 testing within 12 hours of arrival and are placed in quarantine for 14 days. Some facility officials told us that they faced difficulties quarantining detainees due to infrastructure limitations. Additionally, detainee compliance with protection measures, such as wearing face masks, was an ongoing challenge reported by officials.
To monitor implementation of its new protocols, ICE administers recurring surveys to assess facility compliance with requirements. However, in our new report, we found that limited on-site presence posed a challenge for validating survey responses. In December 2020, ICE revised the survey and implemented an on-site compliance check to help address this challenge.
As of March, ICE confirmed more than 10,000 cases of COVID-19 and 8 deaths among detainees within detention facilities.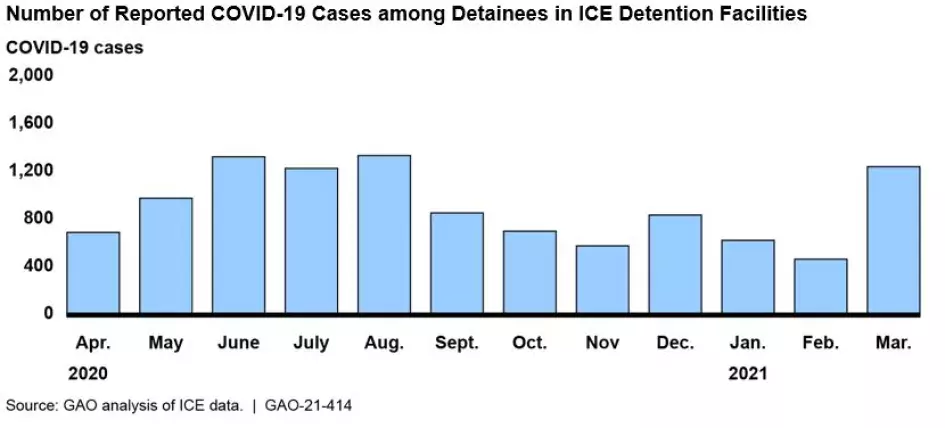 How CBP protected its employees from COVID-19
CBP employees were at a high risk of exposure and infection from COVID-19 given their role in patrolling U.S. borders and inspecting individuals and goods at ports of entry. To help protect its employees from exposure, CBP updated guidance, implemented workplace flexibilities, and provided protective equipment for both employees and the public.
CBP reported some challenges. For example, starting in May 2020, CBP encounters with individuals steadily increased at the southwest border. As a result, the agency requested additional resources and restructured their operations to intercept the increasing number of individuals at the borders who could be infected.
According to data through February, over 27,000 CBP employees became infected or were unable to work due to related illness or quarantining, and 24 employees died.
Want to learn more about how ICE and CBP responded to COVID-19? Check out our 2 new reports on ICE and CBP issued in June.
---
Questions on the content of this post? Contact the WatchBlog team at blog@gao.gov.