Posted on December 12, 2019
They say a picture is worth a thousand words—which is one reason our Watchdogs often snap photos on the audit trail to use as evidence in our reports.
In today's WatchBlog, we're highlighting some of the photos that helped to visually represent the results of our work in 2019.
Lingering oil
It can take decades and billions of dollars to undo the environmental damage from an oil spill. One of our audit teams captured this image of lingering oil from the 1989 Exxon Valdez oil spill in Eleanor Island, Alaska during a review of federal restoration efforts.
Truck underride guards
A truck underride crash occurs when a car slides under a large truck, like a tractor-trailer. The Department of Transportation requires trailers to have a rear safety bar—known as an underride guard—to prevent underride crashes.
While on a site visit for a report on truck underride guards, our auditors happened to notice this damaged guard on the rear of a passing truck. Worry not, the team promptly called the number on the back of the truck to alert the company about the issue.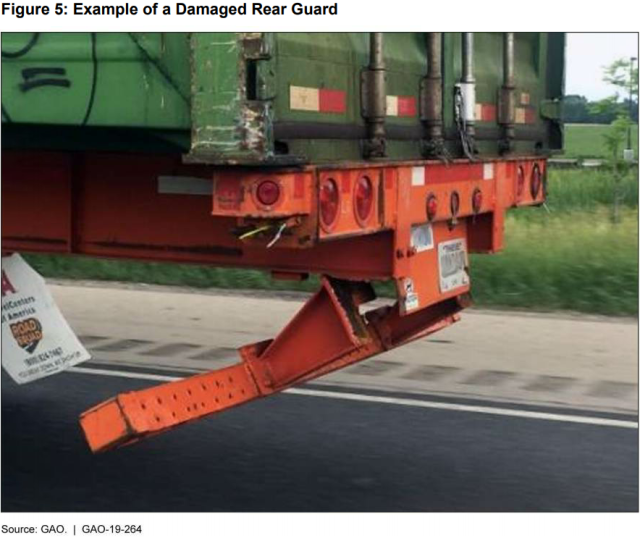 Hurricane damage
Recent hurricanes, wildfires, and flooding have highlighted the challenges the federal government faces in responding effectively to disasters. This photo of a motorboat washed ashore was snapped by one of our auditors in the small coastal town of Mexico Beach, Florida about a month after it was hit by Hurricane Michael.
We featured this photo in a testimony on our past and ongoing work on FEMA's disaster preparedness, response, and recovery operations.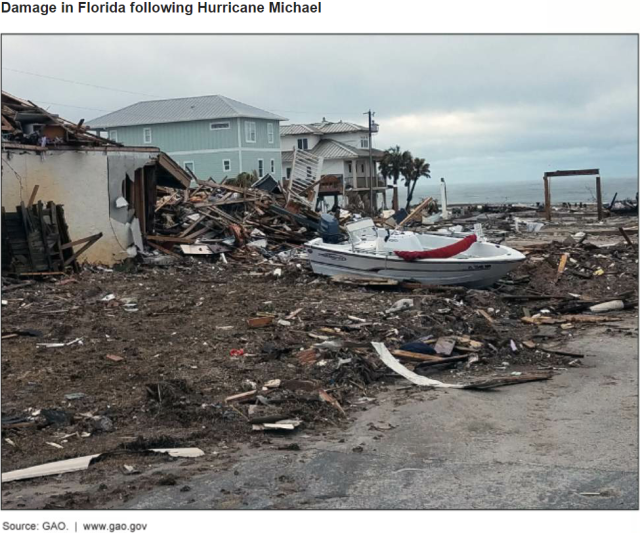 Visualizing environmental justice
Environmental justice seeks to address the disproportionately high health and environmental risks found among low-income and minority communities.
For example, California's mostly minority and low-income community of West Oakland is surrounded by 3 freeways and a port. Consequently, its residents are exposed to diesel air pollution that is 3 times higher than that in the surrounding area. A GAO auditor captured this photo while visiting West Oakland for our review of federal environmental justice efforts.
Security measures on federal lands
Federal land management agencies have law enforcement divisions to help protect employees and facilities on nearly 700 million acres of land. To observe federal efforts to secure facilities and protect employees on federal lands, our auditors went to several regional and state offices and field units.
This collage shows examples of some of the internal and external security measures at some of the facilities they visited.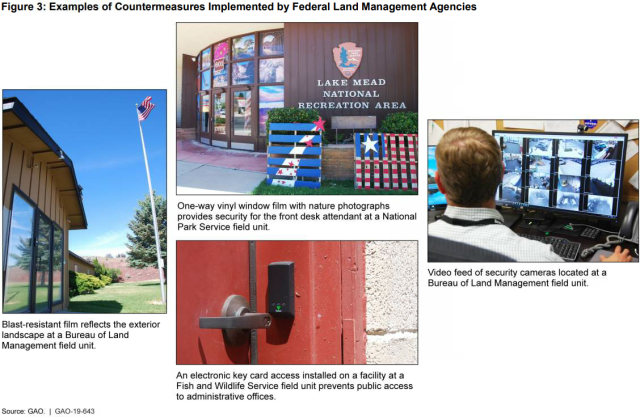 ---
Anne-Marie Fennell
Director