Snapshots from the Audit Trail
Posted on December 06, 2018
Our Watchdogs track the way agencies spend federal money—and take snapshots along the way as physical evidence on the
audit trail
. Today's WatchBlog highlights some of the best photos from our audit teams as they fanned out across the country and overseas to follow the money.
TSA officials at a Cuban airport
In August 2016, the first scheduled commercial flight in over 50 years made the trip between the United States and Cuba and new agreements allowed daily scheduled flights between the two countries. We
reported
on how TSA ensures the security of U.S.-bound aircraft from Cuba.
Marine debris in the Florida Keys
In 2017, Hurricanes Harvey, Irma, Maria, and the California wildfires created unprecedented demand for federal disaster help. Congress provided at least $120 billion in supplemental funding for these disasters.
We reported
that the timing and scale of the disaster damages nationwide caused shortages in available debris removal contractors and delays in removing debris.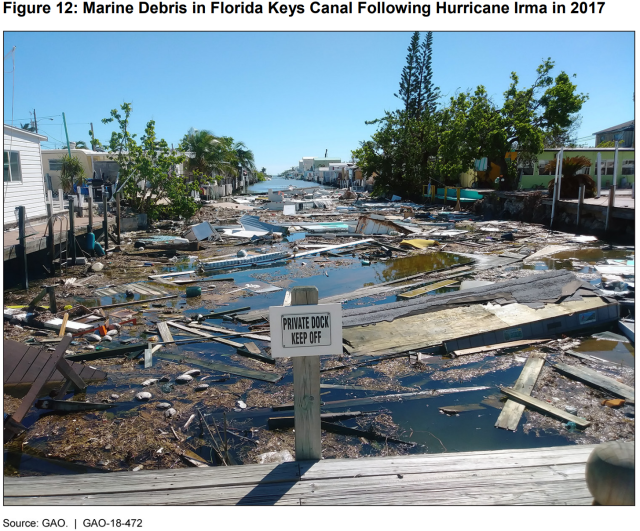 Capital project needs at HBCUs
We identified
significant capital project needs at Historically Black Colleges and Universities to ensure well-maintained, safe, and functional facilities. This photo depicts a public HBCU we visited where much of their building space had suffered damage from severe weather and other causes.
Wildlife products seized in Miami
The
illegal wildlife trade
—estimated to be worth $7 billion to $23 billion annually—is pushing protected and endangered animal species to the brink of extinction. The United States and Asia are key sources of demand for a variety of wildlife.
Safe handling of synthetic opioids
Federal agencies have developed guidance for safely handling
synthetic opioids
. The Drug Enforcement Administration's guidance notes that if a first responder encounters a situation where the scene is highly contaminated from fentanyl (a substance 100 times stronger than morphine), then he or she needs to wear a specialized full-body suit with a self-contained breathing apparatus, such as this one.
Volume of paperwork
Throughout the life of a
major disaster declaration
, jurisdictions, including tribes, are required to maintain paperwork to document the recovery projects. This photo shows an example of the volume of paperwork needed to support and close out the recovery projects associated with a landslide in Washington State, according to the tribal and state officials involved.
Baby turtles on the move
In
our previous work
on DOD adaptation to climate change impacts, we noted how these impacts may have caused a protected turtle species to nest on a part of the beach where it previously had not nested, limiting where the military can train. This photo illustrates this type of
impact
.
What does "smaller than 5 millimeters" look like?
Microbeads
are plastic pieces smaller than 5 millimeters that are added as exfoliants to health and beauty products, such as some cleansers and toothpastes. These tiny particles may pass through some water filtration systems and end up in the oceans and the Great Lakes, posing a potential threat to aquatic life.
---