6 years after Dodd-Frank, Oversight of Financial Services Industry Still Needs Streamlining
Today is the 6th anniversary of the signing of the Dodd-Frank Act. The law made a range of financial reforms meant to help prevent future financial crises. For example, it closed gaps in the oversight of consumer protection and markets that were previously unregulated.
However, Dodd-Frank didn't do much to simplify oversight of the U.S. financial system. We recently reviewed the U.S. financial regulatory structure in light of Dodd-Frank to see if the act helped to improve its efficiency and effectiveness. Read on for a snapshot of the current system and the work that still needs to be done.
Complex and fragmented oversight
Dodd-Frank made a number of reforms but it didn't ultimately end up clarifying the complex and fragmented U.S. regulatory structure. Responsibilities for overseeing the financial services industry are still spread out over multiple federal regulators, hundreds of state agencies, and many industry organizations.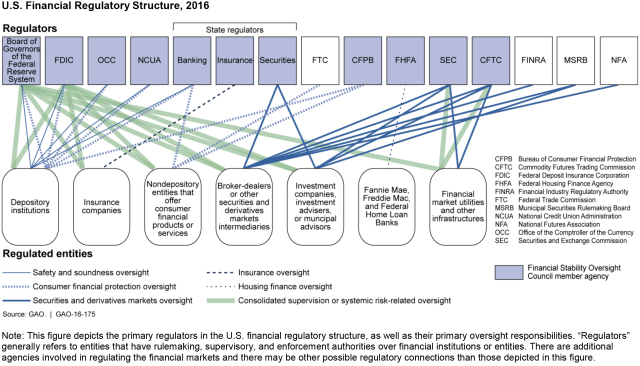 (Excerpted from GAO-16-175)
Lawrance Evans, a director in our Financial Markets and Community Investment team, explains this sprawling structure:
Why it's a problem
Because the fragmented and overlapping regulatory structure is still largely the same, so is the potential for inconsistencies and inefficiencies:
Duplicate reviews. Dodd-Frank created the Consumer Financial Protection Bureau, a new consumer financial protection agency. But the responsibilities for overseeing banks (to protect consumers) are split between this new agency and 4 different bank or credit union regulators. This arrangement may result in inefficiencies, such as duplicate examinations of banks.
Inconsistent oversight. One way financial institutions lessen their risk is through so-called swaps. These are fairly complex financial agreements that were unregulated prior to Dodd-Frank. Dodd-Frank regulated swaps and generally divided their oversight between 2 agencies—the Securities and Exchange Commission and the Commodity Futures Trading Commission.However, having 2 different agencies regulating interconnected markets can create inefficiencies. For example, we found differences in some of the agencies' rules for swaps. Firms told us that such differences could result in having to spend more time and effort trying to comply with both rules than one set of rules.
Different levels of consumer protection. Dodd-Frank increased federal consumer protections, but not all regulation is at the federal level. For example, states generally regulate insurance. But they have different requirements for licensing insurance agents and brokers. So some states have more rigorous requirements for agent and broker criminal background checks than other states. As a result, depending on what state you live in, you may have more or fewer financial protections.
Limits to mitigating risks. Dodd-Frank established an oversight council to monitor the overall financial system for risks. But, the council may not have all the authorities it needs to carry out this mission, particularly with respect to risks that arise from financial activities not specified in Dodd-Frank.
Cutting through the murk
We asked Congress to consider changing the U.S. financial regulatory structure to ensure more consistent and effective oversight. For example, it could decrease the number of federal entities involved or make legislative changes that ensure an effective response to risks to financial system stability.
We've also identified opportunities for better collaboration and information sharing among the key monitoring agencies. For this and other recommendations, check out all of our reports and testimonies on the Dodd-Frank Act.
---