A Policymaker's Duplication and Cost Savings Toolkit
On Tuesday's WatchBlog, we highlighted our new guide on assessing fragmentation, overlap, and duplication, as identified in our duplication and cost savings reports. We looked at what analysts should do, but congressional decision makers and executive branch leaders are also a major part of the equation.
Today, we're focusing on the steps that policymakers can take to address analysts' findings, as shown on the right side of this figure:
Steps for Analysts and Policymakers: Evaluating and Managing Fragmentation, Overlap, and Duplication
(Excerpted from GAO-15-49SP)
Guidance for Congressional Decision Makers
As we saw on Tuesday, analysts should generally propose specific options to increase program efficiency. It is up to decision makers to review the results of the analysis and the recommendations in order to make decisions.
Some questions they can ask include:
Which programs or aspects of programs are the most and least effective at meeting goals?
What are the benefits, potential trade-offs, and unintended consequences of the recommendations?
What legal restrictions or limitations in agency authorities might prevent implementation of these recommendations?
The guide also can help congressional decision makers determine next steps. Options may include
suggesting improvements in coordination and collaboration directly to agencies;
revising or explicitly defining roles and responsibilities in program administration; or
consolidating, streamlining, or eliminating programs.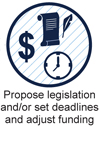 Even after reviewing the analysis and options, it may still be unclear which option is best. If further program information could help, decision makers could get it by establishing deadlines for agencies to provide the information, and consequences for noncompliance (such as reducing funding in future appropriations).
Guidance for Executive Branch Leaders
Executive branch leaders have different authorities and tools than congressional leaders when faced with duplicative, fragmented, or overlapping programs. Some steps for executive branch leaders include:
engaging in performance management activities,
initiating and participating in collaborative efforts both within and among agencies,
identifying and implementing (through guidance or rulemaking) efficiencies and other streamlining measures, and
identifying and communicating to congressional decision makers opportunities for increasing efficiency that require congressional action to implement.
For more information, check out our report, which features interactive navigation to easily move among the steps and other resources in the guide.
You can also find more duplication and cost savings work on our website, including an Action Tracker that monitors the progress agencies and Congress have made in addressing the actions we identified, and our most recent annual report.
---
Comments on GAO's WatchBlog? Contact blog@gao.gov.