GAO's 2019 Performance and Accountability Report — A Record Year in Financial Benefits
Posted on November 19, 2019
Every year, we report on how we've supported Congress and improved the performance and accountability of the federal government.
This year, we are happy to report that we saved the government a record $214.7 billion—that's $338 dollars for every dollar Congress invested in us!
Today's WatchBlog explores some of the highlights of this year's Performance and Accountability Report.
Saving money
We helped federal agencies save money in FY 2019 by making recommendations to prevent errors in federal payments, reduce fraud, and make better use of federal funds.
For instance:
We helped reduce the Department of Defense's procurement costs for weapon systems acquisitions, which saved $136.1 billion.
We helped reduce the Department of Education's cost estimates for student loans by $24.2 billion.
We helped improve the Internal Revenue Service's efforts to combat identity theft refund fraud, which saved $900.2 million.
Improving federal operations
We also reported on other benefits resulting from our work—i.e., benefits that can't be measured in dollars but led to improvements in federal programs and operations. We helped federal agencies make 1,418 of these improvements in FY 2019.
For example, our work helped federal agencies:
Test for and address lead in schools' drinking water
Become aware of cybersecurity issues in major weapons systems
Better conduct a secure and cost-effective census
Improve educational opportunities for foster children
Enhance the tools used to detect potential fraud in asylum applications
Building bodies of knowledge
We also continued to build on bodies of work, such as protecting children and students, health care, technology and science, and disaster reform and recovery. For example, we:
Reported on the need to improve the accuracy of federal data on the restraint and seclusion of students, better ensure that children eligible for Medicaid receive the recommended health screenings, and improve oversight of nursing homes to protect residents from abuse
Established a Science, Technology Assessment, and Analytics team in January—reorganizing our existing science and technology functions into a single team, and bolstering our expertise through targeted hiring
Issued 18 products and made 52 recommendations related to disaster reform and recovery, including the status of recovery efforts in Puerto Rico and the U.S. Virgin Islands, and the need for FEMA to strengthen how it plans, coordinates, and tracks its disaster contracts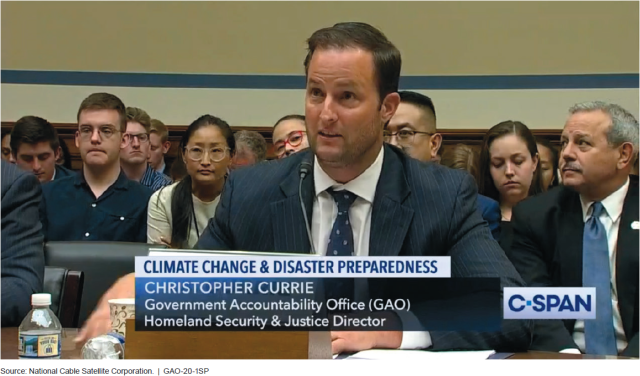 Assisting Congress
Our legislative impact was also significant. For example, in response to our work, Congress directed the Secretary of Transportation to create an advisory council to review options for improving disclosure of charges for air medical services, and the Department of Veterans Affairs to modernize and improve its appeals process, improve the accuracy and fairness of Gulf War Illness claims, and retrofit facilities to better care for women veterans.
In total, we received 671 requests for work from 90% of the standing committees of the Congress—supporting a broad range of congressional interests.
To learn more, check out our FY 2019 Performance and Accountability Report.
---