Maritime Piracy Threatens Some Parts of African Coast
Posted on September 19, 2014
Arghh, matey! September 19 may be International Talk Like a Pirate Day, but modern pirates continue to threaten commercial shipping lanes and fishing boats, particularly along the coasts of Africa. In 2014, we assessed the problem of piracy and the U.S. role in counterpiracy efforts off the Horn of Africa and in the Gulf of Guinea.
(The above interactive graphics from GAO-14-422 represent the Gulf of Guinea and Horn of Africa regions on Africa's west and east coasts. To interact with the graphics, download the pdf version of the report).
Piracy Declining in East Africa
Incidents of piracy, including robbery, kidnapping, and hijacking, have declined overall off the Horn of Africa and the coast of Somalia in East Africa after reaching unprecedented levels in 2008. In 2010, we reported on counterpiracy efforts in the region (listen to our 2010 podcast for more details).
While reports of piracy incidents off the Horn of Africa increased steadily from 2008 to 2011, they sharply declined after that point, according to the International Maritime Bureau. Vessels and companies operating in the area reported 235 piracy incidents in 2011, but only 15 in 2013.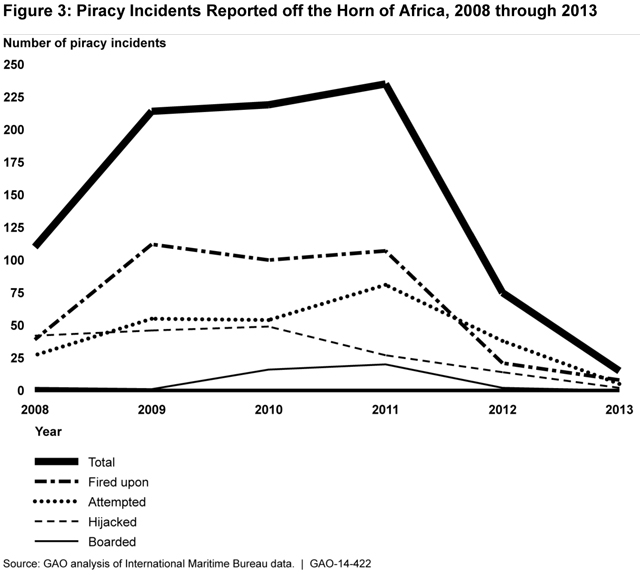 Excerpted from GAO-14-422
Similarly, from 2010 to 2013, the number of hostages taken during piracy incidents declined.
Excerpted from GAO-14-422
Officials from the departments of Defense and State participating in counterpiracy activities, as well as shipping industry officials and international partners, attribute the decline to a combination of prevention, disruption, and prosecution activities. However, officials cautioned that this progress is tenuous, and discontinuing these efforts could allow piracy in the region to resurge.
Maritime Crime and Piracy in Gulf of Guinea
Unlike the declines in East Africa, piracy remains a persistent problem in the Gulf of Guinea. Piracy and maritime crime—primarily armed robbery at sea, oil theft, and kidnapping—are persistent problems that contribute to instability in the gulf. Department of Defense officials stated that in 2007 the Gulf of Guinea was the most active region in the world for piracy. Later data from the Office of Naval Intelligence shows a significant increase in acts of piracy and maritime crime in the Gulf of Guinea, as shown in the figure. The incidents in 2013 included 11 vessel hijackings and 32 kidnappings.
Excerpted from GAO-14-422
Role of the United States
The U.S. government is an international partner in addressing piracy in both regions, and in June 2014, it updated its Counter Piracy Action Plan for addressing the changing conditions off the Horn of Africa, and included a new plan for addressing piracy and maritime crime in the Gulf of Guinea. We have recommended that National Security Council Staff, the Department of Defense, and the State Department assess their efforts and determine whether they can do something further to guide efforts in the Gulf of Guinea.
---