USAspending.gov Offers Insight on Government Spending, But Data Quality and User Awareness Impact Its Usefulness
Posted on February 03, 2022
The federal government spent more than $9 trillion last fiscal year, of which a large portion was dedicated to the COVID-19 response. If you're curious about how the money was spent, USAspending.gov provides a trove of information and is the official source of data on federal spending.
The Department of the Treasury (Treasury)—which runs the site—has taken steps to provide transparent information and foster accountability to the public on government spending. Today's WatchBlog post looks at our recent work on the awareness and use of USAspending.gov data and its quality.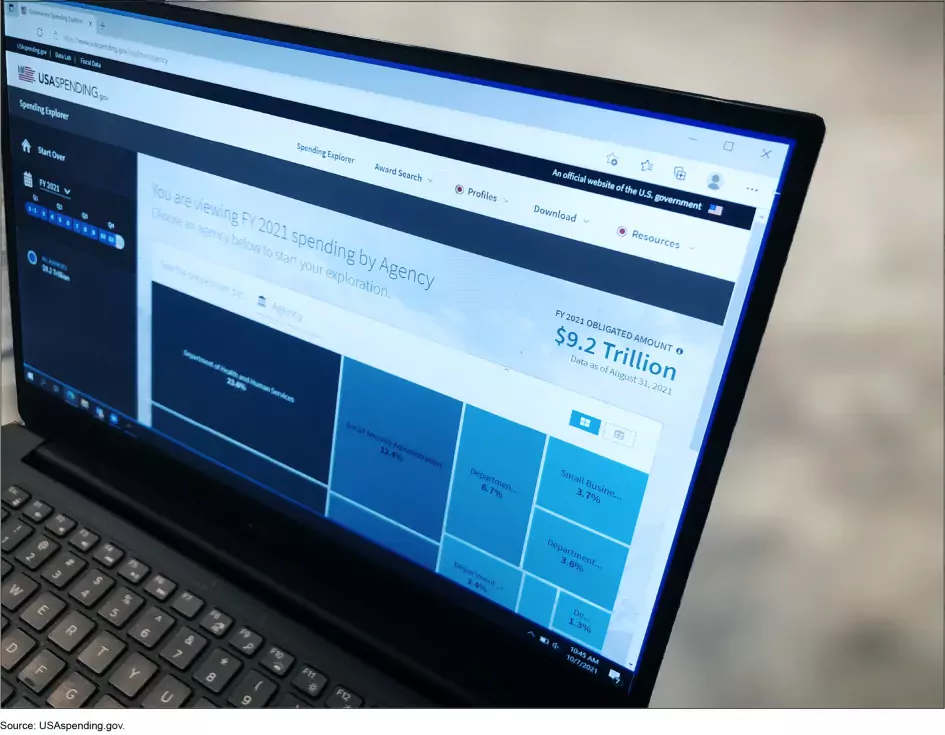 Awareness of USAspending.gov
In December 2021, we reported that many people don't know about USAspending.gov. For example, when we surveyed almost 4,000 federal managers, 92% said they hadn't heard of the site before. Traffic to USAspending.gov has grown steadily but slowly—about 3% on average per year for the past four years.
Treasury is trying to raise awareness of the website through public outreach. In 2021, it launched a Twitter campaign featuring data stories linked to federal agencies with large followings. This created an opportunity to reach a larger audience than the website's existing users. Below are some examples from Treasury's Twitter campaign.
While this outreach can help increase awareness, we recommended Treasury engage in more targeted outreach to show different kinds of users how they might benefit from information on USAspending.gov. For example, a social media post targeted to citizens could advertise how users can look up detailed government spending in their local zip codes.
Use of USAspending.gov
We also interviewed more than 60 individuals and groups, and asked them how they used USAspending.gov. Researchers and journalists told us that they used USAspending.gov data in their articles and reports. Organizations and contractors said they used the website to search for funding or contract opportunities. During the pandemic, some states told us that they used the site to see how other states spent their relief funds.
However, some of our interviewees also expressed concerns that, in some cases, led them to seek out other data sources that they knew and trusted instead of USAspending.gov. For example, some researchers found data errors–and a lack of transparency about data issues–while some state government staff members said finding the data they needed was difficult.
Treasury actively collects user feedback in an effort to make informed changes to USAspending.gov. This is a promising practice and has resulted in enhanced features and helpful fixes.
Data Quality on USAspending.gov
In 2021 we found that data quality—timeliness, completeness, and accuracy—has continued to improve on the site since we completed our first two mandated reviews in 2017 and 2019. Most agencies currently meet data submission deadlines and more of the submitted data is complete, and the budgetary data on the site is largely consistent.
However, improvements need to be made regarding the consistency of award data with agency records and the disclosure of data limitations. We have recommended that the Office of Management and Budget (OMB) and Treasury address these issues. Transparency about data limitations is not only required by OMB but also increases the level of trust users have in the data.  
To increase transparency, Treasury created a webpage on USAspending.gov for agencies to provide additional information and context on their data. But, we found that not all data limitations are disclosed on USAspending.gov and that some disclosures that are provided are not easy for users to find. Treasury could improve this by placing disclosures close to the data itself. This would better ensure users see the disclosures and have the proper context with which to draw accurate conclusions from the data.
To learn more, see our recent reports on USAspending.gov use and usefulness and data quality. For more information on how the federal government is making other data—beyond spending data—available to the public, check out our 2021 report on the OPEN Government Data Act.
---