Our Latest High Risk List Update—GAO Sees Progress in 16 Areas, But Lingering Serious Issues in Others
Today, we issued our latest High Risk List, which includes 37 areas across the federal government vulnerable to waste, fraud, abuse, and mismanagement or in need of transformation.
Every 2 years, at the start of each new session of Congress, we issue an update to our High Risk List. Since the last update 2 years ago, the federal government has accrued approximately $100 billion in financial benefits by addressing the areas on this list. In the past 17 years, financial benefits to the federal government due to progress in addressing high risk areas (FY 2006 through FY 2022) totaled nearly $675 billion. There are many other benefits that cannot be measured in dollar terms, such as improved service to the public and enhanced ability to achieve agency missions.
GAO's High Risk List is a blueprint on how the federal government can work better, improve its programs, and save money. Working collaboratively with Congress, agency leaders, and OMB to help implement lasting solutions, we've seen many issues come off the High Risk List since we started the program more than thirty years ago," said Gene L. Dodaro, Comptroller General of the United States and head of the GAO. "At the same time, the current list makes clear how much work remains to overcome a number of serious challenges facing the federal government. Addressing those issues has the potential to save significant amounts of money and improve services that are vital to the wellbeing of the American people.
Today's WatchBlog post looks at this most recent update to our High Risk List, including a new addition and areas that were removed.
What changed under the new list?
Our list includes one new high risk area—Strengthening Management of the Federal Prison System. The Bureau of Prisons' (BOP) faces significant, longstanding management challenges—including staffing—which represent a serious threat to inmate and staff safety. Additionally, BOP's plans to manage key rehabilitation programs are limited. These programs require better planning and ongoing review by BOP to be successful in reducing some inmates' sentences through credit-earning programs and lowering the rate of recidivism. When GAO and BOP leadership recently met about these issues, the new Director of the Bureau of Prisons expressed her commitment to bring sustained attention to resolving this high risk area.
Learn more about why we added Federal Prisons to our new High Risk List in the video below with GAO's Gretta Goodwin, an expert on federal prisons.
Also included in this update are two areas that were added in 2022 due to significant and long-standing challenges.
Health and Human Services' (HHS) Leadership and Coordination of Health Emergencies was added because GAO has found persistent deficiencies in HHS' leadership role in preparing for and responding to public health emergencies and extreme weather events.
The Unemployment Insurance System was designated high risk due to long-standing problems with the joint federal-state program's ability to meet the needs of unemployed workers, lessen the risk of fraud and improper payments, and prevent large financial losses of taxpayer money.
Since our last report in 2021, one area has regressed–DOD Business Systems Modernization–in its overall and segment ratings against our criteria for removal from the High Risk List. This was in part because DOD's efforts to produce action plans to address our concerns have stalled.
There is some good news. Two areas were removed from the list because they showed enough improvement—Pension Benefit Guaranty Corporation Insurance Programs and the 2020 Decennial Census. In addition to these two areas, progress was seen in 14 areas, the most since GAO began rating high-risk areas against our criteria in 2015.
Since the advent of the high risk program, 29 areas have come off of the list, and in March 2022, GAO issued a report to guide agencies through the high risk criteria to facilitate progress and take action toward removal.
How does GAO decide what to add to the High Risk List?
The High Risk List uses five criteria to assess progress on high risk areas: leadership commitment, agency capacity, an action plan, monitoring efforts, and demonstrated progress. These criteria form a road map for efforts to improve and ultimately address high risk issues. This illustrative example shows how we rate progress for a high risk area using these criteria.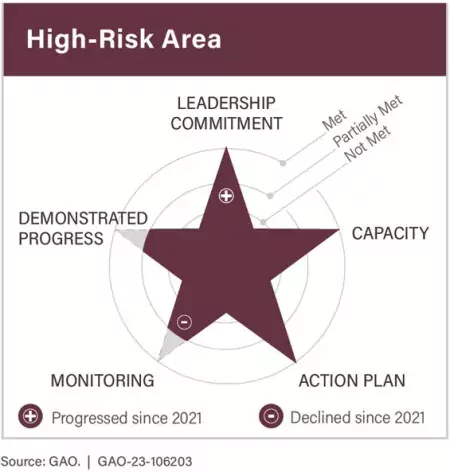 A little over half of the high risk areas (21) have fully met one or more of the five criteria. And 16 areas showed improvement since 2021.
GAO's High Risk List has helped form the basis for both agency-specific and government-wide solutions to improve performance and save money. The entire 2023 High Risk List is available on GAO.gov. 
---