To The Moon! What Challenges Does NASA's 2024 Lunar Mission Face?
NASA has big plans for returning American astronauts to the moon. However, in our reviews of the agency's efforts, we've discovered a number of challenges and obstacles that NASA must address in order to meet its planned timeline for these missions.
Today's WatchBlog post explores.
NASA's moon landing
NASA was already working to return astronauts to the moon by 2028 when, 2 years ago, the White House directed NASA to speed up plans to 2024 instead.
The planned 2024 mission, known as Artemis III, will be the first human lunar landing in over 50 years and is the start of larger plans for NASA. Later Artemis missions will establish a longer-term lunar presence. That could include establishing a lunar base camp for stays of 1 to 2 months on the moon's surface, and developing rovers to help astronauts conduct lunar research.
But recently, we found that a moon landing in 2024 would be difficult to achieve.
Challenges with the test flights
Before NASA can return to the moon, it must complete two test flights: an uncrewed flight currently planned for later this year, and a flight with crew planned for 2023. The test flights will demonstrate that the Space Launch System launch vehicle, Orion crew capsule, and associated ground systems have the initial capabilities needed for future Artemis missions.
NASA has made some recent progress towards these flights, including completing the "Green Run" series of tests of the Space Launch System's core stage.
We've been tracking these programs' progress and challenges for years, including the latest set of delays in a report last December.
After the programs are integrated, Artemis I and II must successfully occur—and any issues discovered during them must be resolved—before NASA can have confidence in the abilities needed to return astronauts to the lunar surface.
Getting boots on the moon
Because Artemis III's launch was sped up by 4 years, NASA is counting on being able to develop its components really quickly.
For example, NASA is developing a human lander to carry the astronauts on the final portion of their journey to the lunar surface. NASA's plans include 64 months to develop the lander—about 2 years faster than other NASA projects have taken on average. And a lander is inherently more complex than these other projects because it will carry crew.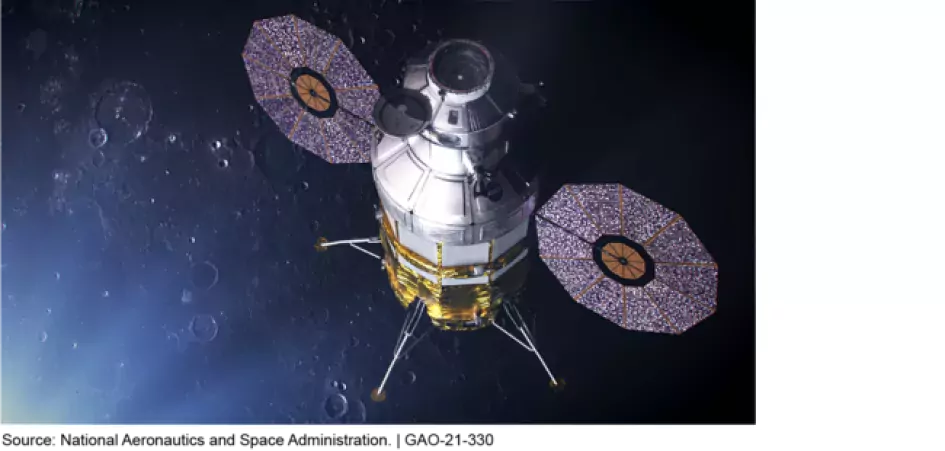 Another challenge is that Artemis III depends on the completion of many different, interdependent projects, some of which are early in development. These include:
The lander,
Updated spacesuits,
And potentially Gateway, a platform that'll serve as a sort of pit stop in orbit around the moon where astronauts can fuel up on power, water, and other supplies. Establishing Gateway is significant for NASA's longer-term lunar exploration goals, but NASA has not yet determined whether it'll use Gateway in the 2024 mission.
A 2024 lunar landing will require extensive coordination across these projects to ensure their systems will work together safely and seamlessly. These separate projects have a long way to go before they'll be ready for liftoff, including having to develop some new technologies. In addition to the known challenges, the aggressive schedule also doesn't leave much room for any unexpected problems.
Want to learn more about our work on NASA's upcoming missions? Check out our 2021 NASA Quick Look, featuring 2-page assessments of NASA's lunar and other major projects. And listen in on our podcast about NASA's lunar mission with GAO's Bill Russell, an expert on NASA programs.