How Artificial Intelligence Is Transforming National Security
Artificial Intelligence (AI) is expected to transform all sectors of society, including, according to Department of Defense (DOD), the very character of war. Failure to adopt and effectively integrate AI technology could hinder national security. As a result, DOD is investing billions of dollars and making organizational changes to integrate AI into their warfighting plans.
In today's WatchBlog post, we look at our recent reports about what DOD is doing to deploy this emerging technology, and our recommendations to improve this response.
AI in national security, on and off the battlefield
Strategic competitors, such as China and Russia, are making significant investments in AI for national security purposes. Likewise, DOD is investing billions of dollars to develop and integrate AI into defense systems. The types of AI that DOD uses range from automating simple business tasks (such as processing financial data) and predicting mechanical failures in weapons platforms to performing complex analysis to support its warfighting mission.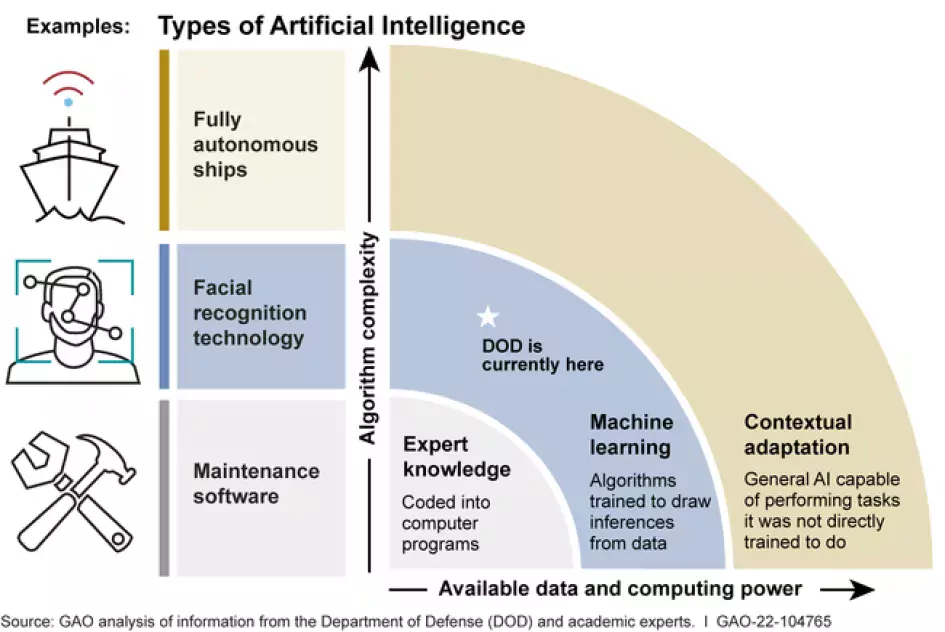 Many AI capabilities that support DOD's warfighting mission are still in development. Examples include analyzing intelligence information (for example, facial recognition), enhancing weapon systems (such as drones and robotic ships), or providing recommendations on the battlefield (such as where to target missile strikes).
Why is DOD challenged to quickly develop, acquire, and integrate AI technologies?
DOD has historically faced challenges to buying major weapons systems—such as a long acquisition process and a shortage of skilled workers. In February, we found that DOD is encountering these same problems—along with some others that are specific to AI.
Developing and acquiring AI capable of the complex, high-risk tasks DOD needs on the battlefield is different from acquiring traditional software. Traditional software is programmed to perform tasks based on static instructions, but AI is programmed to learn and improve at its given tasks. To train and run this machine-learning process requires large data sets, substantial computing power, and continuous monitoring to ensure the capability performs as intended.
For example, to train AI to identify a helicopter on its own, developers provide the model with many labeled photos of various helicopters to ensure it identifies helicopters and not, for example, planes, birds, or people.
DOD has begun to address these kinds of challenges, but it is too soon to know whether they will be effective.
Example of labeled imagery data for training AI
What changes has DOD made to accelerate its adoption of AI technology?
DOD has taken various actions to accelerate its ability to adopt and integrate AI capabilities:
Organizational Changes. DOD established the Joint Artificial Intelligence Center (JAIC) in 2018. In February 2022, DOD stood up the new position of the Office of the Chief Digital and AI Officer to serve as the department's senior official responsible for strengthening and integrating data, AI, and digital solutions and to replace the JAIC.
Additional investments. DOD increased investments in recent years, reflecting the growing importance of AI. For example, the latest budget request included $130.1 billion for research and development in recognition of the need to sharpen our readiness in advanced technology including artificial intelligence. 
To learn more about DOD's use and strategies for AI, check out our podcast with GAO's Brian Mazanec.
DOD would benefit from comprehensive plans and improved coordination
Our March report made 7 recommendations aimed at helping DOD to improve its planning for AI technology— including improving strategies, refining the inventory process, and establishing collaboration guidance. Additionally, DOD could use the GAO AI accountability framework to improve its strategies and plans moving forward.
AI is a rapidly developing technology, revolutionizing everything from daily life to global events. Additional actions from DOD are needed to ensure the department can take advantage of the AI revolution and maintain an advantage over China and Russia, which seek to do the same.