Facing Unprecedented Challenges, How Can the Federal Government Improve Its Management and Performance?
The federal government is facing unprecedented challenges—such as responding to COVID-19, economic uncertainty, and climate change. To address these and other concerns, the federal government develops management priorities and performance goals to strengthen its capacity to meet the needs of the American people.
Today's WatchBlog post looks at GAO's work on some proven practices that could help the federal government successfully implement its management and performance priorities.
Management priorities and performance goals
There are two types of top-level goals the government uses to address its management and performance priorities. These are cross-agency and agency-specific goals.
Cross-Agency Goals. Cross-agency goals focus attention on longer-term, complex outcomes that require collaboration because they cut across multiple federal agencies. They are developed by the Office of Management and Budget (in coordination with multiple federal agencies) to prioritize actions and improve government management in areas such as financial, human capital, and information technology management.
However, managing cross-agency goals can be challenging. We've identified some actions and considerations that can help. For example, we found that agencies could better dedicate resources (such as funding, staffing, and technology) to effectively implement these goals.
Actions to implement cross-agency goals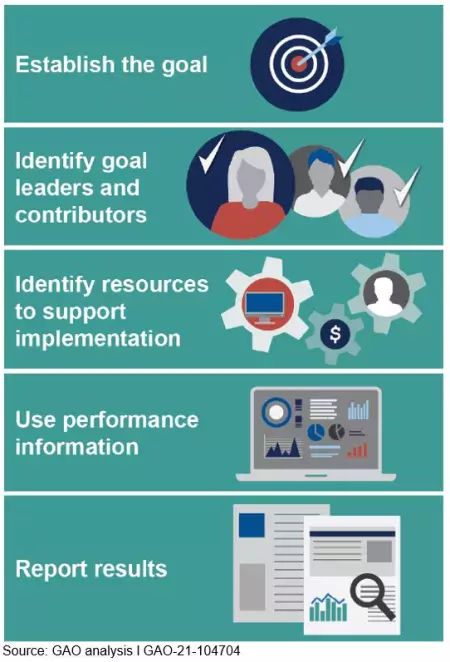 Agency Goals. Our work has also highlighted practices that can help agencies make progress on their management priorities and performance goals that help agencies to meet their missions. These include:
Using data and other evidence to inform decisions, like allocating resources; and
Publicly reporting on results to foster transparency, improve oversight, and enhance public participation.
As the federal government implements its management and performance priorities, these proven practices could help agencies tackle significant long-term challenges and achieve greater results. Find out more about our work here.
---