Everyone Ready for Atlantic Hurricane Season?
This week marks the start of the Atlantic Hurricane Season. To prepare, you might be considering such activities as stockpiling water and making a plan with family or neighbors.
At the federal level, preparing for—and recovering from—disasters requires planning with people across the nation. The Federal Emergency Management Agency helps coordinate federal assistance for disaster recovery, and supports state, local, and tribal governments in carrying out their preparedness and response activities. Following Hurricane Katrina and the lessons learned from that catastrophic disaster, Congress passed a law that required FEMA to develop a national disaster recovery strategy, among other things.
Turn off the Weather Channel for a few minutes as the WatchBlog checks in on how well FEMA is coordinating at every level to respond to and recover from disasters.
Preparing for and responding to disaster
The scene of a disaster isn't the first time responders should meet. So it's important that FEMA develop relationships and learn how to work effectively with the right state and local officials.
However, we have found that FEMA has struggled to coordinate with its state and local partners. For example, state and local governments need to be able to provide food, supplies, and medical assistance to disaster survivors for the first 72 hours before FEMA and federal responders arrive. FEMA developed a voluntary tool to help states and localities assess their readiness to respond to a disaster with logistics capabilities, including delivering goods to disaster responders. But FEMA hasn't figured out how many staff it needs in its regional offices to implement the tool.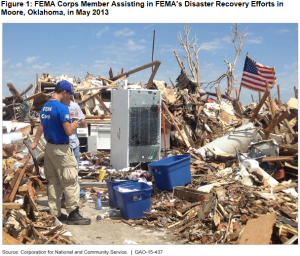 FEMA has also faced challenges managing its own workforce. The agency has historically relied on both permanent and temporary disaster-related employees when responding to disasters. But it doesn't always get the people it needs, including enough "surge capacity" volunteers from other Department of Homeland Security agencies.
In addition, FEMA has struggled to address coordination challenges between its regional and headquarters offices in managing its preparedness grant programs—a longstanding problem at the agency.
 Planning ahead to recover together
If communities are well-prepared for disaster, they will be in a better position to respond and recover.  In 2011, FEMA created the National Disaster Recovery Framework specifically to help it coordinate with everyone it needs to when recovering from a disaster—and preparing for the next.
The framework requires FEMA to plan ahead to work with multiple federal entities—including the Departments of Health and Human Services, Housing and Urban Development, and Commerce—because disaster can touch almost every aspect of a community. The framework also outlines the roles of state, local, and tribal governments, because those entities have primary responsibility for the recovery of their communities.
We recently went out and asked some state emergency management officials what they thought about how the National Disaster Recovery Framework was working. We found that 4 of the 5 states in our review didn't understand aspects of the framework.
For example, emergency management officials in Alaska told us they were confused by what rebuilding assistance they could expect from FEMA. The officials applied for assistance to help rebuild a flooded power plant, and while FEMA helped pay for repairs, it didn't help upgrade the plant to withstand future floods. The community is still looking for funding to make those upgrades.
And despite the desire to build relationships across levels of government, state officials told us that turnover at regional FEMA offices means it's hard to build those types of collaborative relationships with FEMA.
We have made multiple recommendations to FEMA on how it can better coordinate with its partners at all levels of government—before, during, and after disaster strikes. We will continue to keep an eye on how FEMA helps communities affected by catastrophic disasters.
---