Our 2016 "Quick Looks" at DOD, NASA, and DHS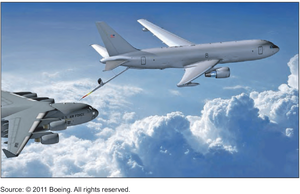 A visualization of the K-46A tanker aircraft refueling a C-17 aircraft, from our DOD Quick Look.[/caption]
Every year, we review the federal government's priciest and therefore riskiest acquisition programs through our "Quick Looks." The 3 agencies we focus on are the Department of Defense, NASA, and Department of Homeland Security. While these agencies have very different missions, they each rely on complex systems—like airplanes, rockets, and IT networks—to accomplish their goals.
Last week we released our latest reviews of these major programs. We measured their progress against their own plans as well as our best practices for major acquisitions. Today's WatchBlog has the highlights—and podcasts!
DOD: Saving money, if not time
[4/5: The description of delays was edited for clarity.]
DOD has 79 major acquisition programs with estimated life-cycle costs of $1.4 trillion. DOD's portfolio may be large, but this total cost is the smallest in a decade. In fact, DOD reduced costs for 37 programs, 29 of which accounted for cost reductions totaling $9.5 billion over the past year, including savings related to the F-35 Joint Strike Fighter.
Moreover, DOD gained $10.7 billion in buying power for 38 major acquisition programs. This means that DOD can buy more goods or services for the same amount of money.
But the news is not all good. We found an average increase in delay of 2.4 months for getting new tools into the hands of warfighters compared to last year. This was driven by delays in 11 of the 79 programs.
Further, we found that DOD is not using "knowledge-based acquisition best practices" for most of its programs. Imagine placing an order for something that doesn't yet exist—and may never. That's what DOD has done in several programs.
Instead, DOD should follow the figure below that illustrates our best practices framework mapped onto DOD's acquisition cycle.
(Excerpted from GAO-14-340SP)
Listen to Mike Sullivan, a director in our Acquisition and Sourcing Management team, explain "fly before you buy," as well as details on how DOD managed to save billions of dollars:
NASA: On target for now
NASA has 18 major projects with an estimated life-cycle cost of almost $54 billion. NASA continues to stay on course in managing these projects—building on previous years' cost and schedule improvements.
NASA has also maintained its strides in the technology maturity and design stability of its projects. Having mature tech and stable designs means the program engineers and managers know what technology they need, how to build it, and how long that will take. These are best practices because mature tech and stable designs help avoid costly design changes down the road.
(Excerpted from GAO-16-309SP)
However, it's not all smooth sailing for space programs. For 8 out of the last 9 years, at least one major NASA project had significant cost or schedule growth. And NASA's two largest programs for human exploration—the Orion crew vehicle and Space Launch System—are entering the riskiest stage of development when cost and schedule problems may take off.
Hear Cristina Chaplain, a director in our Acquisition and Sourcing Management team, explain how NASA projects can go off course:
DHS: Better managed, but over budget
The Department of Homeland Security's acquisition programs may seem small compared to DOD's, but DHS had a $7 billion portfolio in fiscal year 2015, and the department expects it will ultimately spend more than $180 billion over these programs' lifetimes. Of the 25 programs we reviewed, more than half either lacked schedule or cost goals or were already late, over cost, or both.
But DHS is working to fix these issues. For example, it recently approved schedule and cost goals for 4 large programs that had lacked approved goals as recently as last year. The department is also taking steps to save money. For example, it required its component agencies—such as TSA and FEMA—to identify tradeoffs to address funding gaps prior to major decisions, although we found that some components' processes could be more formal, and many large gaps remain.
The department itself has acknowledged it has about a 30% gap between what these major programs are expected to cost and the money they are expected to receive for a 5-year period.
(Excerpted from GAO-16-338SP)
Michele Mackin, a director in our Acquisition and Sourcing Management team, explains what DHS needs to do:
All the Quick Looks
Want more insights into government spending? Check out the PDFs of each of the Quick Looks, then flip to the end for two-pagers featuring photos and figures for selected programs in these 3 agencies' major acquisitions portfolios: DOD, NASA and DHS.
---
Michele Mackin
Managing Director