Pandemic Learning:
Less Academic Progress Overall, Student and Teacher Strain, and Implications for the Future
GAO-22-105816
Published: Jun 08, 2022. Publicly Released: Jun 08, 2022.
This report examines the pandemic's effect on academic progress in the 2020-21 school year.
In our survey, many K-12 public school teachers reported that more of their students started the year behind and made less progress than in a typical year.
For example, teachers noted that kids started the year behind grade level after closures in spring 2020. Most teachers had students who ended the year behind grade level, as well.
Some strategies that could help include mental health services, smaller class sizes, and better links between schools and families.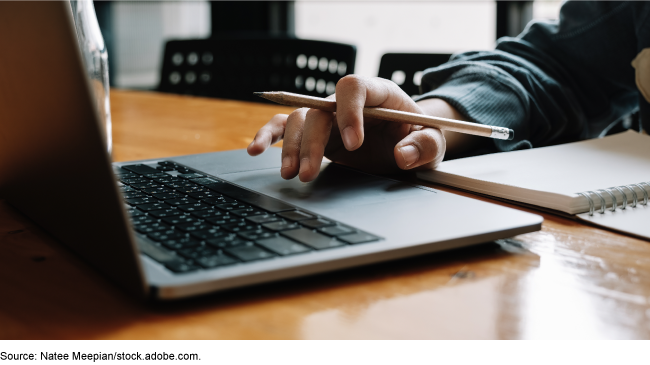 Skip to Highlights
What GAO Found
Compared to a typical school year, teachers reported that more of their students started the 2020-21 school year behind and made less academic progress, according to GAO's generalizable survey of K-12 public school teachers. Teachers also reported that many students ended the year behind grade level expectations (see figure). Educators and parents also shared their insights and experiences about student struggles and learning loss during the year.
Academic Progress during School Year 2020-21

Note: The margin of error for all percentages was less than or equal to +/- 8 percent at the 95 percent confidence level. The survey asked teachers how many of their students were behind grade level or made less academic progress. We did not define "behind" or "academic progress" as we wanted to obtain teachers' overall observations of their students.
GAO estimated that about half of teachers (52 percent) had more of their students start the 2020-21 school year behind compared to a typical school year, and that this affected younger students more than older students. Further, nearly two-thirds of teachers (64 percent) had more students make less academic progress than in a typical school year. These issues occurred across all grades and instructional models, and were more pronounced in some than others. For example, between 68 and 72 percent of teachers of older students or in virtual or hybrid environments had students who made less progress than is typical, compared to other grades and learning models. Finally, 45 percent of teachers had at least half of their students end the year behind grade level.
Educators and parents did note, however, that some students excelled despite the strain of the pandemic. Factors associated with such success included flexibility to work at their own pace, and strong familial support.
The pandemic continues to take a toll on students' and teachers' well-being. The trauma of the last 2 years has profoundly affected many students and teachers, some of whom lost parents or family members. As our teacher survey, educator and parent discussion groups, and other research has shown, this trauma and pandemic-associated schooling disruptions disproportionately harmed vulnerable students and contributed to growing disparities between student populations. Further, after 2 years of challenging working conditions, teachers are confronting burnout and recent surveys indicate that many are thinking of leaving their jobs.
To help address these ongoing challenges as well as inform thinking about managing future learning disruptions, educators and parents identified strategies such as reducing class sizes or student-teacher ratios to provide more individualized attention to students.
Why GAO Did This Study
The COVID-19 pandemic disrupted learning for millions of students, educators, and families. Its effects continue to reverberate across the nation and produce challenges for schools that will likely be felt for years to come. In many respects, the 2020-21 school year offers insights and lessons on the struggles and successes that schools, educators, and parents faced.
The CARES Act includes a provision for GAO to report on its ongoing COVID-19 monitoring and oversight efforts. This report, the third in a series of three reports, examines (1) the effect on academic progress, and (2) implications, and strategies and resources identified by educators and parents to address ongoing challenges or future learning disruptions.
To address these objectives, GAO contracted with Gallup to (1) conduct a nationally representative survey of elementary and secondary public school teachers between June 18 and July 9, 2021 and (2) arrange virtual discussion groups with teachers, principals or assistant principals, and parents. The overall response rate was 8.2 percent (using the American Association for Public Opinion Research's response rate 3, which accounts for the estimated eligibility rate of non-respondents). GAO analyzed the resulting survey data and discussion group information. GAO estimated margins of error at the 95 percent confidence level. To view the first two reports, see GAO-22-104487 and GAO-22- 105815.To view the supplement online, click on http://www.gao.gov/products/GAO-22-105817.
For more information, contact Jacqueline M. Nowicki at 617-788-0580 or nowickij@gao.gov.
Additional Data