Federal Highway Administration:
Administrative Expenses Funded from the Highway Trust Fund
GAO-21-419R
Published: May 13, 2021. Publicly Released: May 13, 2021.
The Highway Trust Fund supports programs administered by the Federal Highway Administration (FHWA). We reviewed the FHWA's use of these funds for administrative expenses for the past 5 years.
In this briefing, we reported that FHWA's administrative expenses included things like general operating expenses (e.g., salaries, travel, etc.), as well as specific programs—such as one that assists disadvantaged businesses.
FHWA adequately designed tracking and monitoring controls over its use of Highway Trust Fund money for administrative expenses. FHWA also has limited flexibility to reallocate these funds to certain other administrative functions.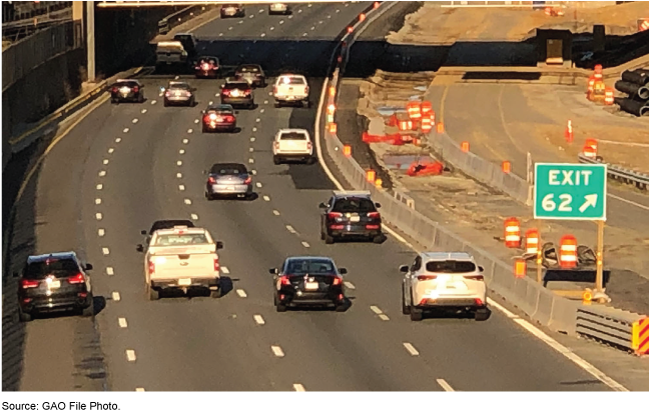 Skip to Highlights
What GAO Found
GAO found that the Federal Highway Administration (FHWA) administrative expenses funded from the Highway Trust Fund (HTF) for fiscal years 2016 through 2020 include (1) general operating expenses (salaries and benefits, equipment, travel, and other expenses); (2) transfers to the Appalachian Regional Commission; and (3) Disadvantaged Business Enterprise, Highway Use Tax Evasion, and On-the-Job Training Support Services programs. In reviewing FHWA's tracking and monitoring internal controls over general operating expenses, GAO found that FHWA had adequately designed these controls as of September 30, 2020, for the significant business processes related to general operating expenses. Furthermore, GAO found that FHWA has limited flexibility, under existing laws and regulations, to reallocate administrative monies funded from the HTF between general operating expenses and certain other functions. GAO is not making any recommendations in this report.
Why GAO Did This Study
The Fixing America's Surface Transportation Act (Public Law 114-94) includes a provision for GAO to submit a report describing the administrative expenses of the Department of Transportation's FHWA funded from the HTF every 5 years following an initial report. GAO's initial report was issued in June 2016 and covered fiscal years 2013 through 2015.
The Department of Transportation provided technical comments, which GAO incorporated as appropriate.
Skip to Recommendations
Recommendations
GAO is not making any recommendations in this report.