Military Housing:
DOD Needs to Strengthen Oversight and Clarify Its Role in the Management of Privatized Housing
Fast Facts
Private-sector companies build, renovate, and maintain about 99% of family housing at military bases in the United States. However, with reports of hazards like mold and pest infestations, there are concerns about how well DOD monitors the condition of this housing.
Military departments have increased their monitoring of privatized housing conditions, but we found they don't have reliable data on housing maintenance or resident satisfaction.
We made 12 recommendations, including that DOD ensure it is collecting information that accurately reflects housing conditions and is clearly communicating the role of military housing offices to residents.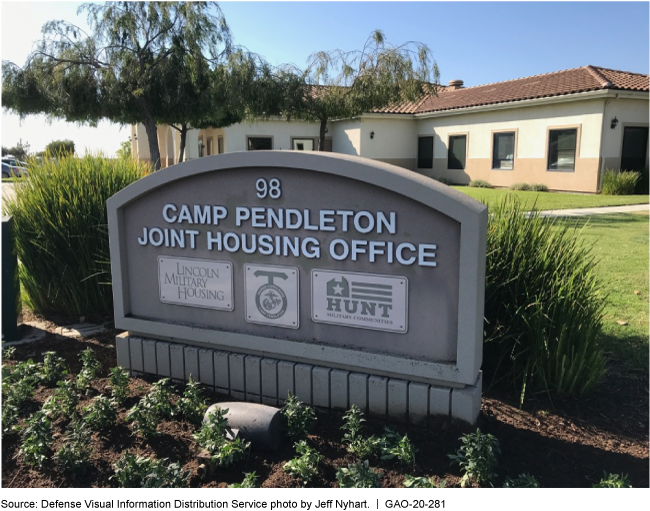 Camp Pendelton
Skip to Highlights
Highlights
What GAO Found
The Office of the Secretary of Defense (OSD) and the military departments conduct a range of oversight activities, but some of these activities have been more extensive than others. Specifically, GAO found that:
The military departments conduct some oversight of the physical condition of housing, but some efforts have been limited in scope. Military departments have authority to conduct oversight of the condition of privatized housing. That oversight generally consists of reviewing a sample of work order requests, visually inspecting housing during change-of-occupancy, and conducting other point-in-time assessments. However, GAO found that these efforts are limited in scope. For example, annual interior walk-throughs are limited to just a few homes at some installations, which may not comprehensively reflect the condition of the housing units at those installations.

The military departments use performance metrics to monitor private partners, but the metrics do not provide meaningful information on the condition of housing. OSD has recently issued guidance to the military departments to ensure consistency in the framework used to measure project performance. However, the specific indicators used to determine if the metrics are being met may not accurately reflect performance related to the condition of the home. For example, a common indicator is how quickly the private partner responded to a work order, not whether the issue was actually addressed.

The military departments and private partners collect maintenance data on homes, but these data are not captured reliably or consistently. The Department of Defense (DOD) is expanding its use of work order data to monitor and track the condition of privatized housing. However, based on GAO's analysis of data provided by all 14 private partners, these data cannot reliably be used for ongoing monitoring of privatized housing because of data anomalies and inconsistent business practices in how these data are collected.

DOD provides reports to Congress on the status of privatized housing, but some data in these reports are unreliable, leading to misleading results. DOD provides periodic reports to Congress on the status of privatized housing, but reported results on resident satisfaction are unreliable due to variances in the data provided to OSD by the military departments and in how OSD has calculated and reported these data.
OSD has made progress in developing and implementing a series of initiatives aimed at improving privatized housing. In addition, Congress established several requirements addressing privatization housing reform. However, DOD officials and private partner representatives have identified challenges that could affect implementation of these various initiatives. These include concerns that implementation could have unintended negative impacts on the financial viability of the privatized housing projects. However, DOD has not assessed the risk of the initiatives on project finances.
Why GAO Did This Study
Congress enacted the Military Housing Privatization Initiative in 1996 to improve the quality of housing for servicemembers. DOD is responsible for general oversight of privatized housing projects. However, private-sector developers are responsible for the construction, renovation, maintenance, and repair of about 99 percent of military housing in the United States. Recent reports of hazards, such as mold and pest infestation, have raised questions about DOD's oversight of privatized military housing.
Conference Report 115-952 included a provision for GAO to review ongoing issues within privatized housing. This report assesses, among other things, the extent to which OSD and the military departments (1) conduct oversight of privatized housing and (2) have developed and implemented initiatives to improve privatized housing. GAO reviewed policies and guidance; visited a non-generalizable sample of 10 installations; analyzed work order data; and interviewed DOD officials and private partner representatives.
Skip to Recommendations
Recommendations
GAO is making 12 recommendations, including that DOD take steps to improve housing condition oversight, performance indicators, maintenance data, and resident satisfaction reporting as well as to assess the risk of the initiatives on project finances. DOD generally concurred with the recommendations and identified actions it plans to take to implement them.
Recommendations for Executive Action
| Agency Affected | Recommendation | Status |
| --- | --- | --- |
| Office of the Secretary of Defense | The Secretary of Defense should ensure that the Assistant Secretary of Defense for Sustainment, in collaboration with the military departments, provide updated guidance for the oversight of privatized military housing, to include oversight objectives for each service to monitor the physical condition of privatized homes over the remaining duration of the ground leases. (Recommendation 1) | Closed – Implemented |
| Office of the Secretary of the Army | The Secretary of the Army should take steps, in collaboration with the Army's private housing partners, to review the indicators underlying the privatized housing project performance metrics to ensure they provide an accurate reflection of the condition and quality of the homes. (Recommendation 2 | Closed – Implemented |
| Office of the Secretary of the Air Force | The Secretary of the Air Force should take steps, in collaboration with the Air Force's private housing partners, to review the indicators underlying the privatized housing project performance metrics to ensure they provide an accurate reflection of the condition and quality of the homes. (Recommendation 3) | Closed – Implemented |
| Office of the Secretary of the Navy | The Secretary of the Navy should take steps, in collaboration with the Navy and Marine Corps' private housing partners, to review the indicators underlying the privatized housing project performance metrics to ensure they provide an accurate reflection of the condition and quality of the homes. (Recommendation 4) | Closed – Implemented |
| Office of the Secretary of Defense | The Secretary of Defense should ensure that the Assistant Secretary of Defense for Sustainment, in collaboration with the military departments and private housing partners, establish minimum data requirements and consistent terminology and practices for work order data collection for comparability across installations and projects and to track trends over time. (Recommendation 5) | Closed – Implemented |
| Office of the Secretary of Defense | The Secretary of Defense should ensure that the Assistant Secretary of Defense for Sustainment require the military departments to establish a process to validate data collected by the private housing partners to better ensure the reliability and validity of work order data and to allow for more effective use of these data for monitoring and tracking purposes. (Recommendation 6) | Open |
| Office of the Secretary of Defense | The Secretary of Defense should ensure the Assistant Secretary of Defense for Sustainment, in collaboration with the military departments, develop a process for collecting and calculating resident satisfaction data from the military departments to ensure that the data are compiled and calculated in a standardized and accurate way. (Recommendation 7) | Closed – Implemented |
| Office of the Secretary of Defense | The Secretary of Defense should ensure the Assistant Secretary of Defense for Sustainment provides additional explanation of the data collected and reported in future reports to Congress, such as explaining the limitations of available survey data, how resident satisfaction was calculated, and reasons for any missing data, among other things. (Recommendation 8) | Open |
| Office of the Secretary of the Army | The Secretary of the Army should develop and implement a plan to clearly and systematically communicate to residents the difference between the military housing office and the private partner. At a minimum, these plans should include the Army housing office's roles, responsibilities, locations, and contact information and should ensure that all residents are aware that they can directly contact Army housing office officials. (Recommendation 9) | Closed – Implemented |
| Office of the Secretary of the Air Force | The Secretary of the Air Force should develop and implement a plan to clearly and systematically communicate to residents the difference between the military housing office and the private partner. At a minimum, these plans should include the Air Force housing office's roles, responsibilities, locations, and contact information and should ensure that all residents are aware that they can directly contact Air Force housing office officials. (Recommendation 10) | Closed – Implemented |
| Office of the Secretary of the Navy | The Secretary of the Navy should develop and implement a plan to clearly and systematically communicate to residents the difference between the military housing office and the private partner. At a minimum, these plans should include the Navy housing office's roles, responsibilities, locations, and contact information and should ensure that all residents are aware that they can directly contact Navy housing office officials. (Recommendation 11) | Closed – Implemented |
| Office of the Secretary of Defense | The Secretary of Defense should ensure that the Assistant Secretary of Defense for Sustainment, in collaboration with the military departments, assess the risks of proposed initiatives aimed at improving the privatized military housing program on the financial viability of the projects. (Recommendation 12) | Closed – Implemented |
GAO Contacts
Office of Public Affairs
Topics
Housing
Military departments
Affordable housing
Press releases
Dependents
Dispute settlements
Customer service
Property rights
Public affairs
Military family housing
Military readiness
Housing programs
Military materiel
Quality of life
Quality control
Taxes
Risk assessment
Federal spending
Direct loans
Joint base
Audit objectives
Agency evaluations
Defense appropriations
Health and safety
Housing maintenance
Military bases
Engineers
Program management
Commercial property
Software
Commuting
Military personnel
Financial management
Program evaluation
Data collection
Defense budgets
Property management
Contractor payments
Military forces
Military housing
Military housing privatization
Private sector
Construction
Pest infestations
Business practices
Privatization
Performance measurement
Defense capabilities
Military construction
Veterans affairs
Compliance oversight
Surveys
Building inspection
Alternative dispute resolution
Real property
Asset management
Internal controls
Tenants
Occupancy rates
Data errors
Legal liability
Housing conditions
Engineering
Inventory
Response rates
Schools
Naval facilities
Customer satisfaction
Financial conditions
Quality standards
Construction costs
Policies and procedures