Grants Workforce:
Actions Needed to Ensure Staff Have Skills to Administer and Oversee Federal Grants
GAO-18-491
Published: Sep 20, 2018. Publicly Released: Sep 20, 2018.
The federal government awards billions of dollars in grants to state and local governments each year for everything from children's health insurance to higher education.
We looked at the training federal grants managers receive at selected agencies. We found that while agencies provided some training and the Office of Management and Budget developed some career assistance resources, none had evaluated the effectiveness of their efforts.
We made 5 recommendations, including that:
OMB better publicize and evaluate available career resources
Health and Human Services, USDA, and Education take steps to better evaluate their grants training
Distribution of Grant Dollars Awarded by Selected Agencies in Fiscal Year 2017
This graphic shows that Health and Human Services awarded 67.4% of federal grants, Education awarded 6.2% and Agriculture 5.6%.
Skip to Highlights
What GAO Found
The Offices of Personnel Management (OPM) and Management and Budget (OMB) and the Chief Financial Officers Council (CFOC) have taken some steps to help ensure the federal grants workforce receives training. For example, OMB worked with the CFOC to issue five basic grants training modules and a "Career Roadmap" for grants managers; however, they did not widely publicize the resources. Many of the officials with whom GAO spoke at selected sub-agencies at the Departments of Health and Human Services (HHS), Agriculture (USDA), and Education (Education) were unfamiliar with the Career Roadmap and made limited use of the training resources. Further, OMB and CFOC do not collect detailed user data or feedback, limiting their abilities to determine the usefulness of these resources.
GAO found that sub-agencies at HHS, USDA, and Education vary in following leading training practices for planning, designing, implementing, and evaluating their grants training programs. Additionally, HHS, USDA, and Education could not readily identify grants management specialists—the 1109 job series—or employees in other job series working on grants without querying each sub-agency. These agencies cannot do so because their central offices do not have a reporting mechanism tracking their sub-agencies' grants workforce. Further, agency central offices do not evaluate sub-agency grants training efforts. Without sufficient monitoring and oversight, the agencies cannot have reasonable assurance that their sub-agencies are sufficiently training their grants workforce so they have the necessary knowledge, skills, and abilities to properly manage, administer, and monitor the billions of dollars that the federal government spends on grants annually.
Number of Grants Specialists and Non-Grants Specialists in the Grants Workforce at Selected Agencies as of March 2018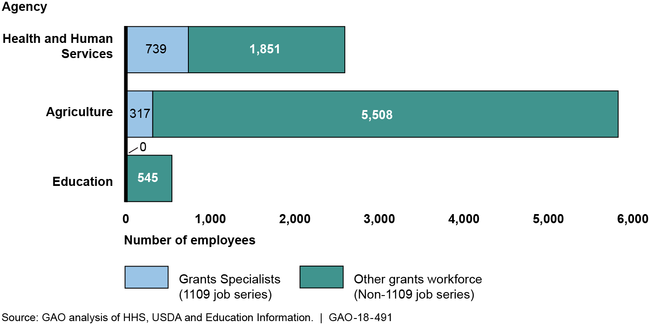 Why GAO Did This Study
In fiscal year 2017, the federal government awarded approximately $675 billion in grants to state and local governments. GAO was asked to review the federal grants workforce training. GAO reviewed (1) OPM's, OMB's, and the CFOC's actions to address the grants workforce's training needs; (2) the extent to which grants workforce training at selected agencies is consistent with leading practices; and (3) how selected agencies monitor and oversee training of their grants workforce. GAO selected HHS, USDA, and Education and several of their sub-agencies based on their grants spending and numbers of grants management specialists. GAO reviewed OPM and OMB memorandums and guidance, compared selected agency training practices against leading training practices, and interviewed officials.
Skip to Recommendations
Recommendations
GAO is making five recommendations including that OMB, working with the CFOC, should (1) publicize the Career Roadmap and (2) collect data metrics and user feedback on its use. HHS, USDA, and Education should establish processes to centrally monitor and evaluate their grants training, including identifying the grants workforce and ensuring consistency with leading practices. HHS and USDA concurred, Education generally concurred, and OMB partially concurred with our recommendations. OPM had no comments on the report.
Recommendations for Executive Action
| Agency Affected | Recommendation | Status |
| --- | --- | --- |
| Office of Federal Financial Management | OMB's Office of Federal Financial Management's Controller (the CFOC chair) should ensure CFOC formally publicizes the Career Roadmap guidance among the 24 CFO agencies through memorandums, briefings, trainings, regular CFOC meetings, or technical assistance and clearly posts its "Controller Alert" on the CFOC website with the Career Roadmap Report. (Recommendation 1) | |
| Office of Management and Budget | The Director of OMB, working with CFOC, should (1) collect data metrics regularly on the Career Roadmap Builder online tool and Grants Training 101 to determine how widely the resources are being used, and (2) obtain periodic feedback from federal agencies on the usefulness of these tools and any needed improvements. (Recommendation 2) | |
| Department of Health and Human Services | The Secretary of HHS should establish a process to monitor and evaluate HHS's grants training at the central office level. This process should include (1) a method for identifying all employees working on grants across the agency, and (2) oversight procedures to evaluate the sufficiency of sub-agencies' grants training efforts including the incorporation of leading practices related to assessing competencies, training approaches, accountability, and training results. (Recommendation 3) | |
| Department of Agriculture | The Secretary of USDA should establish a process to monitor and evaluate USDA's grants training at the central office level. This process should include (1) a method for identifying all employees working on grants across the agency, and (2) oversight procedures to evaluate the sufficiency of sub-agencies' grant-training efforts including the incorporation of leading practices related to assessing competencies, training approaches, accountability, and training results. (Recommendation 4) | |
| Department of Education | The Secretary of Education should establish a process to monitor and evaluate Education's grants training at the central office level. This process should include (1) a method for identifying all employees working on grants across the agency, and (2) oversight procedures to evaluate the sufficiency of sub-agencies' grants training efforts including the incorporation of leading practices related to assessing competencies, training approaches, accountability, and training results. (Recommendation 5) | |