Southwest Border:
Additional Actions Needed to Strengthen Management and Assess Effectiveness of Land-based Surveillance Technology
GAO-17-765T
Published: Jul 25, 2017. Publicly Released: Jul 25, 2017.
Skip to Highlights
What GAO Found
U.S. Customs and Border Protection (CBP), a component of the Department of Homeland Security (DHS), has made progress deploying surveillance technology along the southwest U.S. border under its 2011 Arizona Technology Plan (ATP) and 2014 Southwest Border Technology Plan. The ATP called for deployment of a mix of radars, sensors, and cameras in Arizona, and the 2014 Plan incorporates the ATP and includes deployments to the rest of the southwest border, beginning with areas in Texas and California. As of July 2017, CBP completed deployment of select technologies to areas in Arizona, Texas, and California. For example, CBP deployed all planned Remote Video Surveillance Systems (RVSS) and Mobile Surveillance Capability (MSC) systems, and 15 of 53 Integrated Fixed Tower (IFT) systems to Arizona. CBP also deployed all planned MSC systems to Texas and California and completed contract negotiations to deploy RVSS to Texas.
Mobile Surveillance Capability and Integrated Fixed Tower, Arizona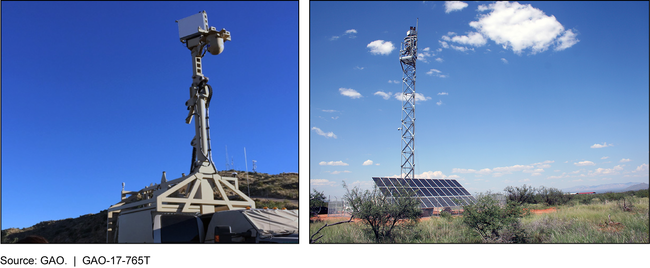 CBP has made progress implementing some, but not all of GAO's recommendations related to managing deployments of its technology programs. In 2014, GAO assessed CBP's implementation of the ATP and recommended that CBP: (1) apply scheduling best practices; (2) develop an integrated schedule; and (3) verify cost estimates for the technology programs. DHS concurred with some, but not all of the recommendations and has taken actions to address some of them, such as applying best practices when updating schedules, but has not taken action to address others, such as developing an integrated master schedule and verifying cost estimates with independent estimates for the IFT program. GAO continues to believe that applying schedule and cost estimating best practices could better position CBP to strengthen its management efforts of these programs.
CBP has also made progress toward assessing performance of surveillance technologies. GAO reported in 2014 that CBP identified some mission benefits, such as improved situational awareness and agent safety, but had not developed key attributes for performance metrics for all technologies, as GAO recommended (and CBP concurred) in 2011. GAO has ongoing work examining DHS's technology deployments and efforts to assess technology performance, which GAO plans to report on later this year.
Why GAO Did This Study
CBP deploys land-based surveillance technologies to help monitor and secure the border and apprehend individuals who attempt to cross the border illegally. GAO has reported on the progress and challenges DHS and its components have faced implementing its border security efforts.
This statement addresses (1) the status of CBP efforts to deploy land-based surveillance technologies along the southwest border and (2) CBP's efforts to measure the effectiveness of these technologies.
This statement is based on GAO reports and testimonies from 2011 through 2016, selected updates conducted in 2017, and ongoing work for this subcommittee related to border surveillance technology. For ongoing work and updates, GAO analyzed technology program documents; interviewed DHS, CBP, and U.S. Border Patrol officials; and conducted site visits to Arizona and Texas to observe technologies.
Skip to Recommendations
Recommendations
GAO has made recommendations to DHS to improve its management of plans and programs for surveillance technologies. DHS has generally agreed. DHS has taken actions or described planned actions to address some of these recommendations. GAO continues to believe that these recommendations could strengthen CBP's management efforts and will continue to monitor CBP's efforts.