Summer Travel— TSA's and Air Marshals' Response to COVID-19
With the number of new COVID-19 infections falling and some countries lifting COVID-19 travel restrictions, travelers are packing their bags and heading to the airport! 
Today's WatchBlog post highlights some of the ways TSA and the Federal Air Marshal Service (the Service) are helping reduce the spread of COVID-19, while maintaining their security activities at airports and on flights.
Expect potentially longer waits and lines at TSA security checkpoints
TSA officers check travelers' boarding passes and identification documents for authenticity at airport security checkpoints and, in some cases, search passengers and their carry-on baggage for items prohibited on airplanes. Passengers typically allow time for these checks when determining when to arrive at airports for flights. With the implementation of TSA's new measures to prevent COVID-19 at checkpoints, passengers traveling this summer may want to arrive at the airport even earlier.
TSA airport screening checkpoint in August 2020, when passenger volumes were less than 50% of June 2021 volumes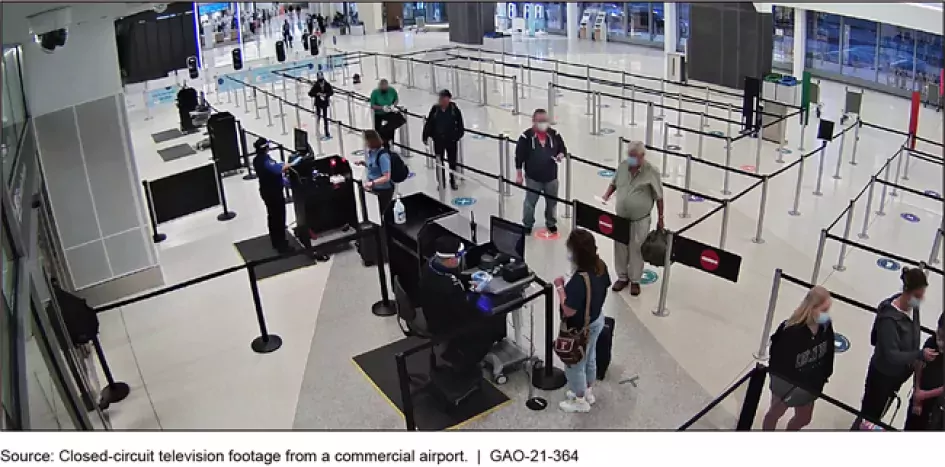 One of these new measures is a requirement that TSA officers maintain social distance from one another and from passengers. TSA field directors and airport operators we spoke with told us social distancing requirements could increase wait times once passenger volumes increase from pandemic lows. TSA's initial studies confirmed as much, and the agency has directed airports to open more screening lanes so more passengers can be screened while maintaining social distance.
Other TSA measures to reduce the spread of COVID-19 include:
Requiring officers to wear protective equipment such as masks and gloves;
Asking passengers to remove more items from carry-on baggage to reduce the potential for alarms that require bag searches; and
Changing how some screening technologies are used and testing new technologies to prevent disease spread.
We found that TSA could better monitor how these measures are carried out and analyze available data to identify common problems and solutions.
TSA's Key Changes to Checkpoint Screening to Reduce the Spread of COVID-19
Some Federal Air Marshal Service COVID-19 changes are here to stay
The Federal Air Marshal Service is a law enforcement agency within TSA. Federal air marshals are armed law enforcement officers who provide an in-flight security presence on some domestic and international flights of U.S. airlines, as well as at airports and other transportation venues. In response to the pandemic, the Service also took action to reduce the spread of COVID-19 at work by, for example, providing N95 masks and encouraging employees to telework.
In our recent report, we found that the Service also adapted its flight operations in response to changing levels of air traffic and travel restrictions during the pandemic. For example, in April 2020, the number of international and domestic U.S. airline flights decreased by 73%. At the same time, the Service reduced the number of flights air marshals covered, with air marshals on-board about 90% fewer flights compared to before the pandemic. In June 2020, the Service resumed pre-pandemic flight coverage levels, though the types of flights differed. For example, in February 2021, the Service officials told us that they were not covering certain international flights due to CDC travel advisories.
Air marshals also conducted more ground operations, such as providing a security presence at public transit stations and supporting TSA at airport checkpoints. The Service told us it plans to permanently increase its ground-based activities to further contribute to its national security mission in an ever-changing security environment, and they have convened a working group to identify more opportunities for ground-based activities.
For more information on the TSA and Federal Air Marshal Service changes resulting from COVID-19 and our recommendations, check our reports.
---
Questions on the content of this post? Contact the WatchBlog team at blog@gao.gov.