Struggling Homeowners Get Extension, But Did COVID-19 Housing Protections Really Work?
Struggling homeowners saw some additional relief in June when the White House announced an extension to the CARES Act's foreclosure moratorium for federally-backed mortgages, until July 31. 
Today's WatchBlog post looks at our new report about whether housing protections under the CARES Act protected people from losing their homes, and what happens to those still struggling after the extension expires.
What housing protections were available to homeowners?
There were 2 protections for struggling homeowners under the CARES Act— a forbearance period for mortgage payments and a moratorium on foreclosures.
Mortgage forbearance allowances under the CARES Act provided homeowners with federally-backed mortgages the option to temporarily suspend their monthly mortgage payments. The CARES Act provided 12 months of forbearance, but federal entities extended forbearance to 18 months.
For homeowners at risk of foreclosure, a moratorium was enacted to prevent mortgage servicers from initiating foreclosure on properties owned by homeowners who were experiencing financial hardship due to COVID-19. This housing protection only covers federally-backed mortgages—meaning home loans made, guaranteed, or securitized by federal entities. However, about 75% of mortgages in the U.S. are federally-backed. This includes mortgages that are issued by public lenders, as well as the VA, Rural Housing Service (part of USDA), and FHA loans.
Did the protections work?
Mortgage forbearance has been widely used—an indication that it was a needed relief for struggling homeowners. In May 2020, the use of the forbearance provision peaked at about 3.4 million mortgages, representing about 7% of all single-family housing loans. Use of forbearance dropped sharply in June 2020, as many borrowers who entered into forbearance immediately after the option became available did not extend their use of this protection. As of February 2021, about 5% of active loans (about 2.1 million mortgages) were in forbearance, with payments suspended.
The federal moratorium on foreclosures also seemed to have worked. New foreclosures in June 2020 were down by about 85% (about 6,000) compared to the same time in June 2019 (40,000) before the pandemic.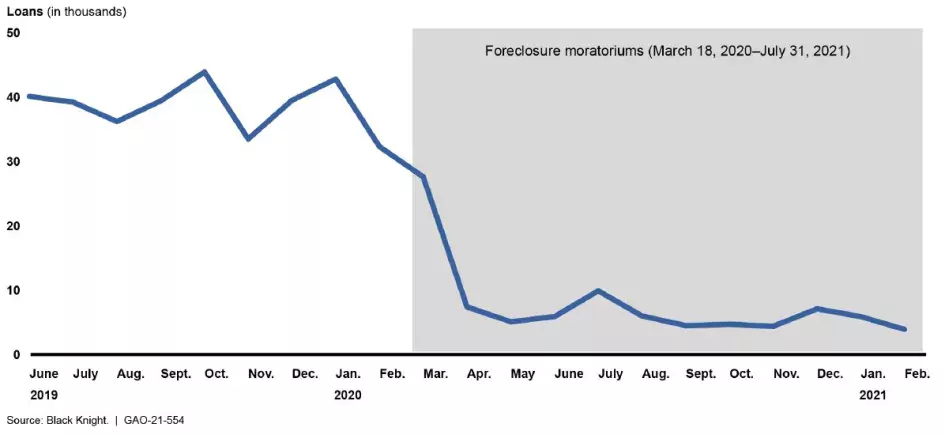 What happens when forbearance ends?
When the forbearance period ends, homeowners will need to work with their loan servicers or lenders on how they can repay missed payments. We found that, in February 2021, about 2.4 million borrowers had missed 2 or more payments—the equivalent to about 90% of the 2.7 million mortgages in forbearance.
On average, borrowers in forbearance as of February had missed—and will eventually need to repay—8 monthly mortgage payments, totaling about $8,300. Many of these borrowers may be at risk of default or foreclosure when the moratorium ends if they do not contact their servicers.
What happens when the moratorium on foreclosures ends?
The Consumer Financial Protection Bureau (CFPB) has announced an additional protection for homeowners facing foreclosure. This addition intends to limit foreclosures through January 1, 2022, by adding conditions for servicers that must be met before a foreclosure can be initiated on properties with mortgages that became delinquent during the pandemic.
What can homeowners do when these protections end?
Homeowners who have not yet taken advantage of forbearance may do so through September 30. If you are struggling to pay your mortgage due to financial hardship, resources and help are available here through CFPB.
More action to help homeowners may be taken. Federal entities have developed plans to continue to support homeowners once these protections end. For example, federal housing agencies and enterprises have streamlined and introduced new loss mitigation options to help borrowers reinstate their loans after forbearance, including options to defer missed payments until the end of a mortgage.
Check out our new report and podcast with GAO's John Pendleton to learn more about federal COVID-19 housing protections.
---
Questions on the content of this post? Contact the WatchBlog team at blog@gao.gov.