Over Budget and Delayed—What's Next for U.S. Nuclear Weapons Research and Production Projects?
Posted on August 17, 2023
The United States' nuclear weapon stockpile depends on facilities that are, on average, about 50 years old. In fact, the processing of enriched uranium used in nuclear weapons is still conducted in an Oppenheimer-era facility built in 1945. These aging facilities pose safety and operational risks and cost taxpayers almost a billion dollars to maintain each year. 
Over the next two decades, the United States plans to spend tens of billions of dollars to modernize the research and production infrastructure on which the nuclear stockpile depends. Today's WatchBlog post looks at our new report about the status of these efforts, led by the National Nuclear Security Administration (NNSA), and the challenges that have resulted in them being over budget and delayed.  
New infrastructure projects are important, complex, and expensive
NNSA is currently designing or constructing 23 major projects (each costing more than $100 million). Some projects will process nuclear components containing plutonium or enriched uranium, which are critical to the functioning of nuclear weapons. These projects are expensive and include three multi-billion dollar, one-of-a-kind efforts to build new or modify existing uranium and plutonium component production facilities in New Mexico, South Carolina, and Tennessee. Other projects do not involve nuclear materials and are less expensive, such as a $270 million project to build a high explosives laboratory and related facilities in Texas.
Sites in the Nuclear Security Enterprise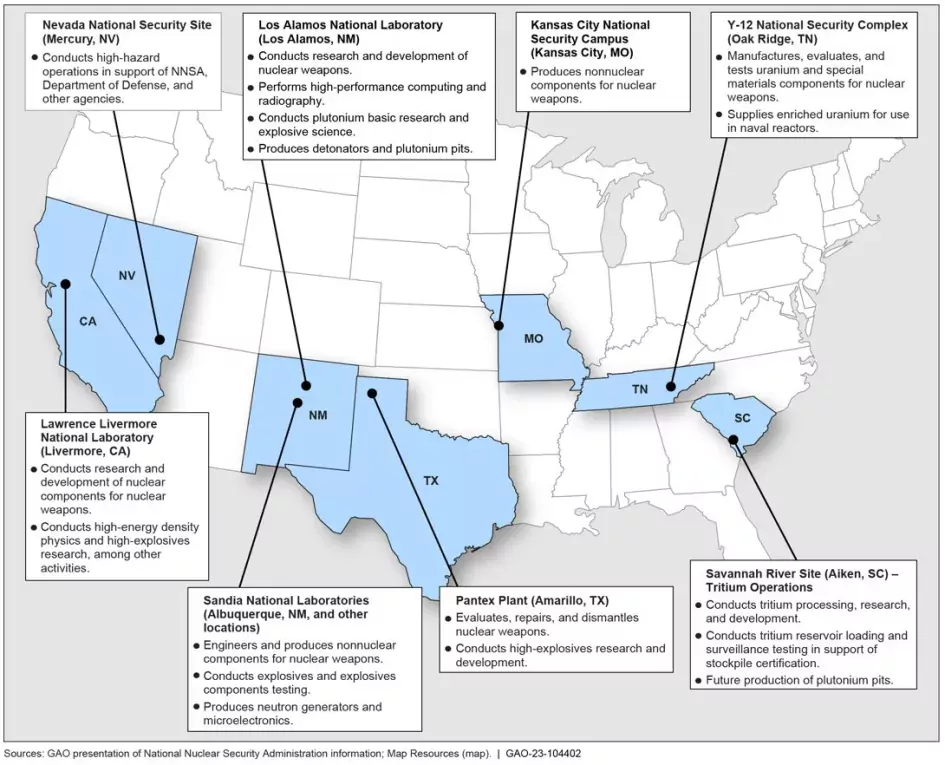 New projects will cost more and take longer to build than NNSA planned
As of March, NNSA's projects that were in the construction phase collectively overran their cost estimates by over $2 billion and their schedules by almost 10 years. Some of the reasons for these increased costs and delays include poor management and planning, as well as COVID-19. Of the projects that are under construction, the multi-billion-dollar Uranium Processing Facility family of projects in Tennessee is responsible for a majority of the cost increases and schedule delays. These cost increases and schedule delays, as well as NNSA's decision to refocus resources on higher-priority projects, led NNSA to propose placing two other projects (in Texas and South Carolina) currently in the design phase on hold for multiple years.
In addition, six projects in the design phase are implementing significant changes that may increase their cost and schedule beyond NNSA's preliminary estimates. These include a project to modify existing plutonium processing facilities at Los Alamos National Laboratory in New Mexico.
Cumulative Cost and Schedule Overruns for NNSA's Portfolio of Major Projects in the Execution Phase, as of March 2023
We've made recommendations to help NNSA improve its oversight of these projects
We have previously made recommendations that would help NNSA better manage its projects as well as the programs that will operate the completed projects to achieve agency goals. For example, we recommended that the NNSA complete a lifecycle cost estimate for establishing the agency's capability for producing plutonium pits (the central core of a nuclear weapon), as this effort involves dozens of programs, projects, and other activities, including two multi-billion dollar projects and multiple other projects that will cost hundreds of millions of dollars. However, NNSA has not taken action on some of these recommendations. We have expressed concerns about the management of nuclear projects and programs since 1990, and NNSA acquisition and program management remains on our most recent High Risk List.
Learn more about NNSA's projects, their statuses, and challenges by checking out our new report.
---