How GAO's Recommendations Can Help the New Congress and President
Posted on January 21, 2021
What are some of the most important changes the federal government should make?
Today's WatchBlog looks at GAO's priority recommendations for agencies—actions that warrant attention, could save large amounts of money, help Congress make decisions on major issues, and substantially improve or transform government operations.
GAO's Priority Recommendations
When GAO audits a program or agency, we collect all the facts we can about what's working, what isn't, why things aren't working, and why it's important to fix them. Then we offer recommendations based on these facts to help guide agency officials and policymakers toward decisions that improve government and promote efficiency and effectiveness.
We notify agencies annually about certain recommendations that warrant priority attention. These recommendations are important because implementing them can save large amounts of money, help Congress make decisions on major issues, and substantially improve or transform major government programs or agencies.
GAO maintains a recommendations database covering every topic we work on. As of January 2, 2021, there were 4,912 open recommendations. Of these, we have designated 467 as priority recommendations.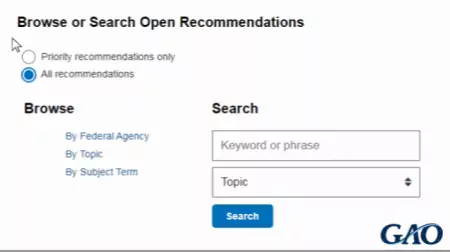 Recommendations for the Nation's Most Pressing Issues
We here at GAO have also been tasked with monitoring federal COVID-19 response efforts. As we monitor, we are making recommendations to agencies, including the Centers for Disease Control and Prevention (CDC), the Food and Drug Administration (FDA), and the Treasury. For example, in our November report, we recommended the CDC clearly disclose scientific rationale for changes to COVID-19 testing guidelines.
In addition to monitoring the COVID-19 response, we have also launched our transition webpage to help Congress and the administration address the country's most pressing issues. We identified Economic Downturns and Race in America along with the Coronavirus Pandemic as major issues facing the nation. We have recommendations for each of those issues as well.
Why Follow GAO's Recommendations?
Over the past four years, agencies have implemented about 77% of our recommendations. We outlined the benefits of doing so in our latest Performance and Accountability Report. Specifically, in fiscal year 2020, we reported saving the federal government $77.6 billion by recommending ways to prevent payment errors, improve the efficiency and effectiveness of federal programs, and prevent fraud. That's $114 for every dollar Congress invests in us! We also tracked more than 1,300 nonfinancial improvements in federal government operations.
Almost Ready to Implement Our Recommendations?
If you're new to an agency or to Congress and you need some extra help, our experts are available! They can get you a quick answer or a full briefing. Congressional staff can call our Office of Congressional Relations at (202) 512-4400 or email congrel@gao.gov , and media can contact our Office of Public Affairs at (202) 512-4800 or email youngc1@gao.gov. You can also look up senior GAO staff by expertise at Find an Expert.