GAO's Scorecard—How we saved the federal government $77.6 billion this year
Posted on November 16, 2020
GAO audits federal programs and spending to ensure that taxpayer dollars are protected and that programs operate effectively and efficiently. While we share our findings with Congress and the public through hundreds of reports and testimonies issued throughout the year, we also publish an annual report summarizing that year's efforts to improve federal performance and accountability.
So, what did we find during our audits this year?
In our new Performance and Accountability Report, we highlight the $77.6 billion we saved in federal spending. That's $114 dollars for every dollar Congress invests in us!
Today's WatchBlog explores some of the ways we have helped save money and other ways we helped improve government operations, all in our FY2020  Performance and Accountability Report.
Saving money
We helped federal agencies save money in FY 2020 by making recommendations to increase oversight, reduce fraud, and make better use of federal funds.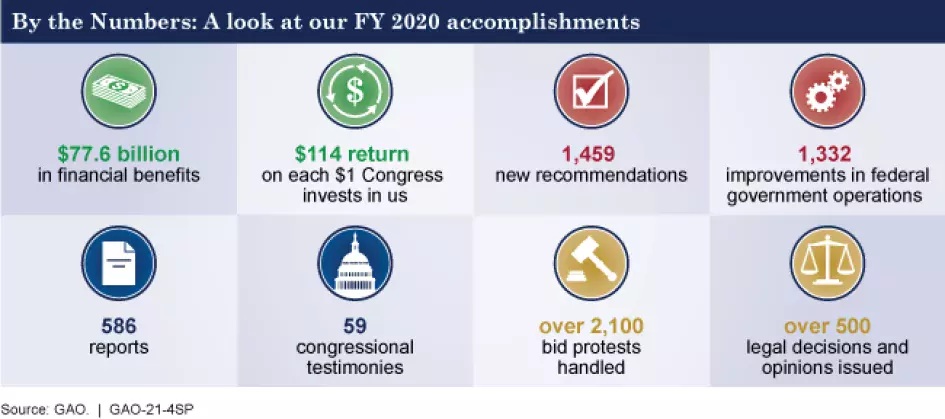 For instance:
The construction of the Mixed Oxide Fuel Fabrication Facility (MOX)—initially estimated to cost about $4.8 billion—was to be a key part of the Department of Energy's approach to dispose of surplus weapons-grade plutonium. We recommended that DOE conduct more oversight reviews of such complex projects—which helped DOE to detect that the project would cost an extra $3 billion. DOE identified a less costly alternative and terminated the MOX project, saving about $13 billion.
States may test new approaches for delivering Medicaid services—with the approval of the Department of Health and Human Services (HHS)— but these projects must be budget-neutral. We've reported that HHS has allowed states to use questionable methods that resulted in inflated demonstration spending limits and increased the federal government's fiscal liability. In response, HHS issued a new policy to better ensure that these demonstration projects are budget-neutral—which reduced the government's fiscal liability in 10 states by an estimated $29.4 billion.
Identity theft tax refund fraud is a threat to taxpayers and tax administration. We found that IRS could help address this by matching wage information that employers report on the W-2 tax form to individuals' tax returns before issuing refunds. However, employers' wage data were not available until months after IRS issued most refunds. In response, Congress advanced the deadline for employers to file W-2s—which helped IRS prevent about $906.7 million in fraudulent payments.
Improving federal operations
We also reported on other benefits resulting from our work—i.e., benefits that can't be measured in dollars but led to improvements in federal programs and operations. We helped federal agencies make 1,332 of these improvements in FY 2020.
For example:
The Federal Aviation Administration (FAA) oversees compliance with unmanned aircraft systems (UAS or "drones") regulations, including those prohibiting small UAS from endangering lives and property. However, we reported in 2019 that FAA did not consistently communicate to law enforcement partners on their expected role in UAS safety. FAA also had not determined what data it needed to assess its efforts. We made recommendations to improve FAA's small UAS oversight. FAA has taken some steps in response, such as improving communication with law enforcement partners. This will better inform law enforcement about what information to share with FAA on unsafe UAS operations.
Customs and Border Protection (CBP) apprehended over 850,000 noncitizens along the southwest border in FY 2019. CBP is required to track any family separations, but we found that these separations were not always accurately tracked. We also made a number of recommendations to improve CBP's oversight of funds, medical care, and the reporting of deaths. In response, CBP plans to improve its guidance for processing family separations, and develop oversight mechanisms for medical care.
We've reported that inadequate oversight practices at the Veterans Health Administration (VHA) resulted in the agency not reporting medical providers with serious quality and safety concerns to the National Provider Data Bank or state licensing boards. In response, VHA implemented a new tool to ensure that provider concerns are appropriately reported in a timely manner.
Assisting Congress
Our legislative impact was also significant. We received 550 requests for work from 90% of Congress's standing committees in FY 2020. We issued 586 reports and made 1,459 new recommendations. We were also asked to testify 59 times on topics including COVID-19, disaster preparedness, the 2020 U.S. Census, and the nation's fiscal health.
Additionally, Congress enacted the CARES Act in 2020, which includes provisions for GAO to monitor the nation's pandemic response and recovery, track how funds are spent, and report bimonthly on our findings. We issued our first three bimonthly reports, and made 19 recommendations to federal agencies to enhance the nation's response to the COVID-19 pandemic.
These included:
Addressing medical supply shortages and improving the medical supply chain
Improving data collection on COVID-19 to better understand health outcomes
Improving outreach to eligible recipients of economic impact payments
To learn more about our accomplishments, check out our FY 2020 Performance and Accountability Report.
---