As Demand for Flights Takes Off, What Is Being Done to Reduce Cancellations And Delays
Flight cancellations and delays have plagued U.S. airports, causing passengers to miss vacations and time with family and friends. Airlines and the Department of Transportation have taken some steps to address issues that cause mass-cancellation events—multiple days where a large percentage of flights were canceled.  
Today's WatchBlog post looks at our new work on the challenges that have and could disrupt air travel, including the recent causes for mass-cancellation events that occurred during the holidays last year and steps being taken to prevent them moving forward.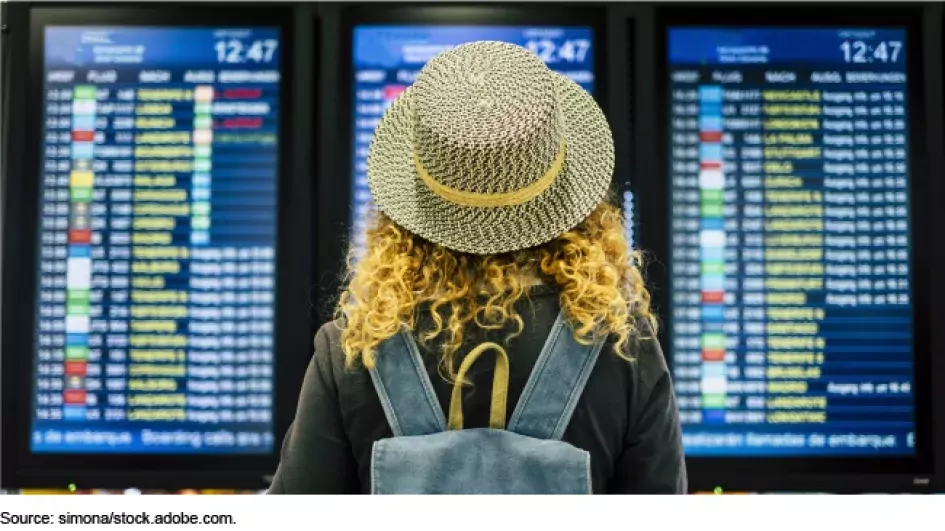 Turbulent times ahead?
Travelers could continue to see disruptions at the airport as airlines continue to address challenges. The aviation industry and stakeholders have raised concerns that there will not be enough pilots and mechanics to meet projected demand for air travel.
Part of the concern about potential shortages has to do with a future wave of retirements. According to Federal Aviation Administration (FAA) data, over the next two decades an average of about 4,300 FAA-certificated pilots will be reaching the mandatory retirement age of 65 each year. While the number of pilots is projected to grow, there may not be enough pilots to meet demand in the future.
Similarly, airlines and airplane repair stations have reported challenges recruiting and retaining enough young mechanics to meet demand. Staffing issues, particularly for pilots, are especially prevalent among regional airlines that smaller communities rely on.
Distribution of Active Air Transport Pilot Certificates in 2022 by Age Group
Beyond retirements, airlines also said their efforts to retain and recruit new pilots face additional challenges— including the high cost of pilot training, insufficient pay to attract and retain pilots and mechanics, and a lack of awareness of career opportunities in aviation. Airlines told us they have increased pilot pay and expanded training offerings for pilots and mechanics to help recruit and retain workers in the short term. In the long-term, the FAA is working to expand and diversify the aviation talent pool by awarding grants to attract young people to aviation careers.
Learn more by listening to our podcast with GAO's Heather Krause:
Recent flight cancellations were as bad as you thought they were
As many as 15 million passengers experienced flight cancellations, and potentially more than 116 million saw flight delays, between July 2021 (when flight disruptions became more frequent) and April 2022 (the most recent data at the time of GAO's analysis).
Flight cancellations rose substantially in late-2021 and during the first 4 months of 2022—outpacing levels seen just before the pandemic (in both 2018 and 2019). Specifically, there were 81,593 flight cancellations from January to April 2022. This exceeded flight cancellations during the same 4 months in 2018 (56,356) and 2019 (67,190).
Interestingly, flight cancellations grew despite airlines operating fewer flights. During the first half of 2021, air traffic remained low—as much as 14% lower than during the same time in previous years. But then travel demand rose in the spring and summer of 2021; and so did cancelation rates. Increased cancellations were not limited to the airlines that received wide media attention. The majority of U.S. airlines that we looked at (7 of 10) cancelled a larger percentage of their flights during the last half of 2021 compared to years before the pandemic. 
And while some flight cancellations were inevitable—due to weather and other events—airlines experienced longer, more frequent multi-day cancellation events in 2021 and early-2022 than in the years just before the pandemic. 
Overall, the leading causes for flight cancellations in late-2021, as well as April 2022, were factors within the airlines' control. Sometimes, aircraft maintenance issues and the lack of mechanics to address them were the cause for cancellations. But shortages in pilots and aircraft crew had a greater impact on flight, according to representatives from all of the four airlines and three unions we spoke with. These representatives also told us that it has become more difficult to ensure they have enough crew to staff aircraft and to set reliable airline schedules than before the pandemic.
What is being done to address and prevent mass-cancellation events?
In response to mass cancellations in 2021 and 2022, FAA and the Department of Transportation (DOT) met with airlines several times to discuss both disruptions and airlines' customer service obligations to passengers experiencing airline-caused flight cancellations and delays.
In addition to these meetings, DOT tracks and investigates how airlines comply with consumer protection laws and regulations. For example, in 2021 and 2022, DOT used a range of methods in response to flight disruptions, which included processing passenger complaints, issuing guidance, conducting investigations, and taking enforcement actions against airlines that didn't meet consumer protection regulations. Earlier this month, DOT announced its plans to require airlines to provide passengers with compensation and cover expenses (meals, hotels, and rebooking) when airlines are responsible for cancelations.
DOT also has broad authority to investigate unfair and deceptive practices of airlines—such as unrealistic flight-scheduling practices. Over the course of our review, DOT enhanced its oversight of airline-scheduling practices. Some of DOT's actions to monitor airlines' scheduling practices are long standing, while others are more recent, reflecting increased DOT oversight. In light of the 2021 and 2022 flight disruptions that have affected millions of passengers and staffing challenges, which affect an airline's entire network, it is important that DOT sustain these efforts to analyze airlines' scheduling practices.  
Know before you go: Your rights as an aviation passenger
Airline passengers are entitled to a refund if the airline cancels a flight, regardless of the reason. The Department of Transportation (DOT) provides information on aviation consumer protections on its website, and has a dashboard for understanding what airlines offer when flights are canceled due to circumstances within the airlines' control.
We hope that your air travel this year goes smoothly, but just in case, make sure you know what your rights are as an aviation consumer.