What Could Holiday Travel Look Like This Year?
Posted on November 09, 2021
Flying home for the holidays?
With the Thanksgiving and holiday season right around the corner, you might be planning to visit family and friends—perhaps it will be your first trip to the airport since the pandemic began in 2020.
Today's WatchBlog post looks at our recent reports on the pandemic's continued effect on air travel, as well as what passengers should know about their rights as consumers should trips not go as planned.
How could last year's travel trends impact you this holiday season?
The aviation industry—which includes airlines and airports, as well as all the other businesses you see (like restaurants and shops) and don't see (airplane repair stations) at the airport—is still recovering from the effects of COVID-19.
We reported recently that at its lowest point, domestic passenger travel was down 96% in April 2020 when compared to levels the previous year. And it remained down throughout 2020 (down about 60% compared to traffic levels in 2019).
Congress and the aviation industry took a number of actions in response to this downturn. For example, roughly $100 billion in various types of federal relief funding was provided to help the industry offset economic disruptions. Industry stakeholders we spoke with told us this allowed them to keep staff employed, continue flight operations that otherwise may have ceased, and avoid bankruptcy. At the same time, the industry took steps to cut costs by offering voluntary early retirement to some employees, voluntary unpaid leave, and freezing nonessential hiring—among other steps. In some cases, airlines also reduced flight frequencies and the number of airports served. 
Find out more about the aviation industry's efforts to respond to the pandemic by listening to our recent podcast with GAO's Heather Krause, an aviation industry expert.
Unfortunately, now that air travel is trending upward, those same actions—such as reducing labor costs, as well as other factors—have affected some airlines' ability to meet returning demand. For example, during the first week of August, Spirit Airlines canceled over 60% of its flights on consecutive days as a result of staffing shortages, bad weather, and technology problems. Southwest Airlines and American Airlines have also recently faced similar wide-spread cancellations. 
In our work, we're finding that the airlines will likely continue to struggle with the sometimes dramatic changes in demand caused by the pandemic. As we enter what is expected to be a busy holiday season, the industry is trying to address challenges by hiring additional workers and adjusting their operations.
Know your rights before you fly
Before you head to the airport, you should know your rights as a customer. For example, a passenger is entitled to a refund if the airline cancels a flight, regardless of the reason. The Department of Transportation (DOT) provides information on aviation consumer protections on its website. This includes information on how to how to file a complaint.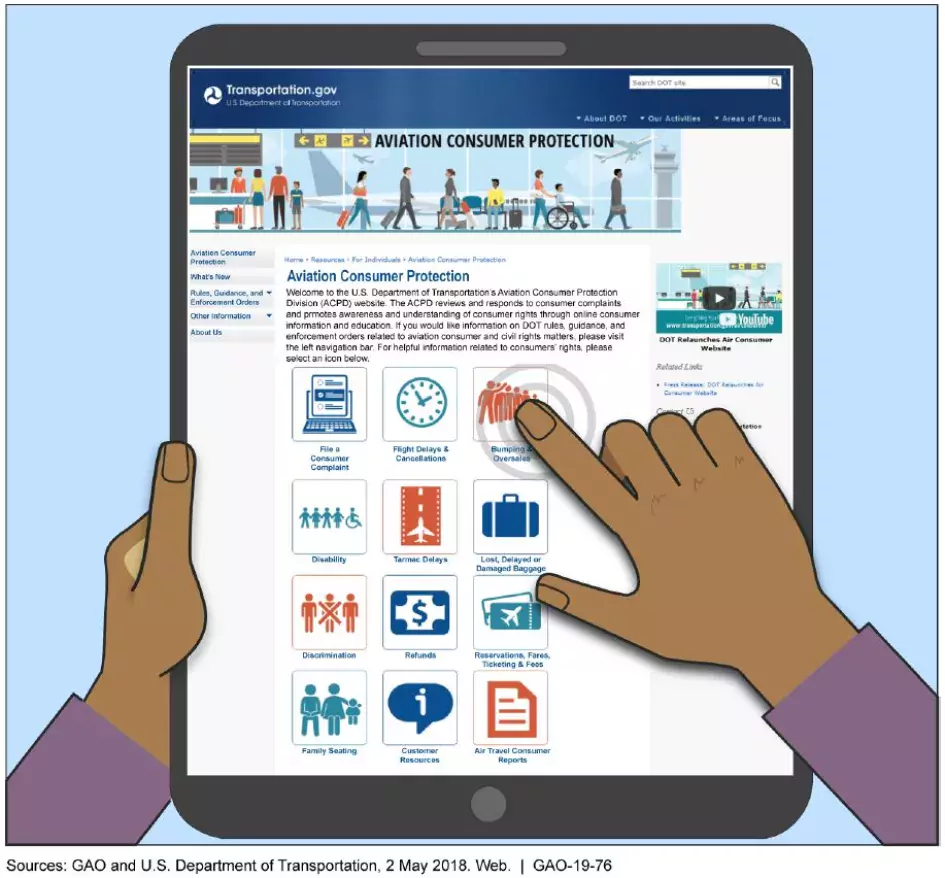 In 2019 and 2020, we reported about efforts taken by DOT to enforce laws and regulations designed to protect consumers. Consumer advocates, airlines, and others had raised concerns about how DOT enforces aviation-related consumer protection laws and regulations.
We found that while DOT conducts activities to monitor airline compliance—such as reviewing passenger complaint data and taking enforcement action when it identifies airline and travel agent violations—it could improve its procedures and the transparency in its decision making process. Taking such actions would better protect travelers and give DOT greater assurance that airlines are complying with federal consumer regulations.
Hopefully, your holiday travel experience is smooth. But if something does go wrong, learn your rights as an aviation consumer.
---