Addressing Food Insecurity in America, Before and During the Pandemic
Posted on October 12, 2021
Millions of Americans experience food insecurity every year— meaning they lack access to adequate, nutritious foods. This number may have grown for certain populations during the pandemic as more Americans experienced job loss or reduced incomes as a result of COVID-19's economic impacts.
This week, the WatchBlog will look at our work on federal programs to address food insecurity both here in the U.S. and abroad. Today's post focuses on programs in the U.S. First, we'll look at a new program created during the pandemic. Then, we'll talk about some existing programs, and how the pandemic has impacted their operations and demand. 
Addressing disruptions in the food supply during the pandemic
COVID-19 disrupted the U.S. food supply chain and contributed to an already existing national hunger crisis. In May 2020, the U.S. Department of Agriculture (USDA) responded and began distributing food through its Farmers to Families Food Box Program—a $6 billion program that ran through May 2021. The program's goals included providing food to those in need, and supporting food distribution companies and domestic food producers that were affected by pandemic-related disruptions.
In our September report, we found that USDA's program had delivered more than 176 million food boxes to organizations that then delivered them to individuals. Food boxes were delivered to nearly 78% of U.S. counties, as well as Guam, Puerto Rico, and the U.S. Virgin Islands.
However, we found that USDA did not collect and analyze data necessary to assess the program's goals. USDA acknowledged that having and analyzing this data would help improve its program. We recommended that USDA apply this lesson learned by taking steps to collect and analyze data to assess program goals for other and future food assistance programs.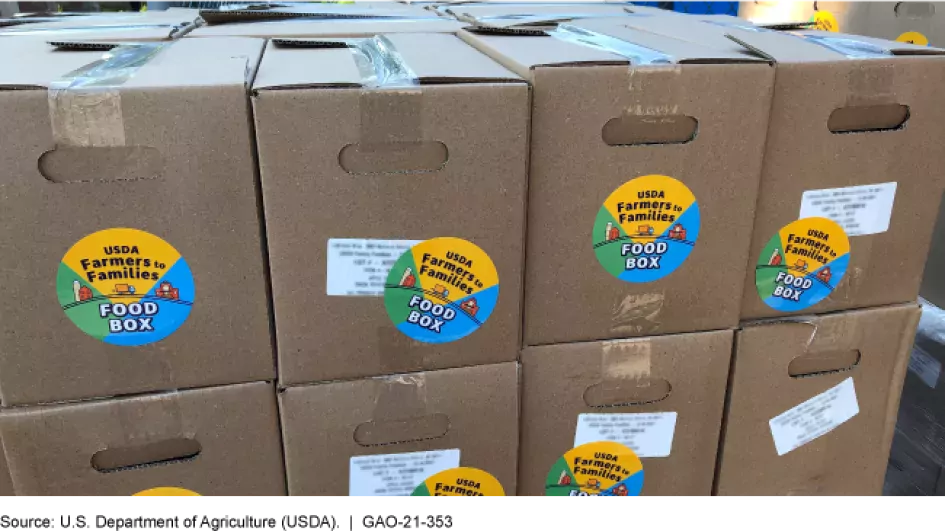 Providing children meals, even when schools are closed
In the U.S., food assistance for children in need is often provided through K-12 public schools, for example through free or reduced-priced meals and snacks.
Programs like National School Lunch Program, the School Breakfast Program, and Summer Food Service Program received $23.1 billion in federal funding in FY 2019. The National School Lunch Program, which is the largest program, supported almost 30 million students in 2019, with more than 94,000 schools participating.
But, what happened when schools were closed during the pandemic?
When school closures began in the spring of 2020, USDA's Food Nutrition Service (FNS), which runs the programs mentioned above, granted various nationwide waivers to facilitate the continuation of meal services. Waivers enabled parents and guardians to pick up meals, and provided flexibilities in foods served and meal times.
Despite these waivers, in March 2021, we reported that school meal programs served nearly 1.7 billion fewer meals from March through September 2020—a decline of more than 30% compared with the same months the previous year.
School district officials we interviewed pointed to several reasons for the drop in number of meals served, including fears by families of exposure to COVID-19, which kept some from venturing out to pick up meals. Officials also said that families may not have participated in school meal programs because they qualified for other assistance programs—such as Emergency Meals-to-You or Pandemic Electronic Benefit Transfer (Pandemic EBT).
Helping hungry college students even when campuses are closed
Many college students may not have enough to eat. The federal government spends billions each year on grants, loans, and work-study funding to help make attending college more affordable for students. Yet, many still cannot afford basic necessities such as food.
In 2019, we tried to measure how many college students faced food insecurity, and identified some programs that were available to them at their schools. We reviewed 31 studies with a wide range of reported rates of food insecurity, but could not determine a reliable national estimate for college students. We also looked at how 14 colleges addressed food insecurity among their students. All 14 colleges provided free food to students through on-campus pantries, and most colleges offered emergency funds to help students pay for living expenses.
Selected Colleges' Initiatives o Address Student Food Insecurity
Many of the colleges we looked at screened students for potential eligibility for federal programs like the Supplemental Nutritional Assistance Program (SNAP, formerly known as food stamps). However, we found that less than half of the 3.3 million students who were potentially eligible for SNAP in 2016 reported receiving it at school.
We found that the lack of clarity on SNAP's eligibility rules for college students may be limiting its use. And in 2019, we recommended that FNS, which runs SNAP, increase awareness of SNAP, including providing clear information about who is eligible and increasing outreach. FNS generally agreed with our recommendations and has implemented 1 of them.
Whether or not they were eligible for or receiving SNAP, many students faced unexpected expenses as a result of the pandemic—including housing, food, and technology purchases—after schools closed their physical campuses. To help students and schools, Congress created the Higher Education Emergency Relief Fund in March 2020, as part of the CARES Act. In our August blog post, we explored how this funding was used—who got what and how much.
Serving older adults who may have faced additional challenges because of COVID-19
For America's seniors, lack of mobility can impact their access to food. In 2019, we looked at meal delivery and other services for older Americans living in rural communities. These seniors are particularly vulnerable to isolation and food security issues because they may have less access to services, longer travel distances to grocery stories, and fewer transportation options.
Some community organizations and service providers have developed strategies for serving older adults in their communities. These included:
delivering frozen or shelf-stable meals to older adults, once every 1-2 weeks;
identifying neighbors to help pick up and drop off frozen meals, or using a service that ships refrigerated meals via FedEx when delivery is not an option;
providing older adults with extra frozen or shelf-stable meals or packages of non-perishable food in the event of emergency situations; and
transferring funds designated for congregate meals (those served in a group setting) to provide more home-delivered meals.
We have ongoing work on how COVID-19 has affected services for older adults, including meals, in-home care, transportation, and health and wellness activities.
Volunteer Delivering a Week's Worth of Meals in Rural Maine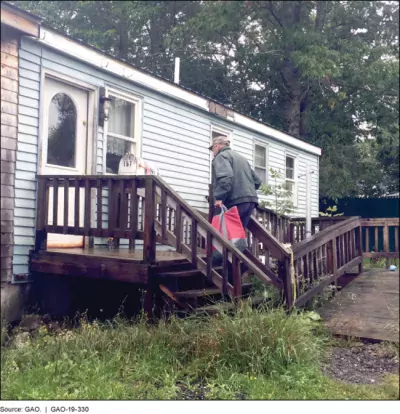 ---