Creating Explosives for Nuclear Weapons
Posted on October 31, 2019
Those yellow pebbles pictured on the left? While they might look a lot like Halloween candy, they are far from it. They're actually formulated explosives the Department of Energy's National Nuclear Security Administration uses to create weapons.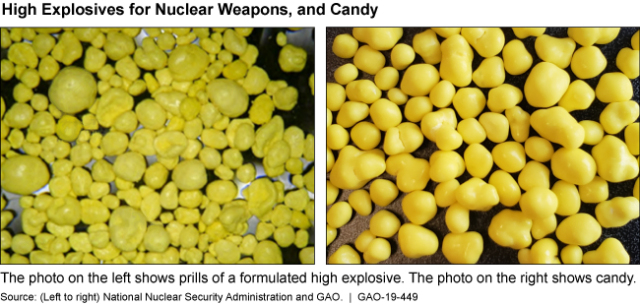 In today's WatchBlog, we discuss our report on how NNSA develops and manages nuclear weapons.
What's in a nuclear weapon?
Nuclear weapons are often thought about in terms of uranium and plutonium—i.e., the key components in nuclear weapons. However, these weapons also feature over 100 components that use non-nuclear explosive materials, some of them highly specialized and difficult to produce.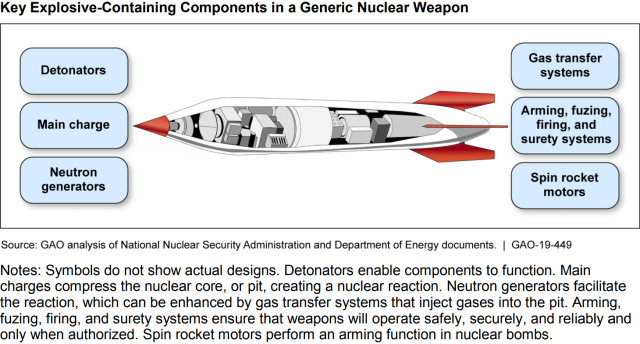 NNSA—which is responsible for the safety and reliability of the U.S. nuclear stockpile—plans to modernize nearly all of the nuclear weapons that are currently deployed. And as these weapons are modernized, the explosive components must be replaced.
A precise recipe
Unlike candy, the explosives required by NNSA cannot be purchased by a quick trip to the store or even a quick trip to the lab. The standards for creating these materials are so specific that the process is often called a recipe.
In fact, these materials must meet more exacting standards than explosives found in conventional weapons. The temperature, mixing speed, and container size must all be carefully controlled, and at each step of the production process, NNSA conducts tests to ensure the explosives meet stringent safety and performance requirements.
Challenges to detonation development
We found that NNSA faces several challenges working with these explosive materials. In addition to challenges with reproducing or procuring the explosive materials, NNSA has had difficulty recruiting and training qualified staff, and the agency's infrastructure is aging and deteriorating.
While these issues are common across the Department of Energy, older infrastructure poses unique challenges when working with material as dangerous as explosives. Common weather conditions such as thunder storms can shut down some operations due to the dangers associated with working with explosives in deteriorating buildings. For instance, the photo below shows expensive testing equipment that must be covered to avoid water damage from a leaky roof.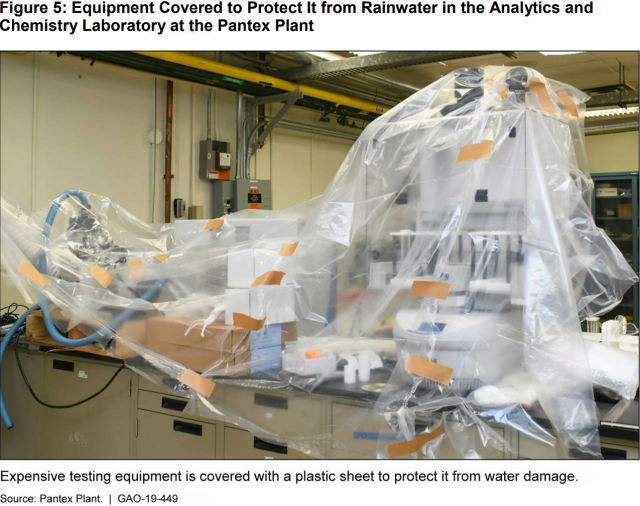 In all, we made 3 recommendations for improving the management of explosive materials, including data improvements to help address infrastructure issues.
Check out our report to learn more.
---