A Multi-Front Effort on Substance Abuse
As drug overdose deaths have grown to unprecedented levels in America, federal efforts have attempted to combat the substance abuse problem on multiple fronts.
Programs and new laws have addressed everything from keeping tabs on Medicare opioid prescriptions to gathering unused prescription drugs so they won't be misused among friends and family.
This week's WatchBlog, in observance of National Prevention Week, takes a look at some of our recent work in the area of substance abuse prevention.
Synthetic Opioids Arrive
Prescription opioids were the most common drug involved in overdose deaths until 2016 when synthetic opioids overtook them. Synthetic opioids are increasingly found in illicit drug supplies of heroin, cocaine, methamphetamine, and counterfeit pills.
In March, we released a report looking at federal efforts to combat illicit synthetic opioids, including federal efforts to promote evidence-based prevention programs, and expanding education on safe opioid prescribing to doctors.
Listen to our recent podcast on the use of synthetic opioids, the current epidemic of opioid abuse, and what federal agencies are doing to try to save lives:
Friends, Family, and Prescription Drugs
We know that sometimes people misuse prescription drugs that were not prescribed for them. About half of the people who reported misusing prescription drugs in 2015 received them from a friend or relative.
To try to mitigate this problem, the Secure and Responsible Drug Disposal Act of 2010 was passed in October 2010. In accordance with the regulations promulgated by the Act, eligible pharmacies and other entities, such as hospitals or clinics, may use bins to collect unused prescription drugs that have been voluntarily turned in by the public.
In a report we issued last October, we found that about 3% of pharmacies and other entities eligible to collect unused prescription drugs have volunteered to do so, with stakeholders citing costs of maintaining a disposal bin as one of the primary reasons for not participating.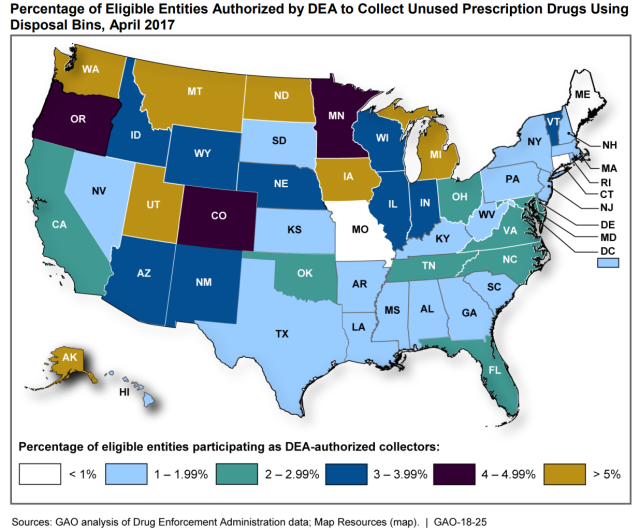 Focusing on the Young
To help curb youth substance abuse, the Drug-Free Communities Act of 1997 established the Drug-Free Communities (DFC) Support Program—a federal program providing grants for the establishment of community-based, youth-focused, drug abuse prevention efforts.
Our recent work on this program found, among other things, that community-based grantees have engaged in a range of activities, including drug abuse education campaigns and efforts to enhance enforcement.
For example, from February 2014 – July 2014 grantees held 7,338 face-to-face information sessions on topics such as the consequences of youth substance abuse and the importance of drug abstinence, reaching almost 138,000 adults and more than 156,000 youth.
Focusing on Seniors
And finally, last fall, we examined the Centers for Medicare and Medicaid Services' efforts to monitor opioid prescribing in the Medicare Part D program, which helps cover the cost of drugs for seniors and some disabled persons.
As part of our work, we reported on how the government tries to prevent opioid abuse by monitoring prescriptions for people who receive high doses of opioids from multiple pharmacies and multiple providers.
We recommended that the agency expand its monitoring efforts to include the number of people receiving high doses of opioids, regardless of the number of pharmacies or providers. Because people with high doses are at greater risk of harm, keeping track of their numbers could help to indicate how well the government is addressing these risks.
More to Come
Unfortunately, with the nation "in the midst of an opioid overdose epidemic" that killed more than 42,000 people in 2016, according to the Centers for Disease Control and Prevention, we anticipate more reports on federal anti-substance abuse efforts in the future.
---