Trends in Federal Contracting
In fiscal year 2015, the federal government spent more than $430 billion on contracts for goods and services—almost 40 percent of all discretionary spending. These contracts covered everything from products such as major weapons systems and IT equipment, to services such as construction or research and development.
We released a new "Quick Look" report earlier this year that reviewed trends in contracting across the federal government.
Today's WatchBlog shares some snapshots from that report and what our findings mean for government spending and oversight.
More services than goods—and less spending overall
We took a look at the 3 military branches and 10 civilian agencies that spent the most money on contracts.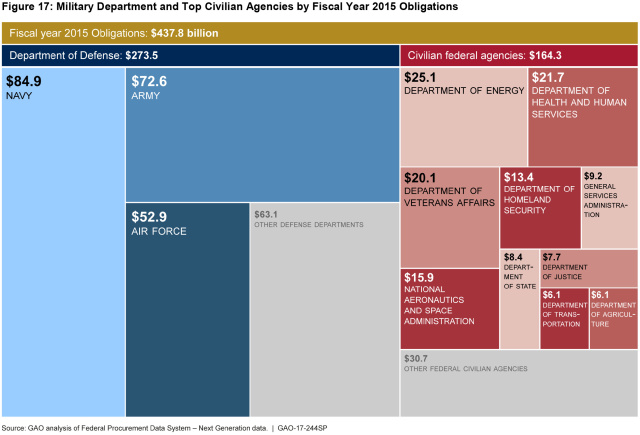 (Excerpted from GAO-17-244SP)
We found that these 13 agencies spent less federal money on contracts in 2015 than in 2011, with the biggest drop at the three military branches. Still, both defense and civilian agencies spent a significant amount of money on service contracts in 2015.
(Excerpted from GAO-17-244SP)
For example, we found that almost all of the Department of Energy's $25 billion in contract obligations were for services—partly because the department relies on contractors to manage and operate many of its government-owned sites. Because of this, DOE's contract management is one of the issues we monitor on our High Risk List.
And while service contracts can help agencies manage surges in workload and provide other benefits, they need extra attention from management to ensure that they are being used properly. For instance, some government functions are so necessary to the public interest that they must be performed by federal employees—such as military or diplomatic actions or awarding contracts on behalf of the federal government.
Competitive contracts
One of the goals of government contracting is to encourage competition. The government may occasionally limit competition for a specific reason (e.g., national security), but the majority of government contracts were open to competition during fiscal years 2011-2015.

(Excerpted from GAO-17-244SP)
Though the military branches had a lower percent of contracts awarded through competition than civilian agencies, a greater percentage of their contracts had at least two offers.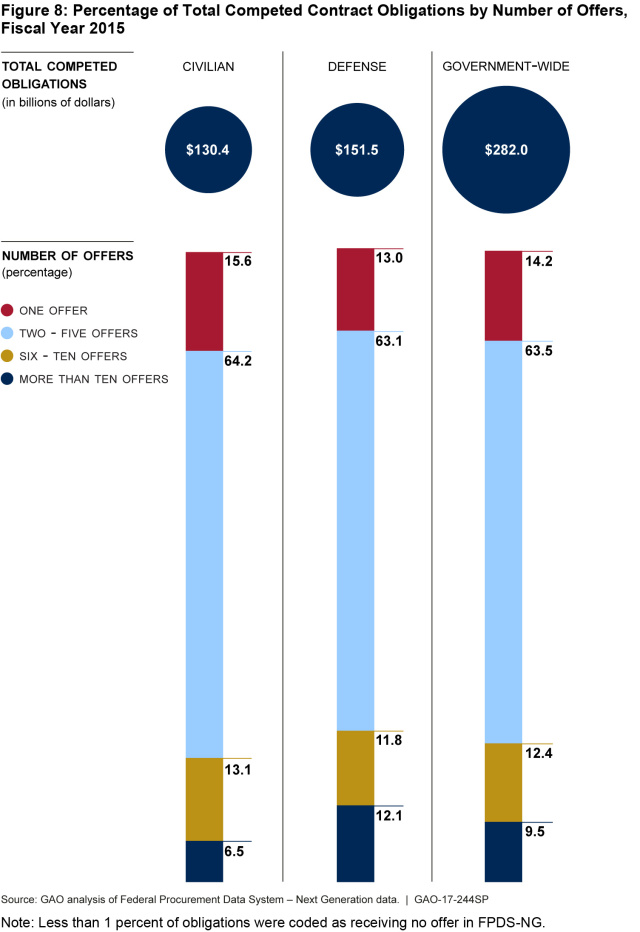 (Excerpted from GAO-17-244SP)
To learn more about trends in federal contracting, check out our full report.  And, for more detailed reports of some of the government's largest acquisition programs, read our assessments of DOD, NASA, and DHS.
---