Happy Birthday, WatchBlog!
Posted on January 13, 2015
One year ago today, we published our first WatchBlog post. Since then, we've published over 100 more, and the blog has been viewed more than 50,000 times. Celebrate this milestone with us by looking back on some of the areas we covered here in our first year.
Major Publications & Key Issues
This year, the WatchBlog helped highlight some of our major works. We featured 2 of our publications that set standards for government auditors here and around the globe (as illustrated by one of its fans below): the Green Book and the Yellow Book.
Photo used with permission of Daniel Hoang.
Additionally,
We introduced you to our High Risk List, which identifies areas of government with greater vulnerabilities to fraud, waste, abuse, and mismanagement, or a need for fundamental transformation.
We highlighted our Key Issues pages, which offer an approachable introduction to major issue areas like education, employment, and retirement security.
We also featured one of our "quick looks"—our annual review of NASA projects that cost at least $250 million.
Holidays, Cause Days, and Other Observances
As the nation or the world commemorated major moments, we shared in those by highlighting some of our related work. For example, on World AIDS Day, we looked back on more than 15 years' worth of our work on the President's Emergency Plan for AIDS Relief. For Veterans Day we provided information on and links to services for veterans and servicemembers.
We even posted on some more lighthearted occasions, writing on counterpiracy efforts for International Talk Like a Pirate Day (arghh!).
About GAO
In its first year, the WatchBlog also offered a glimpse into the inner workings of GAO and its early years. We wrote about how we got our name, shared highlights from our 93-year history, and gave readers an inside look into where GAO reports come from. We also explained how we organize our work internally—our mission teams—and how you could join us, with posts on our summer internships and hiring process.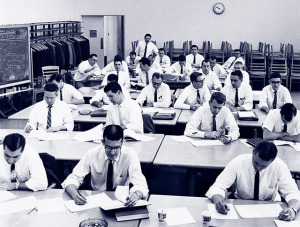 GAO training class, 1961, featured on the WatchBlog.
Podcasts
The WatchBlog has also become a second home to our podcasts, as we started highlighting all of our new ones here. Take a listen to one of our issue-area experts discussing a recent report in short, easily understood segments. Not sure where to start? Check out the top 10 podcasts of 2014.
Thank you for a wonderful first year! If you haven't subscribed yet, please do so, and you will get an e-mail with each new WatchBlog post.
---