Why Can't the Coast Guard Close Stations It Doesn't Need?
In 2013, the Coast Guard identified 18 stations it could close and still meet its policy for rescues—able to reach any boater in distress within 2 hours.
The Coast Guard also believes that closing these stations would also help improve its operations and conserve resources.
So, why are these stations still open?
Today's WatchBlog explores our recent report on the Coast Guard's boat stations.
Outside influence
The Coast Guard's search and rescue operations saved more than 5,000 lives and protected more than $63 million in property in 2016. To do this, it keeps boats and aircraft at over 200 facilities located mainly along the U.S. coast and inland waterways.
Some boat stations in the Northeast (District 1), Mid-Atlantic (District 5), and on the Great Lakes (District 9) were first established only a few miles apart because back then crews used rowboats to conduct search and rescue missions.
Today, thanks to faster boats, better communications equipment and other improvements, the Coast Guard says some of these stations are no longer necessary. It tried to close stations 8 times between 1973 and 2014.
However, public concerns about the potential effects on local communities have made closing stations difficult. And in some cases, Congress has stepped in and passed laws that prohibited some closures.
For example, after the Coast Guard attempted to close two air facilities in 2014, legislation was passed in both 2014 and 2016 prohibiting air facility closures. The Coast Guard had also proposed closing 23 stations in 1995 using a process that in 1994 GAO had found to be reasonable. Nonetheless, the Coast Guard Authorization Act of 1996 imposed additional requirements  on the Coast Guard before stations could be closed, and the Coast Guard did not carry out the closures.
The figure below provides a timeline of Coast Guard station change proposals and related actions.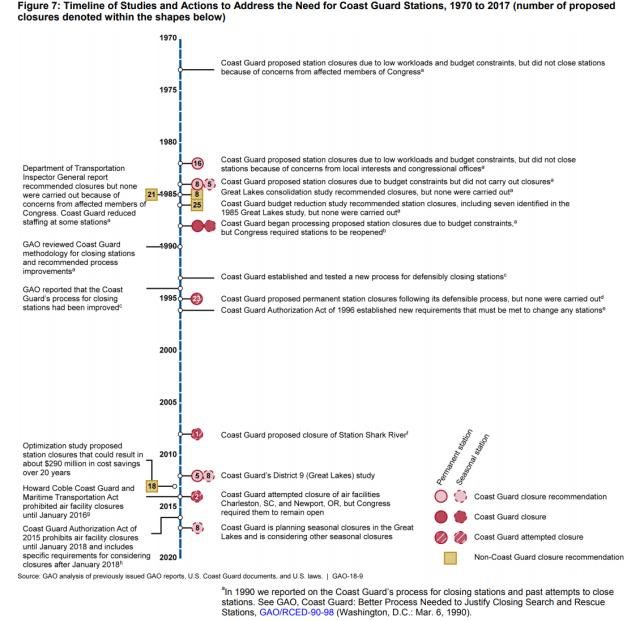 Doing the math
We found that the Coast Guard is doing a good job of analyzing which stations it needs. The agency looks at multiple factors—such as how many cases a station has conducted in recent years, population, environmental conditions (e.g., water temperature), and the availability of other rescue resources and partners (overlapping coverage)—to determine where it needs to place its resources. .
We recommended that the Coast Guard close its unnecessary stations. To learn more, check out our report. We also address this issue in our annual look at fragmentation, overlap, and duplication in federal programs.
---