Veterans Affairs:
Information on Professional Services Contracting Data and Conflict of Interest Regulations
Fast Facts
This statement to two House Veterans' Affairs subcommittees summarizes our analysis of VA's contracting for professional services.
For example, we analyzed data that showed VA obligated almost $3 billion in fiscal year 2022 to 1,400 vendors of professional, administrative, and management services.
We also summarized federal regulations related to conflicts of interest. For example, federal regulations require that, among other things, contracting officers avoid significant potential organizational conflicts of interest, such as when a firm's work under a government contract could involve evaluating itself.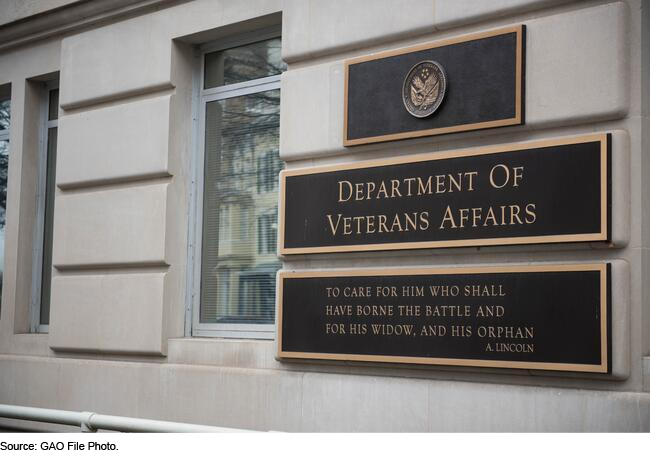 Skip to Highlights
Highlights
What GAO Found
This statement provides information on analysis of data on contract obligations made by the Department of Veterans Affairs (VA) for services associated with (1) professional, administrative, and management support and (2) special studies and analysis.
GAO analyzed data from the Federal Procurement Data System that were reported by VA as associated with these two categories to determine the amount of contract obligations and the number of vendors that VA contracted with during fiscal years 2020, 2021, and 2022.
Department of Veterans Affairs Contract Obligations and Number of Vendors for Certain Services, Fiscal Years 2020–2022 (fiscal year 2022 dollars in millions)
FAR section 9.504 requires contracting officers to analyze planned acquisitions to avoid, neutralize, or mitigate significant potential organizational conflicts of interest. One type of organizational conflict of interest is unequal access to information, which exists where a firm has access to nonpublic information as part of its performance of a government contract and where that information might give the firm a competitive advantage in a later competition.
VAAR section 803.1103 supplements the FAR by requiring that under certain contracts, contracting officers must require contractors whose employees perform acquisition functions closely associated with inherently governmental functions to obtain from certain employees a signed nondisclosure agreement to prohibit disclosure of nonpublic information accessed through performance of the contract.
Why GAO Did This Study
This statement summarizes information on data analysis that GAO conducted for the Subcommittees in March 2023 on contract obligations by VA for services associated with professional, administrative, and management support, and special studies and analysis. GAO was also asked to summarize portions of the FAR and VAAR related to organizational and personal conflicts of interest.
For more information, contact Shelby S. Oakley at (202) 512-4841 or OakleyS@gao.gov.
GAO Contacts
Office of Public Affairs
Topics
Compliance oversightConflict of interestsContractor performanceFederal acquisition regulationsFederal contractorsFederal procurementFederal procurement policyVeterans affairsContracting officersBid solicitations