Federal Real Property:
Several Factors May Limit Efforts to Reduce Space under New Sale and Transfer Process
GAO-22-105345
Published: Dec 08, 2021. Publicly Released: Dec 08, 2021.
Managing federal real property and disposing of it when it isn't needed is a longstanding challenge that has been on our High Risk List since 2003.
A 2016 law set up a process that tests ideas for speeding up sales of unneeded properties and covering sale costs. The law set expectations for 3 "rounds" of identifying and selling federal properties, and established a dedicated fund for preparing them for sale.
Profits from each round of sales go back to the dedicated fund to support the following rounds. However, only 1 of the 11 first-round properties has been sold so far, raising concerns that the fund—and the test—won't meet expectations.
An example of a property in Menlo Park, California, recommended for disposal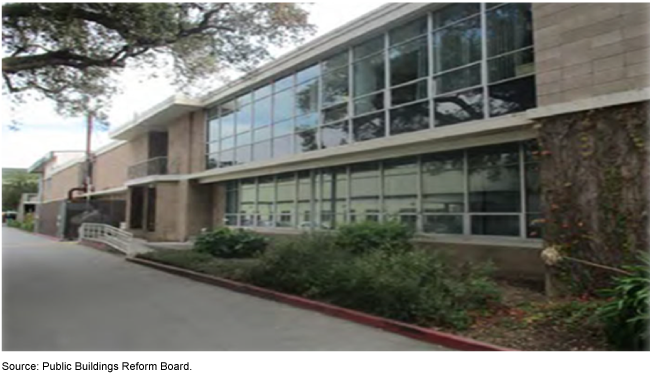 Skip to Highlights
What GAO Found
The General Services Administration (GSA) is currently in the process of selling federal properties that were recommended for disposal under a new, three-round process established by the Federal Assets Sale and Transfer Act of 2016 (FASTA). However, as of December 2021, GSA has completed the sales process for only one of the 11 properties recommended by the independent Public Buildings Reform Board (the Board) and approved by the Office of Management and Budget (OMB) for disposal in the first (2019) round. GSA officials plan to spend around $19 million out of the $46 million currently available in the newly created Asset Proceeds and Space Management Fund (Asset Proceeds Fund), made available through prior annual appropriations acts, to prepare and sell the properties from the 2019 round. For example, GSA plans to spend around $5 million in disposal costs for one property to close out an existing contract for building services.
Any sales proceeds generated from the 2019 round are to be deposited into the Asset Proceeds Fund and used to fund costs associated with implementing OMB-approved Board recommendations in subsequent 2021 and 2024 rounds. Proceeds in the Asset Proceeds Fund are subject to congressional appropriation. Without sales proceeds from the 2019 round, there will be $27 million remaining in the Asset Proceeds Fund to implement the Board's next round of recommendations, which are due to OMB for approval by December 2021. This amount may not be sufficient to prepare properties, which under FASTA, could total up to $2.5 billion in potential sales proceeds.
The funding available in the Asset Proceeds Fund, the upcoming December 2021 submission deadline, and uncertainty regarding agencies' future space needs due to the COVID-19 pandemic will limit the Board's next planned submission to OMB, according to Board staff. Specifically, Board staff told GAO that the number, value, and complexity of projects recommended for the 2021 round would be less than initially expected.
Characteristics of Planned Submissions for the 2021 Round of the Federal Assets Sale and Transfer Act of 2016 (FASTA), as of October 2021, as Compared to What Was Initially Expected for the FASTA 2021 Round
aBased on statements from Board staff; final submissions subject to change.
bPub. L. No. 114-287, § 12(g)(2)(A), 130 Stat. 1463, 1471 (2016).
cBased on comments from OMB in the Federal Register. 86 Fed. Reg. 8926, 8927 (Feb. 10, 2021).
dFASTA permits the following eight project types for the 2021 round: sales, consolidations, exchanges, co-locations, reconfigurations, lease reductions, lease to private-sector or local entities, and redevelopment. The Board is planning to submit recommendations for one of these project types: sales.
Board staff said that the Board plans to submit a larger, more complex list of projects for the final 2024 round, which has a target of up to $4.75 billion in potential sales proceeds. However, the Board's ability to carry out this plan may be constrained by the limited 2021 submission. For example, the outcome of the 2021 round will likely return less than $90 million in proceeds and presumably result in much less funding than expected to prepare properties worth up to $4.75 billion for the 2024 round. Further, it is unclear when any sales proceeds that are deposited into the Asset Proceeds Fund will be made available by appropriations acts, as required by law. Given all of these factors, it is probable that the FASTA process will not meet expectations or provide insight into ways the federal government can more effectively reduce the federal real property portfolio.
Why GAO Did This Study
FASTA is effectively a 6-year pilot program designed to utilize several concepts that GAO and other stakeholders previously identified and that could help address long-standing challenges, such as the costly and lengthy disposal process, associated with disposal of unneeded facilities. These challenges are, in part, why the management of federal real property has remained on GAO's high-risk list since 2003.
FASTA included provisions for GAO to review the Board's identification and selection process and agencies' efforts to implement the Board's recommendations including those from the 2019 round.
This report examines (1) the status of properties approved for disposal in the 2019 round and (2) the factors, if any, that limit the future identification of space reduction under FASTA. GAO reviewed FASTA and analyzed documents from the Board, OMB, and GSA to assess the progress made in selling the properties recommended for disposal in the 2019 round and to identify factors that limited the identification of properties as potential candidates for the next FASTA round in December 2021. GAO also interviewed officials from GSA, as well as staff from the Board and OMB.
For more information, contact Jill Naamane at (202) 512-2834 or naamanej@gao.gov.