Close Air Support:
Actions Needed to Enhance Friendly Force Tracking Capabilities and Fully Evaluate Training
GAO-21-99
Published: Jan 21, 2021. Publicly Released: Jan 21, 2021.
"Close air support"—airborne attacks on enemies located near friendly forces on the ground—requires detailed planning, seamless communications, and effective training. Mistakes can be dangerous to U.S. and allied forces.
The DOD has faced challenges with the technology initiatives and training efforts it relies on to mitigate risk. For example, it has identified changes to improve its digital communications systems but gaps in existing guidance and management oversight have stalled implementation.
We recommended the DOD further implement and assess close air support technology initiatives and evaluate its training programs, among other things.
The key steps during a close air support mission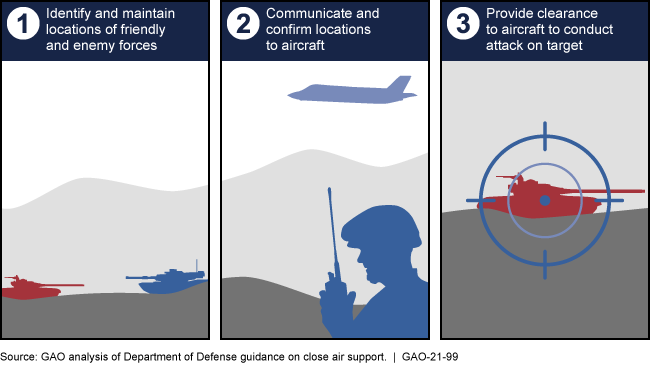 Skip to Highlights
What GAO Found
The Department of Defense (DOD) has made progress implementing initiatives to enhance capabilities that are used to identify friendly force locations during close air support (CAS) missions, but GAO identified additional actions that are needed to strengthen these efforts. Specifically,
DOD has made limited progress in implementing 10 changes the department approved to address gaps in the interoperability of digital communications systems used to conduct CAS, hindering efforts to improve the speed and accuracy of information exchanges.
DOD's efforts to assess the interoperability of digital systems used to perform CAS have been limited in scope. GAO found that DOD had formally assessed two out of 10 approved changes during joint service and multinational events, and these assessments were not conducted in a training environment that replicated capabilities of near-peer adversaries.
DOD implemented a new capability in the U.S. Central Command area of responsibility to help identify the positions of friendly forces during CAS missions. However, GAO found that DOD did not provide adequate training for personnel who operate it or conduct an evaluation to resolve implementation challenges that have hampered its performance.
DOD conducts evaluations of training programs for forces that participate in CAS missions, but GAO identified two areas where DOD can improve its efforts. First, the Army and Marine Corps have not systematically evaluated the effectiveness of periodic training for ground observers providing targeting information due to a lack of centralized systems for tracking training data and the absence of designated entities to monitor service-wide training. Second, the use of contract aircraft for training increased substantially between 2017 and 2019, but DOD has not fully evaluated the use of non-military contract aircraft to train air controllers for CAS (see fig.). GAO found that differences between U.S. military aircraft and contract aircraft (e.g., airspeed) can result in a misalignment of aircraft capabilities for certain types of training events. Without evaluating CAS training fully, DOD cannot have assurance that its forces are prepared to conduct CAS missions safely and effectively.
Number of Hours Non-Military Aircraft Were Used to Train for Close Air Support for Fiscal Years 2017 through 2019

Why GAO Did This Study
The use of ordnance delivered by aircraft to support U.S. military forces that are in close proximity to enemy forces on the ground requires detailed planning, seamless communications, and effective training. Mistakes in communications or procedures used to identify and maintain an awareness of the positions of friendly forces on the battlefield during CAS can result in the loss of U.S. military personnel.
Senate Report 116-48 and House Report 116-120, accompanying bills for the National Defense Authorization Act for Fiscal Year 2020, included provisions for GAO to evaluate issues related to friendly-force identification capabilities in CAS missions. Among other things, this report evaluates the extent to which DOD has (1) implemented initiatives to enhance friendly-force identification capabilities during CAS, and (2) evaluated training for forces that participate in CAS. GAO analyzed documentation and interviewed officials regarding DOD efforts to develop and implement friendly force tracking capabilities for CAS; reviewed CAS training programs; and analyzed training data, including the number of hours that DOD used non-military contract aircraft for CAS training from 2017 through 2019.
Skip to Recommendations
Recommendations
GAO is making 11 recommendations to DOD, including that DOD implement and assess initiatives to improve the interoperability of digital systems used in CAS and take additional steps to evaluate the training for certain forces that participate in CAS missions. DOD concurred with the recommendations.
Recommendations for Executive Action
| Agency Affected | Recommendation | Status |
| --- | --- | --- |
| Department of Defense | The Secretary of Defense, in coordination with the Chairman of the Joint Chiefs of Staff, should ensure the Joint Staff updates the Joint Fire Support Coordinated Implementation Change Control Board Charter roles and responsibilities to include relevant DOD components and offices with acquisition authority and the ability to implement changes. (Recommendation 1) | |
| Department of Defense | The Secretary of Defense, in coordination with the Chairman of the Joint Chiefs of Staff, should ensure the Joint Staff develops a detailed plan for ECP implementation, to include timeframes for developing, approving, and implementing ECPs intended to address interoperability gaps for DACAS, and establishes a process to periodically review approved ECPs for relevance and compliance with ECPs as programs update DACAS capabilities. (Recommendation 2) | |
| Department of Defense | The Secretary of Defense, in coordination with the Chairman of the Joint Chiefs of Staff, should ensure the Joint Staff updates the DACAS ECP process to include senior level review of ECP implementation beyond the Joint Fire Support Executive Steering Committee. (Recommendation 3) | |
| Department of Defense | The Secretary of Defense, in coordination with the Chairman of the Joint Chiefs of Staff, should ensure the Joint Staff, in coordination with the services, develops a plan to formally assess ECPs during future Bold Quest events or other military service exercises or events, to include demonstrating DACAS capabilities in a contested environment. (Recommendation 4) | |
| Department of Defense | The Secretary of Defense, in coordination with the Chairman of the Joint Chiefs of Staff, should ensure that the military services and Joint Staff develop and provide training to relevant personnel that will use SAS-E. (Recommendation 5) | |
| Department of Defense | The Secretary of Defense, in conjunction with the Chairman of the Joint Chiefs of Staff, should ensure the appropriate official(s) conduct a post implementation review of SAS-E to identify the root causes of any outstanding problems, ensure the system is operating as intended, and address any identified deficiencies. (Recommendation 6) | |
| Department of the Army | The Secretary of the Army should update guidance to clarify roles and responsibilities for service-level JFO program oversight, including those related to the standardization and evaluation of training. (Recommendation 7) | |
| Department of the Army | The Secretary of the Army should identify a database to maintain JFO training data. (Recommendation 8) | |
| Department of the Navy | The Secretary of the Navy should ensure that the Commandant of the Marine Corps updates guidance to clarify roles and responsibilities for service-level JFO program oversight, including those related to standardization and evaluation of training. (Recommendation 9) | |
| Department of the Navy | The Secretary of the Navy should ensure that the Commandant of the Marine Corps identifies a database to maintain JFO training data. (Recommendation 10) | |
| Department of Defense | The Secretary of Defense, in coordination with the Chairman of the Joint Chiefs of Staff, should ensure the Joint Staff, in coordination with the military services and U.S. Special Operations Command, evaluates the use of contract aircraft for meeting minimum JTAC training requirements and revise the existing MOA based on the results of such an evaluation, as appropriate and feasible. (Recommendation 11) | |